Rabac is small but busy tourist town located on the east coast of Istria. With its perfect white pebble beaches, and high raising mountains, its setting is a bit different than the rolling hills, and rocky coast found in other parts of Istria.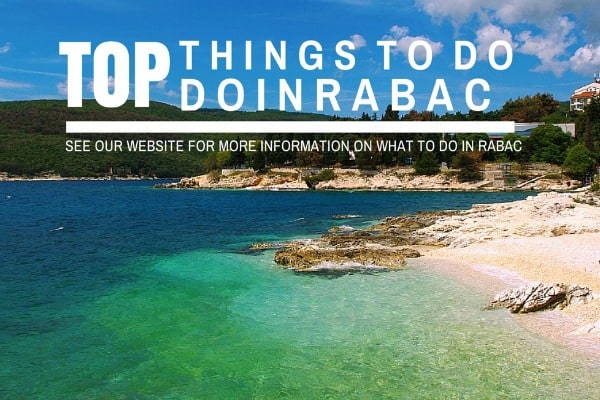 During the winter, this small coastal town lives at low pace, but comes the spring there are many things to do in Rabac and its surrounding. If you are planing to visit Rabac, we bring you the overview of the best things to do in Rabac.
What to do in Rabac: best things to do in Rabac
1 | Hit the beach
Beaches are still the number one reason for people to visit Rabac. And beaches in Rabac area really, really nice; simply the nicest beaches in Istria. Four main beaches in the town of Rabac are: Maslinica, Lanterna, Girandella and St. Andrea beach. All four beaches are awarded with the Blue Flag, an indication of their high environmental, safety and quality standards. Maslinica is the longest and widest beach located at the northwest part of the town, and it is located within Maslinica tourist resort. Other three beaches are located at the southeast end of the town, within Valamar tourist resort. All beaches offer deck chairs, and umbrella rentals, variety of water sports, changing cabins, showers, cafe bars, and restaurants.  All beaches in Rabac are made of rounded white pebbles, with a gradual and easy access to the sea.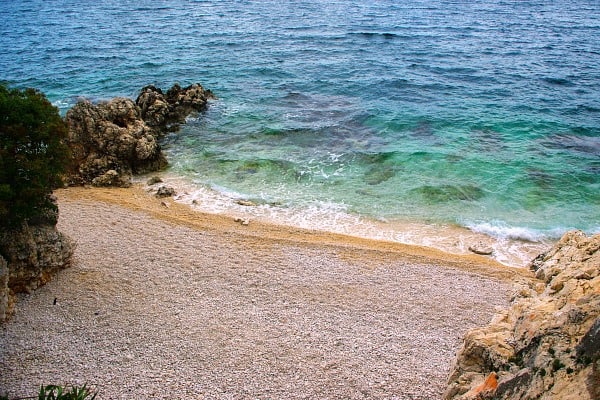 Although these beaches are great, conveniently located and accessibly by foot from anywhere in Rabac, they can get very crowded during July and August. This is the reason locals mostly avoid them , and head instead to more remote, but equally gorgeous beaches. The most popular beaches in Rabac area among locals are: Ravni, Prtlog, Golubjera and Huboka (Boka) Beach sv. Marina. Golubjera can be reached by foot from Rabac, while to get to all others, you need a car. Ravni beach is popular among windsurfers.
Read our full post on best beaches in Rabac.
2 | Hiking
Hiking is very popular activity in Rabac. Unlike other coastal towns in Istria, Rabac is set at the foot of a very high and steep hill. If you stay in Rabac, you'll certainly walk up and down the hill a lot.
But if you like hiking, Rabac has plenty hiking trails to enjoy. The most popular hike is from Rabac to Labin. The hike is 5 km through thick pine forest, and it climbs up to an elevation of 235 m. It is a relatively easy climb. You'll pass by spring waterfalls,  Negri's cave, and cross over small bridges. All trails are marked and you can simply do a self-guided tour. However, guys at Four Elements also offer guided hiking tour (minimum of 4 persons). The price is 150 Kn (20€) per person and it includes a guide, water and insurance.
If you are really into hiking, you can explore many other hiking trails in this part of Istria. From Labin you can take many different hiking trails: to the west to Skitaca vantage point, Crna Punta lighthouse and further to Koromacno. Popular summits here are Oštri (531 m), Goli (536 m), Brdo (475 m) and Orlic (470 m).
3 | Cycling
Rabac, due to its location at the foot of a hill, is popular destination for mountain biking. While you can bike directly from Rabac, bear in mind that this cycling path is very demanding, and this alone can be enough of cycling for the whole day if not a week. So in order to change scenery, you might consider getting to Labin by car and cycling from there.
You'll have more choice in terms of diversity of trails, but also trail grades: from easy and moderate to severe. Our favorite cycling trail is Bella Vista trail. Read more about cycling in Rabac.
4 | Sea Kayaking
Rabac has wonderful beaches along its shores. And while beaches in Rabac are pretty, they are also super crowded. However, you can easily avoid crowds if you just get out of the town. There are many pristine and deserted beaches around Rabac. Many of them can only be reached by foot or from the sea. You can rent a motor boat, but we find that the best way to discover the beauty of Rabac coastline is with a sea kayak.
A local tour agency, Four Elements, offers daily sea kayaking tours from Rabac. The price of this half-day tour (4 hours) is 225 Kn (30€) per person, while for a full day (8 hours) sea kayaking tour you'll pay 375 Kn (50€). Children below 10 go free of charge. Their tours are guided and they provide all necesary gear: Sit-on-Top kayaks, snorkeling gear, waterproof barrels for personal stuff, and even water & sandwiches.
5 | Boat excursion
Coast around Rabac is really stunning and definitely worth exploring. Many boats depart daily from Rabac port, and offer excursions either along the shores of Rabac, or over to the island of Cres.
If you take a boat excursion along shores of Rabac, you'll discover many cliffs, coves and little beaches. You will get a chance to swim away from it all in remote bays along Rabac riviera.
A boat excursion to the island of Cres usually takes you to a small village of Valun, for a swim and a lunch on board your boat. And it's followed by a visit to the town of Cres where you have a free time to discover this nice town.
We had a guest blogger write share her impressions on Rabac, here at our blog. And she did a boat excursion. You can read all about it here.
6 | Visit Labin
Labin is located 3 km from Rabac, on a hilltop, 320 m above the sea. It is nice historic town with colorful houses and lots of monuments. Today it is a town of artists. Visiting Labin can make an interesting day out while you on vacation in Rabac. You can also plan a lunch at Labin's Velo Kafe. Wonderful little cafe, and restaurant at the main square in Labin's old town. Try their ice cream, it's yummy!
You can also join in a free guided night tour of the old town Labin, every Tuesday from mid-June to beginning of September. The tour starts at 9.30 pm in front of a tourist office, and it ends at 11.00 pm in front of the Negri Art Gallery with a tasting of local homemade products.
7 | Diving
Coastline of Rabac provides really good diving opportunities. Waters are clear, depths rarely reach 70 m and there are many ship wrecks, colorful reefs and rich marine life.
If you are interested in diving in Rabac, we've written an entire post about it, including the best diving sites, and diving centers.
8 | Olive Oil Tasting
To come to Istria and not try local extra virgin olive oil would be a crime. In Rabac area there are few olive oil producers worth seeking out, like Belic and Negri family.
Belic family produces some of the best olive oils in all Croatia. They won lots of awards, not only for their high quality extra virgin olive oils, but also the Red Dot Design Award for their superbly designed olive oil bottle. Belic's tasting room is located at the ground floor of their family house in Rabac.  Definitely a must while in Rabac. Reservation is needed.
You can read more about our visit to Belic's olive oil tasting room in Rabac.
9 | Shopping in Rijeka
Rijeka, the largest port town in Croatia, and the third largest town in all Croatia, is less than  an hour drive from Rabac. Rijeka has couple of shopping malls, the newest and the most popular is ZTC, conveniently located on the main coastal road from Opatija to Rijeka. You won't find luxury brands here, but you'll be happy with a choice of high street brands like Zara, H&M, New Yorker or S'Oliver. Prices are affordable, and stores often run special deals.
A good choice of shops, bars, and couple of restaurants, you'll also find in downtown Rijeka, at Korzo, Rijeka's main pedestrian street.
10 | Take a coastal road to Opatija
A wonderful coastal road connects Rabac and Opatija. Since the Ucka tunnel was built, tourists often miss this coastal road. However, it's a very scenic road to take, and it remains popular among motorcyclists. The road is winding, but it has been improved in the last three years with a new asphalt and widening where needed. This road passes by  some wonderful hilltop towns, like Plomin, Brsec, and Moscenice, and takes you through villages along Opatija Riviera, like Lovran, and Icici.
Opatija is a pretty resort town developed in 19th century by Austrian aristocracy. Have a stroll in Opatija, and don't miss tasting yummy homemade praline at café Wagner, or having a coffee at lively seafront terrace of Opatija's oldest hotel – hotel Kvarner. You can also visit a small village of Volosko and eat at Tramerka, our favorite tavern in Croatia.
11 | Enjoy local food
Rabac doesn't really abounds in great restaurants. Majority of the restaurants along the seafront are typical touristy places that I can't really recommend. However, in Rabac surroundings you'll find some of the best restaurants in Istria, especially when it comes to seafood.  We absolutely love Martin Pescador in Trget, and we also had a great lunch at the restaurant Riva in Plomin Luka.
While food in Rabac and a surrounding area is similar to food in the rest of Istria, Labinski krafi are typical only for this part of Istria. They are basically sweet ravioli filled with cottage cheese and raisins. Don't miss out on this typical dessert.
12 | Participate in local events
From April through October, you can participate in many local events taking place in Rabac, and Labin. Rabac is popular for sporting events like a boat race Voga Teleferika, an adventure endurance race 100 miles of Istria, or a MTB race Istria Valamar Terra Magica, for the first time organized in Rabac in 2014.
Rabac seafront promenade hosts a small fair of local homemade products like Istrian prosciutto, sausages, honey, grappa, marmalades and alike. This fair takes place every fortnight from June to September.
Rabac Summer Carnival takes place in the second part of June. Labin Art Republic is a traditional summer festival taking place from end of June to end of August, and it includes various concerts, theatre plays, art colony, street performances, etc. Events take place in Labin old town.
We hope that our post on what to do in Rabac, gave you a good overview of the best things to do in Rabac. If you have any further questions, feel free to contact us.
For further reading check our Rabac restaurants reviews: Martin Pescador, or Restaurant Riva Plomin. Read about olive oil tasting at the Belic family, if that's what you are after. Our Rabac Travel Guide should be your starting point if you are planning to spend your holidays in Rabac. It feature all basic info you should know about Rabac. To read about a fellow blogger experience in Rabac, head here.
Are you planning to visit Rabac? What's your favorite of all things to do in Rabac? Let us know in the comments below.