Simona, an Italian blogger from BagniDalMondo, visited Rabac last summer. And we were delighted when she accepted to share her experience of Rabac with us and our readers. The best part of blogging is getting to know other great bloggers, and making friends along the way. Here is Simona's story.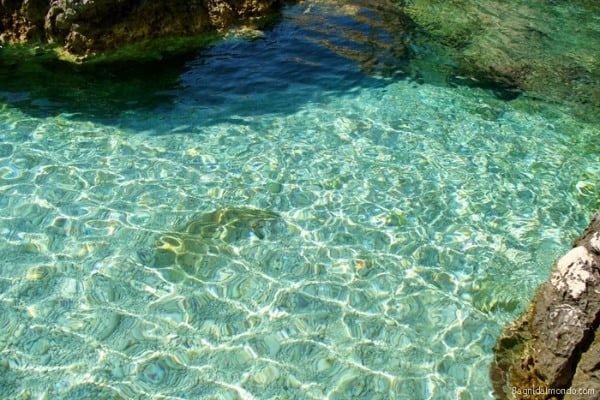 Bagni dal Mondo visited Rabac – this is their story
Last summer I spent a week in Rabac, with the only aim of switching off my brain and enjoying the clear sea I had read about.
It was my first time in Croatia. It could sound a little bit strange for those who live near Istria but I usually go on holiday in southern Italy so those places were totally unknown to me. My boyfriend and me heart the sea. We both were born in Naples and we miss the smell and the color of the sea very much. Rabac remembered us the places where we used to go on holiday when we were children. I don't know why… and maybe I wouldn't be able to explain this feeling in words.
The Apartment | I found a beautiful flat on the top of Rabac Hills while surfing on the net. A recently renovated apartment 1 km far from the main beaches of this little village. Cozy and clean, it was bigger than our house (!) so I was very happy  to spend some time at home. The flat had a big bathroom with an enormous design shower zone (you have to know that bathroom design is my passion and job). We also had a terrace, free WiFi and a car park. The owners, Ivana and her husband, are a couple of young home owners who rent many other apartments in Rabac. We are still in contact with them (next week my parents-in-law will go there!), they are very nice!
Rabac and the seaside | Rabac has a lot of small bays with free rock beaches. As they are quite small,  they're usually quiet, especially the ones on the left side of the hill (that side is a little bit windy then the sea is slighter). We had heard about "Girandella Beach", the coolest bay, but it was not our "style". You know, loud music, young guys dancing all the time…
Do you know what I did not like of Rabac? Its cold water!! I must confess: I've never had a complete swim! What a shame!!
Boat excursion and the coast | The coast around Rabac is breathtaking! We chose the boat excursion that took us to the Island of Cres, I think nobody should miss it! We caught the "Pyrates Boat" :). You can eat grilled fish and salad on the boat while reaching the island, and there's also a stop in a wonderful bay where it's possible to bathe and relax.
Around Rabac | We were too curious to taste some typical istrian food so we tried different restaurants. I remember "Due Fratelli" (located 2-3 km from the center) where we had a chance to try fantastic fresh (and low coast!) sea food. We also tried a local restaurant suggested by our home owners where to eat typical meat dishes (such as Cevapcici).  It was no easy to find but… after 3 or 4 answers to locals and car up-and-down we finally got it! Unfortunately I did not remember its name.
We also visited Labin (an historical village overlooking Rabac) and its old town. It's very small but it's typical and you can eat something in one of its characteristic restaurants.
Coming back to Rabac… there are a lot of restaurants and small shops where you can have a drink, a pizza, a kebab or simply buy some souvenirs. There's a seaside promenade where you can walk and relax in the evening, but… to be honest, you can't do more.
I think that Rabac is a place for families and for the ones who want to relax for a few days.
If you like (as we do) to move and visit the surroundings, you have to take your car and drive for at least 10 km. For example, we went to Pula to visit the Arena but it takes one hour by car more or less.
Would I go back to Rabac? Well, I think so, but maybe just for a few days (not for a whole week) just to relax.
We are so happy that Simona took time to share with us her experience and impressions on Rabac. We hope you enjoyed reading it. Please check Simona's blog – Bagni dal Mondo. You can also connect with her on Twitter, Facebook and Google+.
How does Rabac sound to you? Would you visit it (at least for these gorgeous beaches and crystal clear sea). Let us know in comments below.