Planning an overnight in Plitvice Lakes? Our list of the best Plitvice Lakes accommodation will help you pick your favorite Plitvice Lakes hotel, vacation rental, guesthouse, or campsite.
Plitvice is the single most visited national park in Croatia, and certainly the most spectacular. This natural wonder, consisting of 16 interconnected lakes, numerous cascades, waterfalls, and plant rich travertine stone that gives to the lakes their amazing color, is well-worth a visit.
However, the majority of people visit Plitvice only for a day. If you don't have extra day to spare, that's ok too. But, if you can, plan an overnight in Plitvice.
Plitvice Lakes Accommodation Guide
Staying overnight in Plitvice is the best way to visit the Lakes. This way you can actually start your visit later in the day on your first day, and then wake up early, and beat the crowds the following day.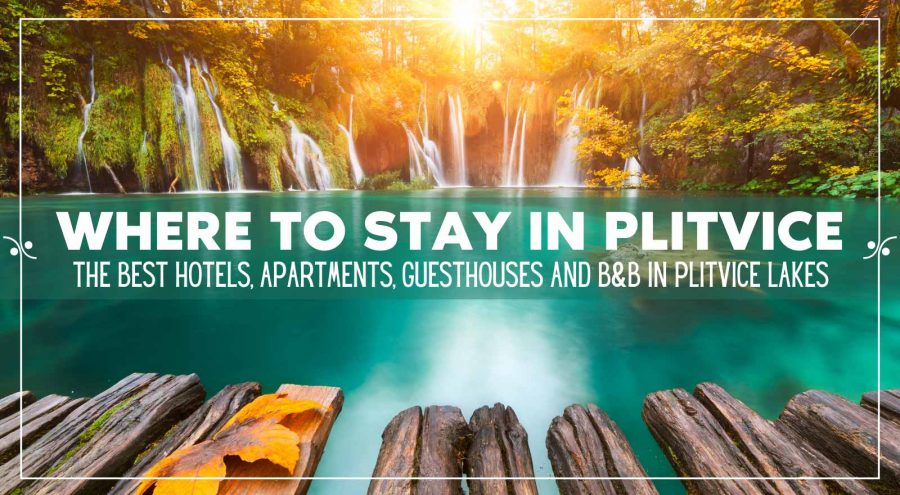 This way, your visit will be stress-free, more pleasant, you will enjoy more and make better photos.
Back in 2009, we went for a weekend to Plitvice. First, we visited the park. Nevertheless, once we checked in our cottage, and considered our eating options for the evening, we have decided to check out and return home immediately.
The problem was, at least from our perspective, that everything there was made with large groups in mind, and not for individual guests, like a single-family, or a couple. Few restaurants were open, but they were all oversized, canteen-style, and there weren't other people except us. Also, the offer (lots of grilled meat) wasn't exciting. In their defense, it was late March, and not too many visitors around.
Anyways, a lot changed since then, and today you will find much better accommodation in Plitvice Lakes, as well as a better overall experience.
We hope our Plitvice Lakes accommodation guide will help you better plan your stay in Plitvice Lakes.
Where to stay in Plitvice Lakes
You basically have two choices regarding the location of your accommodation in Plitvice Lakes: either you stay within the park, or you stay outside the park in nearby villages.
Staying in the park
There are very few accommodation choices within walking distance from the Plitvice Lakes entrance 1 and 2.
In fact, if you want to stay within the park, then your only accommodation choice consists of old-fashioned hotels that are owned and managed by the park's own management (read: state-owned, run-down, and overpriced).
These include Hotel Jezero, Hotel Bellevue, and Hotel Plitvice, all three within the park, next to Entrance 2.
All other accommodation is around Plitvice Lakes, in the surrounding villages.
However, even with this in mind, staying within the park has its advantages though.
Pros of staying within the park
You get an easy access to the park.
Parking is free for hotel guests.
If you don't have a car, and you travel by bus, staying in the park is convenient. Although many out-of-the-park accommodations offer a free car ride to the park. You might want to check this with the particular property before booking.
A one-day ticket will afford you a two-day visit to the park as long as you stay in one of the hotels within the park. The ticket must be validated at the hotel. The hotels also run promotions throughout the year where tickets to the park are included in the price of a room. Stays of 3 nights and more get you also an hour of boat rental on Kozjak Lake.
There is another choice for staying within the park (but not really within the park as we'll explain). Plitvica Selo is a small village on the opposite side of entrance 1, across the Lower Lakes, but not far from Lake Kozjak. On this side of the lake Kozjak, there is a small, auxiliary entrance to the park. The walk from the village of Plitvica Selo to entrance 3 takes about 15 to 20 minutes. So you can reach it on foot, you won't queue at the entrance, and you don't need to pay for parking as you would do if you take entrance 1 or 2. This is definitely the best place to stay in Plitvice.
Here you will also find a snack bar, Kozjacka Draga, and the P3 boat stop. You can't actually buy a ticket at this entrance (only at Entrance 1 and Entrance 2), but you can arrange with the staff at your Plitvice Lakes accommodation to purchase and deliver the tickets to the reception. This usually needs to be arranged in advance. Or, you can simply buy your tickets online. This way you will definitely avoid crowds at the entrance to the park.
Some of the accommodations you can find here are Plitvica River House, Pansion Breza, and B&B Plitvica Creek.
Staying outside the park
The biggest pros of staying outside of the park are the variety of accommodation you get and definitely better value for money.
If you travel by car, you should avoid hotels in the park and look instead for unique accommodations in the vicinity. Parking in Plitvice national park costs only 1.30 € per hour, and a few kilometers' ride is no excuse to set for less than the best accommodation in Plitvice.
There are many villages along the road to Plitvice Lakes either from direction Zagreb or Zadar.
Plitvica Selo and Jezerce are the closest. Grabovac and Korana are other popular places for an overnight stay in Plitvice Lakes.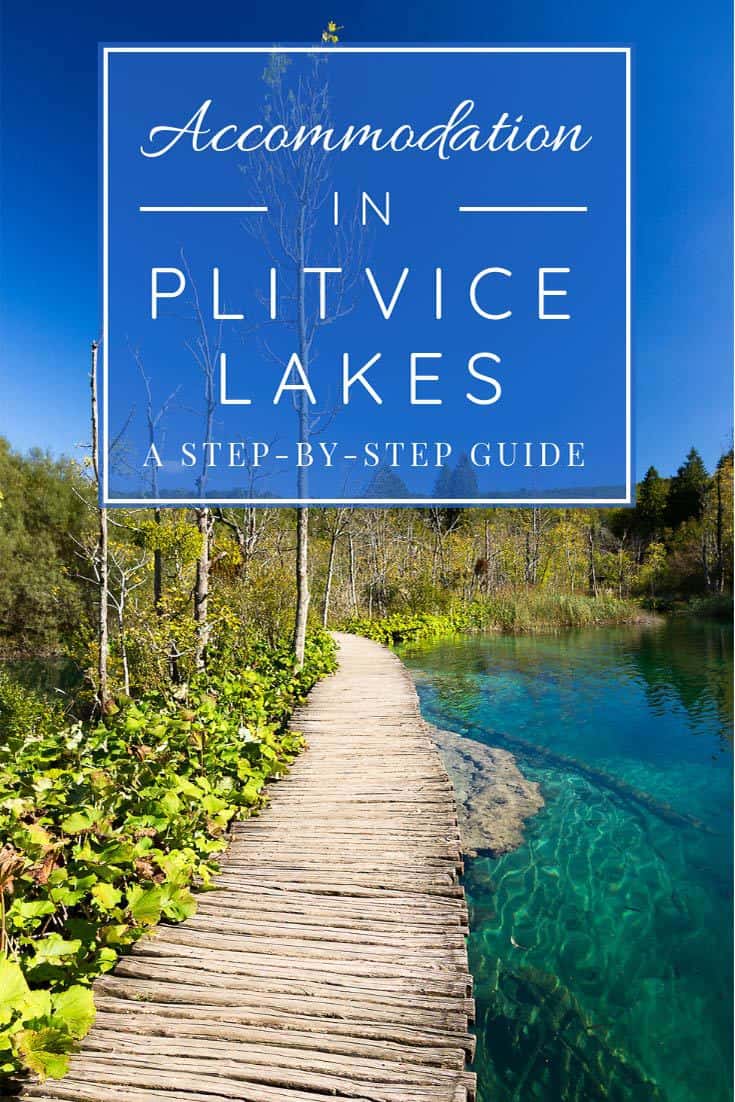 How long should you stay?
Plitvice Lakes National Park is a big site with plenty to see, and if you want to visit it properly, one day won't suffice.
In our opinion, a 2-day stay is an optimal time to visit the park. You can also consider staying longer if you would like to experience other activities and sites in the area beside the park.
Also, when you stay overnight in the area, you get an opportunity to visit the park early in the morning, and to beat the crowds. Park is overcrowded in July and August with the majority of day tours arriving from 10 am on. If you stay within the park, or within a short distance, you can arrive as early as 8 am when the park opens and have fewer people around. Please note that the ticket booth opens already at 7 am.
Where to stay in Plitvice Lakes without a car?
If you don't travel by car, then you have a few options when choosing the best place to stay in Plitvice Lakes national park:
stay in one of three hotels inside the park (entrance 2)
you can stay in the vicinity and within walking distance from the entrance to the park (the best solution is then to book accommodation in Plitvica Selo)
or, you stay outside the park and arrange with the host to give you a lift to the park and back; and from the bus station and back
Best websites for booking Plitvice Lakes accommodation?
The absolutely best place for booking accommodation in the national park Plitvice is Booking.com. I can't stress this enough. Booking counts perhaps for 70% of all online bookings in Croatia.
Their Plitvice accommodation offer is broad, featuring every type of accommodation: hotels, B&Bs, hostels, vacation rentals, guesthouses, etc. Another advantage of Booking.com is that many properties ask only for a credit card as a guarantee in case of a no-show, but they won't charge it in advance. You actually pay on arrival.
Airbnb is also a good site for finding and booking vacation rentals in Plitvice Lakes, but there you will need to pay before you travel.
All sites offer filters to make your search easier.
Are there any hotels inside Plitvice national park?
There are 3 hotels inside the Plitvice national park. These are Hotel Jezero, hotel Bellevue, and Plitvice Hotel. All other accommodation is outside the park. But, all accommodation in Plitvica Selo is within walking distance of the park.
When is the best time to visit Plitvice Lakes?
Plitvice Lakes are beautiful all year. In winter they look like a wonderland, in spring when the snow melts the waterfalls are at their best, summer brings all the shades of green, while in fall leaves bring an explosion of colors, as they begin to change from green to various shades of reds, gold, and yellows.
However, if you can avoid visiting the lakes in August, it might be a good idea, as August crowds are (almost) unsupportable. If you have no choice but to visit in August then just remember to plan your visit to the lakes as early as possible (at 8 am when they open, before all tour groups arrive, or after 3 pm when they leave the park).
Accommodation prices at Plitvice Lakes
The accommodation rates in and around Plitvice depend on the type of accommodation (hotel vs vacation rental), season (stays in August are more expensive than stays in May), services (is breakfast included or not), distance to the lakes (the closer it is the more expensive it is), a number of persons (the triple room is more expensive than the double room), level of luxury and style of the accommodation, and a booking window (how many days in advance the booking is made).
To secure the best rates, we encourage you to book Plitvice Lakes accommodation as early as possible.
Hotels' rates are shown per room per night. Many Plitvice Lakes hotels offer a "room only" as a basic rate. Breakfast usually costs around 12 € to 15 € per day per person. For a double room with breakfast expect to pay around 90 € in the off-season (Nov. through March), 120 € in the shoulder season (Apr.-June, Sept., Oct.), and around 150 € in the high season (June through August).
You can find a self-catering apartment for 2 in July for as cheap as 70 € per night and for as expensive as 200 €. So here more than with any other accommodation option you really need to shop around. However, the majority of apartments for 2 in high season go for around 100 – 130 € a day, for around 70 – 90 € a day in the shoulder season, and for around 60 – 80 € a day in the off-season.
Rooms in local inns and guesthouses go for as little as 40 € a day in the off-season, and as high as 100 – 130 € a day in the high season. However, the earlier you book, the more chance you have to find an even much cheaper room than these averages.
A night in the campsite will set you back around 25 € a day in the off-season for two persons and a pitch with water and electricity, and around 35 € a day in the high season.
Hotels in Plitvice Lakes
Main hotels in the national park Plitvice Lakes are owned and managed by the Park management. These Plitvice national park hotels include Hotel Plitvice, hotel Bellevue Plitvice, and Jezero Hotel, all three hotels inside Plitvice national park next to Entrance 2; but also Hotel Grabovac in nearby Grabovac, 9 km away from entrance 1 (free shuttle bus included in the price of the room).
However, as we've already mentioned these hotels are a bit impersonal, old-fashioned, and just a notch pricey for what they offer (being within the park limits comes with a price tag).
Other hotels in the area are small family-run properties with 20 rooms or less. While they are all outside the park limits, they are also not that far away, all within 10 km from either entrance 1 or 2. Since car parking in the park is only 1.30 €, it's worth considering staying in some of these hotels. Below you'll find the hotels that we recommend in Plitvice.
---
Hotel Degenija
This small family-run hotel near Plitvice Lakes national park (only 4 km from entrance 1), features 20 rooms in the main and annex building. Comfy, clean, and sleek rooms, two good value onsite restaurants, a reasonable choice of food at breakfast, a heated outdoor swimming pool, and super friendly and helpful staff make Hotel Degenija one of the most popular hotels in Plitvice Lakes. You can also rent a bicycle in the hotel if you don't feel like driving to the Plitvice Lakes.
CLICK HERE FOR MORE INFO AND THE LATEST PRICES!
---
Plitvice Inn
Opened in 2018, Plitvice Inn is sparkling clean and modern. It's a family-run place with a yummy breakfast featuring many homemade and homegrown items. If you are looking for hotels near Plitvice Lakes national park, you'll like to know that Plitvice Inn is conveniently located, only 7 km from the Lakes.
CLICK HERE FOR MORE INFO AND THE LATEST PRICES!
---
16 Lakes Hotel
Bright, spacious, and comfy rooms with modern furnishings and lovely bathrooms make 16 Lakes Hotel worth seeking out for your accommodation at Plitvice Lakes in Croatia, although it is a 10-minute drive to the park. The hotel features 16 rooms, an onsite restaurant, parking, free WiFi, and an outdoor swimming pool.
CLICK HERE FOR MORE INFO AND THE LATEST PRICES!
---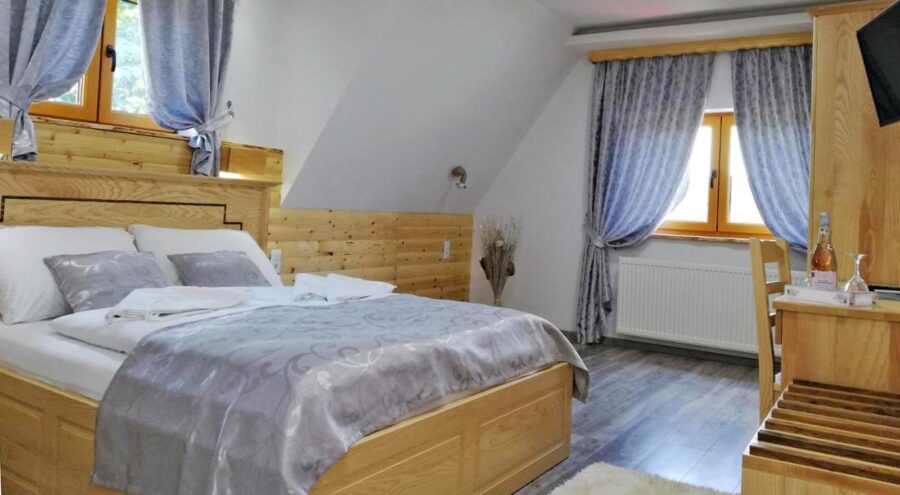 Rustic Inn River
This lovely traditional house near the river offers accommodation in 6 double rooms, all with en-suite bathrooms. Rooms are new, clean, comfy, and modernly furnished. Breakfast is plentiful, while dinner can be arranged with the owners at extra cost. However, it's home cooking at its purest, and definitely worth the money and convenience of not needing to go out for a meal after a day of exploring the lakes. The Rustic Inn is 7 km away from Entrance 2.
CLICK HERE FOR MORE INFO AND THE LATEST PRICES!
---
Guesthouses
Perhaps the most common accommodation choice in Plitvice Lakes, guesthouses are family-owned homes that offer accommodation in rooms with en-suite bathrooms, a homemade breakfast, but also a home-cooked dinner on request.
The owners don't run a restaurant in a classic sense, the one that is open to the public, instead, they exclusively offer dinner (or lunch) to visitors staying at the property. In that way, food is made on order (with limited choice), and it is cooked not by professionals but by a skilled family member. Most of the time, you will have more memorable meals in guest houses than in restaurants.
Guesthouses are a great alternative to hotels as they offer more personalized service, and a generally warmer atmosphere, almost like staying at a family or friend's place.
Villa Verde
This lovely family-run guest house offers double and quadruple rooms in Jezerce. Jezerce is only 2 km away from the Plitvice Lakes entrance 2. Owners are lovely, take great care of their property, and keep a nice interaction with guests. The breakfast is copious, and homemade dinners are yummy and good value for money.
CLICK HERE FOR MORE INFO AND THE LATEST PRICES!
---
Villa Plitvice Hills
This villa is a 20-minute drive from the park, but the stay there is definitely worth a few kilometers' drive. The villa offers accommodation in spacious and clean double and triple rooms. Other facilities include a garden with an outdoor swimming pool and a hot tub. Hosts are friendly, helpful, and welcoming. Both, breakfast and dinner served at the property, are excellent.
CLICK HERE FOR MORE INFO AND THE LATEST PRICES!
---
Guest House Zrinka
Beautifully appointed spacious rooms and apartments Zrinka are located in Grabovac, 10 km north of Plitvice Lakes entrance 1. This family-run guest house is one of the best-rated Plitvice Lakes accommodation. Quiet location, spacious and modern accommodation, delicious homemade breakfast, and above all friendly owners who go above and beyond to make you feel welcome and at home are all reasons why visitors stay at the House Zrinka when visiting Plitvice Lakes. And, yes, this is one of the few places where you are free to take food out from breakfast and make yourself a lunch box for the visit to the lakes.
CLICK HERE FOR MORE INFO AND THE LATEST PRICES!
---
Guest House Green Valley
This nice-looking chalet offers accommodation in double, triple, and interconnecting rooms. Friendly owners, superb breakfast, reasonable prices, and a relaxing location make up for a memorable stay at this guesthouse. The guesthouse is in the village of Jezerce, less than 5 km south of Entrance 2.
CLICK HERE FOR MORE INFO AND THE LATEST PRICES!
---
Apartments in Plitvice Lakes
If you like to stay at apartments with a fully-equipped kitchen and ample space, you can find a good choice of apartments to rent in Plitvice Lakes. All Plitvice Lakes apartments are in villages in the vicinity of the park, none within the park limits.
Some of the best accommodation in Plitvice Lakes is small wooden cottages, fully furnished, and available for short-term rental. Below you will find some of those gems that we recommend for your stay in Plitvice Lakes.
B&B Villa Irene
This beautiful wooden chalet features 5 studio apartments. Each studio apartment is 45 m2 and each can accommodate 4 people. Studios are simple but tastefully decorated and each features its own terrace, en-suite bathroom, and open space living-dining-sleeping area with a kitchenette. The onsite restaurant serves buffet breakfast and served dinner. The food is homemade and yummy. The owners are very friendly and have great tips for visiting the lakes.
CLICK HERE FOR MORE INFO AND THE LATEST PRICES!
---
Holiday Homes Vita Natura
Villa Natura offers accommodation in two separate chalets. Built entirely in wood, stone, and brick, chalets are very pretty, and they feel cozy. Each chalet has 100 m2 spread across two floors. The ground floor consists of an open plan kitchen, living and dining room, and a separate bathroom, while the first floor features a large bedroom, en-suite bathroom, and a balcony.
CLICK HERE FOR MORE INFO AND THE LATEST PRICES!
---
Holiday Homes Eko Klanac
Holiday homes Eko Klanac are small wooden cottages. Each cottage consists of a fully equipped kitchen, dining, and living area, bathroom, and one double bedroom on the ground floor. Another bedroom is in the mezzanine. It is a magical place, remote, surrounded by greenery, quiet, and relaxing (comes with weak WiFi though).
CLICK HERE FOR MORE INFO AND THE LATEST PRICES!
---
Ranch Jelov Klanac
Ranch Jelov Klanac consists of two beautiful wooden cabins. Each cabin offers three apartments to rent: two on the ground floor, and one on the first floor. Houses are set in lovely countryside with stunning views. Owners live nearby, and are available should you need anything. Outdoor BBQ facilities are a great bonus feature!
CLICK HERE FOR MORE INFO AND THE LATEST PRICES!
---
Campings in Plitvice Lakes
In the proximity of Plitvice Lakes, you can find a number of campsites. Three of them, Borje, Korana, and Plitvice Lakes Resort, are big campsites offering various accommodation options, as well as additional facilities like restaurants, shops, and a swimming pool.
Camping Borje (see video here) and Korana are owned and managed by the National Park management, while Plitvice Lakes Resort is a privately owned and managed campsite with a variety of accommodation options (lovely tree and lake houses, mobile homes, tipi tents).
Other campsites in the vicinity of Plitvice Lakes include small family-run campsites with 20 to 30 pitches for tents, motorhomes, or caravans, and basic sanitary facilities. Some of these campsites are Korita and camping Bear.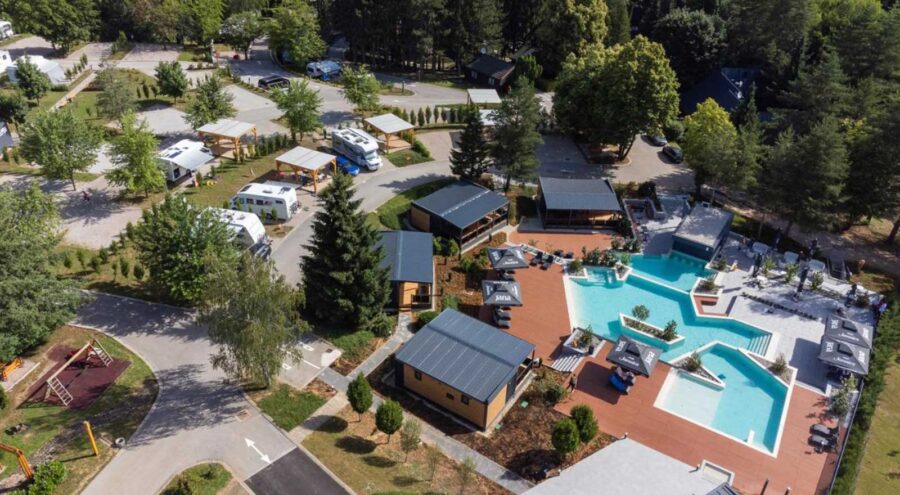 Plitvice Holiday Resort
Plitvice Holiday Resort is located in the village of Grabovac, 10 km away from Plitvice Lakes' entrance 1. The campsite offers a variety of accommodations including camping pitches, mobile homes, an Indian village with tipi tents, and super attractive tree and lake houses, but also rooms and apartments. Other facilities include shared sanitary facilities for guests with motorhomes, tents, or caravans, an outdoor swimming pool, an onsite restaurant, a children's playground, a mini-golf, a sand volleyball pitch, and table tennis.
CLICK HERE FOR MORE INFO AND THE LATEST PRICES!
---
Korana Camping
Camping Korana is the closest camping to the Plitvice Lakes and one of the oldest campsites in the area. The campsite has forested areas, as well as open areas in the sun. The sanitary facilities are decent and very clean. Besides camping pitches, the campsites also offer accommodation in 47 bungalows with rooms. The campsite can accommodate 2500 people in a single day. However, most of the time there is ample space, and you don't feel cramped when camping here. There are shuttle buses connecting the campsite with the Plitvice Lakes. They leave in the morning and come back in the afternoon.
---
Things to do in Plitvice Lakes
Besides an obvious visit to the park, and hiking the trails in the park, the Plitvice Lakes area offers an abundance of activities for outdoor aficionados. Here are some of the things you can do in the area:
Cycling
Plitvice Lakes national park doesn't only cover the area of the lakes and waterfalls, but instead, it spreads onto an area of almost 300 km2.
And while cycling isn't allowed within the lakes part of the park, other parts of the park contain many cycling routes including those suitable for beginners but also experienced cyclists. You can do a self-guided cycling tour with the help of bike maps that you can find NP Plitvice website and on the Lika Active website.
Rafting
Korana, Mreznica, and Una Rivera are all popular sites for white water rafting close to Plitvice Lakes.
From a fast track through Rastoke and Little Plitvice to waterfalls of river Slunjcica, or a 10 km long ride through waterfalls, rapids, and pools, river Korana offers the most exciting rafting experience of all three sites. Find more info on the Mirjana Rastoke website.
Crystal clear and clean waters in all shades of green, a string of freshwater springs, rapids, an 8 m high Mreznica Waterfall, and untouched forests without a house in sight, make the Mreznica River one of the most popular rafting sites for locals and tourists alike. Get more info here.
The river Una in neighboring Bosnia is another popular site among rafting aficionados. Una is wild, and untouched, with fewer tourists around than in Plitvice. It's especially popular among younger crowds. Ask here.
Horseback riding
What better place to experience horseback riding than Plitvice Lakes? The track takes you through various landscapes: up and down hills, through meadows, and forests, walking or galloping depending on your level of experience. And if you can, plan it for the golden hour, just before the sunset. Ranch Terra and Equestrian Centre Rastoke are both popular horseback riding centers.
Rastoke
Located 35 km from the Plitvice Lakes National Park, Rastoke is a small village with lovely mills built over the winding river and a series of waterfalls.
Swimming
Swimming in the Korana River in the village of Korana officially isn't allowed. But, (un)fortunately everybody's doing it, locals and tourists alike. In fact, locals have always been swimming here. Alternative and 100% legal swimming spots include Slunj, Karlovac, and Ogulin. Or take a guided swimming tour here.
Nikola Tesla Memorial Center
An hour's drive from Plitvice, Nikola Tesla Memorial Center features his birth home, lovely garden, an Orthodox Church, and an exhibit showing many details from Tesla's early life, but also facts about himself and his inventions. If you are a Tesla buff and have two hours to spare, visit this lovely Tesla Memorial Center. It also has a charging station for an electric car.
Zipline Pazi Medo
Located in the small village of Vrhovine, 45 km from Plitvice Lakes, the zip line center Pazi Medo (Beware of the Bear), features the longest single zip line in Europe. The speed exceeds 100 km/h.
Explore Una Park
The Una National Park is located in neighboring Bosnia, about 80 km away from the Plitvice Lakes. It is a beautiful park with lots of waterfalls, raw, untouched nature, meadows, hills, walking trails, and picnic areas. The two most popular sites within the Park are waterfalls near Martin Brod, and Strbacki Buk (the most beautiful waterfall in the park). White water rafting is super popular on the Una River.
How to get to Plitvice Lakes
Plitvice Lakes is located in central Croatia, and not in the immediate proximity of any airport. However, the lakes are easily reachable either from Zadar or Zagreb and even Split, whether by car, by intercity bus, or on a coach tour.
Plitvice Lakes are just below 2 h drive by car from Zagreb or Zadar, and 3 h drive from Split. By bus, the journey takes approximately 30 minutes longer. You are able to take a journey back and forth to Plitvice Lakes from all three towns. Anyways, it might be a good idea to stay at least one night in the vicinity of the Plitvice Lakes.
Intercity buses leave from the central bus station. The Getbybus website is the best website to search for and buy bus tickets online. Expect to pay approx. 12 € for a one-way bus ticket from Zagreb, 13 € from Zadar, and 20 € from Split.
If you travel by car from Zagreb take motorway A1 until Karlovac and then state road D1 until Plitvice. If you travel from Split or Zadar, then take Highway A1 direction of Zagreb, Rijeka. Get off the highway at exit 13, Gornja Ploca. From there, continue on state road D1 for 30 km, or until you reach Entrance 2 of Plitvice Lakes.
Transfer to Plitvice Lakes from Zadar, Zagreb, and Split
Another practical way to reach Plitvice Lakes is by booking a private or group transfer to Plitvice Lakes from Zagreb, Split, or Zadar. Transfers are a convenient and fast way to reach Plitvice Lakes. You can simply kick back, enjoy the scenery, and not worry about driving, following the road signs, or looking at the maps.
Expect to pay around 150 € for a one-way transfer to Plitvice Lakes from Zagreb or Zadar for a 3-passenger vehicle, or 250 € for a one-way transfer to Plitvice Lakes from Split.
You can get a quote from Connecto Transfers, or check prices and book a transfer online using the Bookaway website.
Many people actually take a transfer from Split or Zadar to Zagreb with a scheduled stop at the Plitvice Lakes along the way. Expect to pay around 150 € per person for a Split to Zagreb group transfer with a stop in Plitvice, and about 120 € if a transfer is from Zadar.
Group tours to Plitvice Lakes from Split, Zagreb, or Zadar
Full-day tour to Plitvice Lakes from Split
Explore Plitvice National Park as a part of a small group tour from Split.
---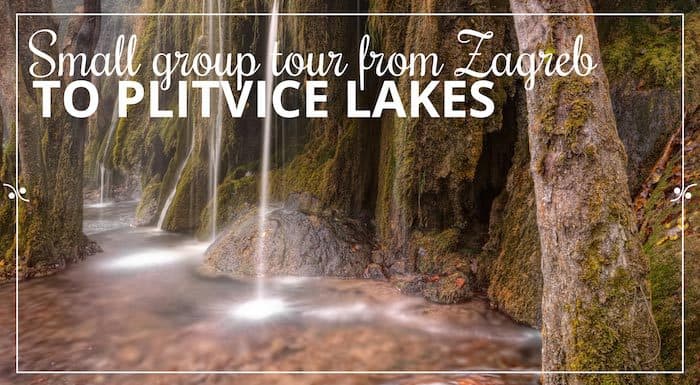 Plitvice Lakes and Rastoke tour from Zagreb
Spend a day away from Zagreb's hustle and bustle and discover Plitvice Lakes.
---
Plitvice National Park Full-Day Tour from Zadar
Explore forests, lakes, and waterfalls on this full-day Plitvice tour from Zadar.
---
Renting a car to visit Plitvice Lakes
Our No. 1 website for car rental in Croatia is Rentalcars.com. If you are interested in renting a car in Croatia for a visit to Plitvice Lakes, we have written a whole post about car rental in Croatia.
Plitvice Lakes entrance fee
The Plitvice Lakes entrance fee depends on the season (winter, spring/fall, summer), visitor age (adult, senior, children, student), type of traveler (group, or individual visitor), and duration of the visit (visits after 4 pm in summer get a cheaper ticket).
Children up to 7 years of age visit the lakes for free.
A one-day adult ticket costs 10 € for visits from November to March; 23.50 € for visits in April, and May, Oct.; a full-day adult ticket from June through September costs 39.80 €.
From June to September, the ticket will cost you 16.50 € if you visit after 4 pm. However, all entrances close at 6 pm, and parking closes at 7 pm. This gives you just about 2 hours for a visit to the Lakes, which isn't enough.
For detailed operating hours and prices visit the park's website.
Further reading
If you would like to read more about Plitvice Lakes national park, head over to our Plitvice Lakes Travel Guide.
Anything else you would like to know about accommodation in Plitvice Lakes? Let us know in the comments below.