A recent addition to Split restaurants scene, Uje Oil Bar Split quickly gained attention among the foodies in Split and Croatia. The restaurant opened in 2013. Stylish, bistro-style interior is warm and welcoming. For dining al fresco, there are also two side street terraces.
Uje Oil Bar Split can accommodate about 30 people inside, and another 40ish outside. The restaurant also serves as a shop, offering choice of Croatian olive oils and olives based products like tapanades (mostly their own Uje brand), Croatian wines (quite good prices), jams, chocolates, as well as variety of kitchen accessories like wooden spoons, bowls and cutting boards (all made from olive trees, but imported from Algeria).
The restaurant serves old Dalmatian classics based on a fresh local produce. You can also enjoy a choice of bruschettas, cheeses, olive oils, and cold cuts while sipping your glass of wine.
During the winter months, Uje Oil Bar Split invites different Croatian chefs to host a specialty dinner. They usually announce through their FB page the chef's name and the main fresh ingredient they'll base there menu on. This is a cool concept if you ask us. And this past winter, we were tempted more than once to hop to Split just to eat at Uje Oil Bar Split.
Our experience at Uje Oil Bar Split
We finally went to Uje Oil Bar Split few weeks ago for a lunch. As we were group of seven we made a reservation in advance. This is a tiny restaurant and we wanted to make sure that they could accommodate us. We liked the restaurant from the moment we stepped in.
The waiter was friendly and suggested to check their daily menu. The menu changes daily based on chef's luck at the local market. Their daily menu is cute in the way the daily dishes are presented. The sections don't include classic classification: appetizers, entree, dessert. But instead the dishes are classified according to utensils you will use to eat them: spoon, fork, fork & knife. We were in a very good mood, great company, we've already liked the restaurant, so all those little touches made us go Wow all the time. Appreciative guests I would say. Wine helped too :).
We ordered a choice of appetizers to share. They included shrimps in lemon juice, marinated tuna with confit of red onions, and scrambled eggs with shrimps and asparagus, and with prosciutto and sea fennel. Scrambled eggs were served atop homemade bread. The waiter suggested their white house wine – Istrian Malvasia that they bottle under the home brand Carakter. Everything was very tasty. Scrambled eggs were my favorites.
For the main course three of us ordered meat balls with artichokes. The sauce was light, meat balls succulent, and artichokes well cooked and easy to eat. Vera ordered a tuna stew with polenta. This stew is called pasticada in Croatia.
It is a traditional Dalmatian dish usually made with a baby beef; however it worked very well with tuna. Other main dishes included: homemade sausages with potatoes, tuna steak, and beefsteak. What a festival!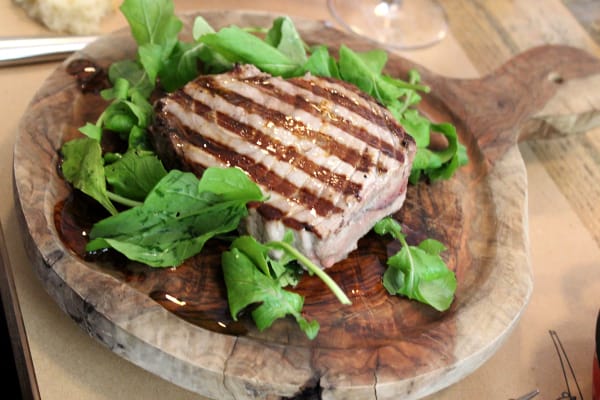 Food is served in small, old style metal pots (this is totally cute!), while steaks were brought on a wooden board and laid atop rocket salad. Bread served is homemade (some).
Dessert sounded better than it tasted. I mean we still ate everything. But we weren't blown away.
We've already mentioned that the restaurant serves also as a small shop for some local delicacies. We bought a dark chocolate with lavender. That was a pleasant surprise. Really tasty chocolate (and it takes some art to make a dark chocolate tasty, if you ask me).
We also noticed that the price of wine on sale in the shop doesn't differ much from the price you pay in a restaurant. Not overcharging for bottled wine in restaurants is unheard of in Croatia :). Well done, Uje Oil Bar Split! We'll be back.
The total cost was 200 kn (approx. 26 €) per person.
Contacts: Dominisova 3; 21000 Split, Croatia; t: 095 200 8008; e: oilbar@uje.hr; w: www.uje.hr;
Have you ever eaten at Uje Oil Bar Split? Would you like to? Let us know in the comments below.
Further reading