Looking for unique Croatian souvenirs to bring back home? Find out the best Croatian gifts and souvenirs for family and friends with our complete guide on what to buy in Croatia.
I don't know about you, but when I travel I like to search for original and unique souvenirs to bring home. Sure I will, just like anybody else, go for dozens of cheap fridge magnets and patches, to make everybody content back home. Even the distant aunt that I've never really liked.
But I like to look for real souvenirs, and unique artisan products that I can only find in the country I am visiting. Most of the time I end up with spices, and other food products like local sauces, cheese, mustard, sweets, etc.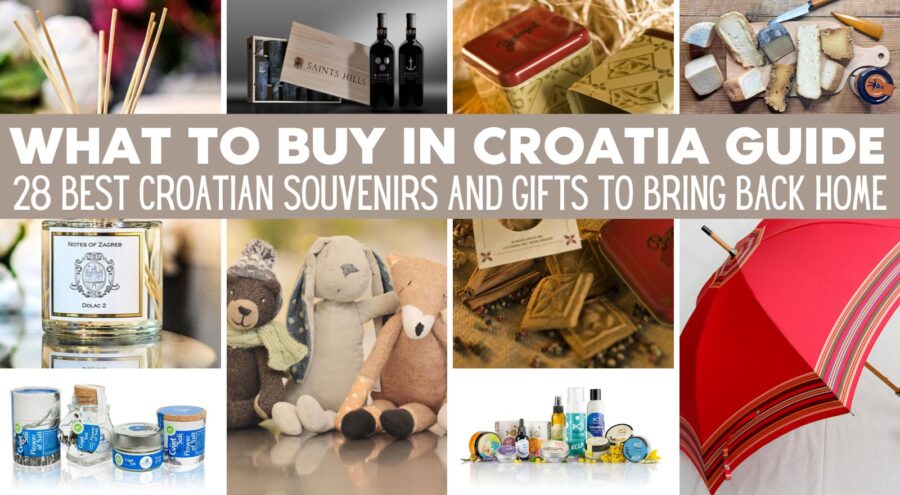 My all-time favorite souvenir I brought back home from my travels is a small box of worry dolls. This was over ten years ago. And they are still at my bedside. When I change country or even if I just go somewhere for a short trip, the dolls go with me. These dolls work harder than anybody I know.
Now, I live in Croatia, and some of the unique Croatian gifts I recommend here I am using daily, like olive oil, wine, cheese, charcuterie, or schnapps. Another Croatian souvenir, like a necktie, red coral jewelry, or Sestine umbrella, I sometimes buy for my visiting friends or if I am visiting someone and want to bring a unique Croatian gift for her or him.
So without further ado, here are my ideas about what Croatian souvenirs to bring back home.
And just to be clear, if you are wondering, I don't make any money from the products I suggest below. I just like them and think you could like them too.
What to Buy in Croatia: Croatian Gifts & Souvenirs
When traveling, it is important for us that we bring back home the souvenirs that are really representing the places we visited. French beret, Italian pasta, German beer glasses, argan oil from Marocco, and a hammock from Mexico, all found their place in our household.
Each country has something unique, and it is great to take part of it home with you. Croatia is no exception! This area has a rich history which is reflected in numerous traditional souvenirs. There is even 27 Tangible and Intangible Cultural Heritage added to the UNESCO list, which is a quite number for such a small country. We wrote a lot about some of the Tangible Cultural Heritages and if you want to visit them find out more on our blog.
When it comes to Intangible Cultural Heritage, we have different kinds of singing like Ojkanje, Klapa, and Bećarac; events – annual carnival bell ringers pageant from the Kastav area, a few processions, the Sinjska Alka, a knights' tournament in Sinj; as well as some local customs – lacemaking, traditional manufacturing of children's wooden toys in Hrvatsko Zagorje, gingerbread craft from Northern Croatia, Mediterranean diet in Croatia, etc.
Some of these you will find od different postcards, notebooks, or magnets. You cannot make a mistake if you take them. But, there are also many lovely things besides the ones listed that will remind you of Croatia. We prepared a list of typical Croatia souvenirs to buy as a reminder of your holiday.
Licitar Heart
The Licitar heart is a traditional symbol of Zagreb. You cannot miss them if you are visiting Croatia's capital city. Since the legend says Licitar was given by young men to the girl they fell in love with, it is heart-shaped and in recognizable red color. Decoration on each Licitar is different but, in most cases, they have a little mirror in the middle. They are really adorable and a perfect souvenir because they will not take up too much space in your luggage, and they are not heavy. You will find them in many souvenir shops in the city, especially on Bakaceva street in Zagreb, near the Cathedral.
Sestine Umbrella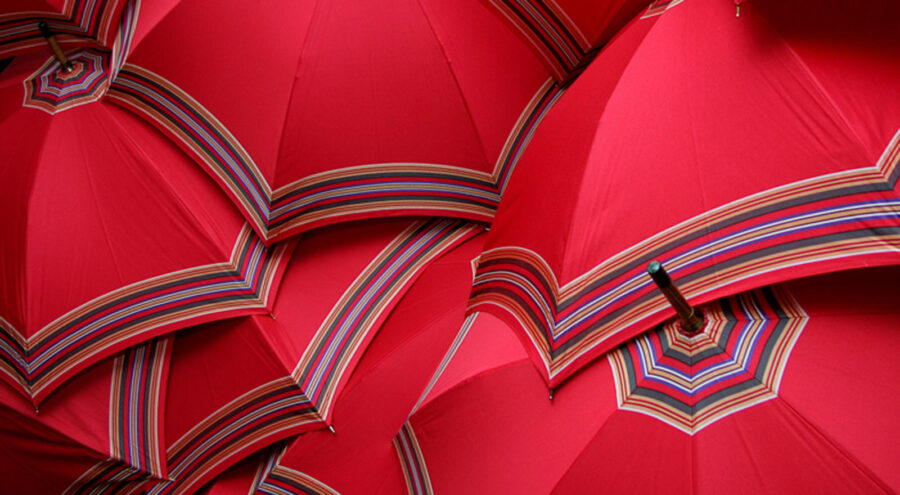 The Sestine umbrella is one of Zagreb's most recognizable souvenirs. The people living in Sestine, one of the oldest Zagreb neighborhoods, wore clothes (folk costumes) with distinguishing prints (red with multi-colored horizontal stripes on the edges), later becoming the symbol of Zagreb. If you go to Dolac, the green market, you will notice that all sun umbrellas have this motif.
The original umbrella is not cheap – you will pay around 130 €. You can also choose some similar products that are easier to carry in the luggage as the Kaplja raincoat with which we fell in love. The Cerovecki Umbrellas is the best place to buy these unique Croatian gifts. This producer has a store in Zagreb's city center.
And when we are already on umbrellas, did you know that Kisha, a famed brand of smart umbrellas you'll never lose, is also a Croatian brand?!
Traditional Wooden Toys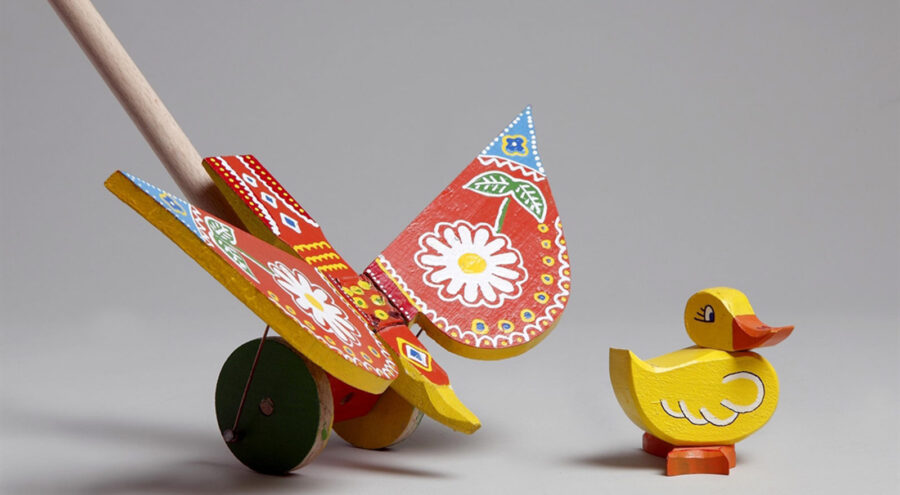 Traditional wooden toys are typical for the Hrvatsko zagorje region. They are made from locally sourced wood and entirely by hand. Some families preserved and passed down the craft from generation to generation. There are over 120 different types of toys – animals, cars, doll houses, etc. During fairs on Zagreb's main square in Spring and Autumn, you will find a great choice of these toys, and they are not expensive – around 10 € a piece. Also, they are sold in Zagreb on the green market Dolac, in the passage towards Cathedral.
Paprenjak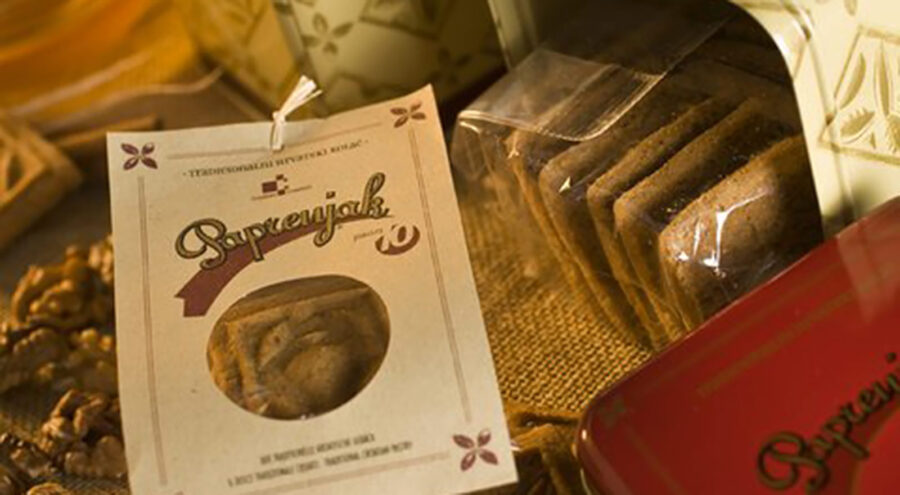 Rectangular in shape and with traditional patterns, Paprenjak is a traditional Croatian cookie made with honey and black pepper. The history of Paprenjak dates back to the 16th century and Renaissance. You can find them in almost any retail shop, or definitely in the specialized like Kredenca (in Radiceva Street) or Deliiicije (in Teslina or Frankopanska Street) in Zagreb. Look for Adria or Paprenjak brands, they are the best!
Necktie
Croatians are very proud of the fact that they invented the necktie. In the 17th century, Croatian soldiers wore a piece of silk fabric around the neck as a part of their standard uniform. The French, seeing Croatians do this, have embraced this custom, and today's tie was born!
The most popular brand in Croatia is Croata, they have a store in Zagreb's city center. They have ties, scarves, and different accessories (great Croatian gifts for him and her) in various colors and with traditional motifs like Croatian interlace or the Glagolitic script (old Slavic script from the 9th century). Prices start from 75 €.
Lepoglava or Pag Lace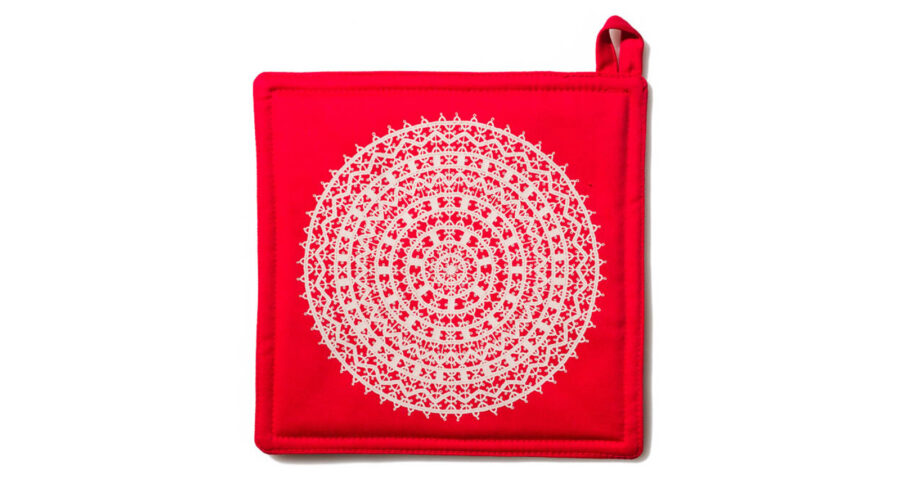 Lepoglava lace is a typical lace from the northern Croatian Varazdin Region. It's been on the UNESCO's List of Intangible Cultural Heritage since 2004. This comes as no surprise as this interesting lace has been famed not only in Croatia but internationally as well. It has won two prestige awards as far back as 1937 in Paris, and 1939 in Berlin. The Lepoglava lace price can go all the way to 1.800 €, but you can buy wallet-friendly versions of this lace, or at least of its prints, like coasters, kitchen towels, notebooks, etc., all featuring the pattern/image of Lepoglava lace. Check the Take me home store in Tomiceva in Zagreb.
As Northern Croatia has Lepoglava lace on UNESCO's List of Intangible Cultural Heritage, Dalmatia has Pag lace. Known also as "White gold" its production dates back to the 15th century. If you visit Pag, you can buy the lace in a little bit more exclusive souvenir store. However, in many shops in Dalmatia, you will find different kinds of souvenirs or even jewelry with the pattern/image of Pag lace.
Bajadera Pralines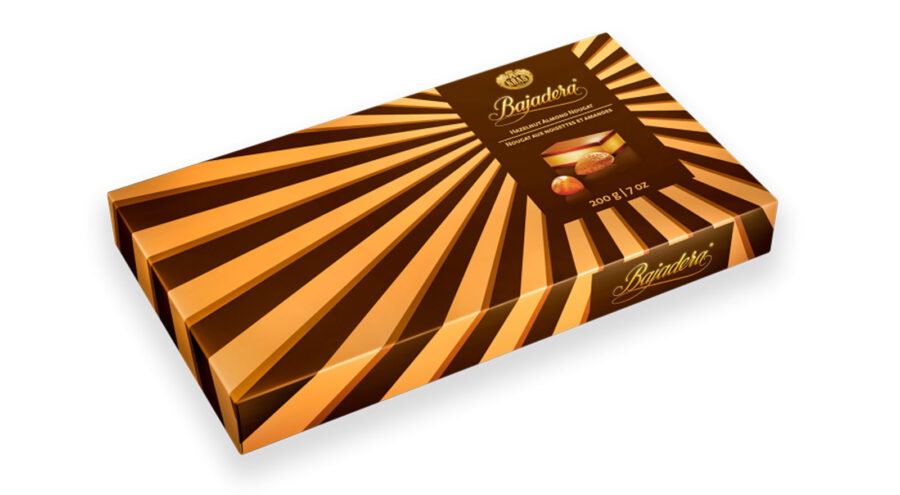 Bajadera was created in 1956 and from then became a symbol of special occasions. Even today if you visit somebody in Croatia and bring Bajadera it is considered a distinct sign of admiration and respect. Bajadera is produced by the Croatian confectionery company Kras. Kras has its own stores in all parts of Croatia. However, all almost all grocery and souvenir shops in Croatia sell Bajadera. The prices range from 6 € to 14 € depending on the size and package design.
Stone From the Island of Brac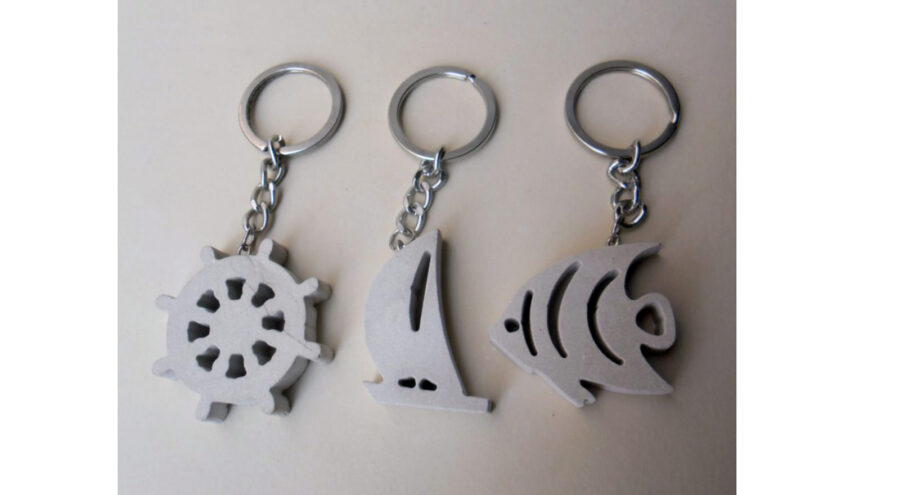 The people from Brac island and Dalmatians, in general, are very proud of Brac stone. Diocletian's Palace in Split, the Parliament and the New Palace in Vienna, the Parliament in Budapest, and the Governor's Palace in Trieste – all those buildings feature the stone from Brac. Today, you can find many travel-friendly souvenirs made of this stone: vases, bowls, clocks, and even jewelry made of stone. And, you do not need to go to Brac to buy it. You can find these products in many souvenir shops in cities all across Dalmatia.
Check Martinic Promet Stone Art to get a better idea of what kind of souvenirs you can get. Martinic Promet has two souvenir shops, one in Split and one in Dubrovnik, where you can buy souvenirs made of Brac stones. I actually really like the key chain, it's very unusual and unique. But, other things are cool too!
Motifs and Miniatures of Croatian Cultural Sites
Sibenik Cathedral, Saint Donat Church in Zadar, the Palace of Diocletian in Split – of course, you cannot take them with you, but souvenirs with the motif of any of these symbols of Dalmatia can do the trick.
In Split within and around the Palace you will find numerous stores where you can buy souvenirs, and worth visiting is the Discover Croatia store on Narodni Square. In Zadar, many souvenir shops are in the historical part of the town. Start with Ars Natura in Siroka Street, and you will perhaps find everything you need there.
Croatian Wine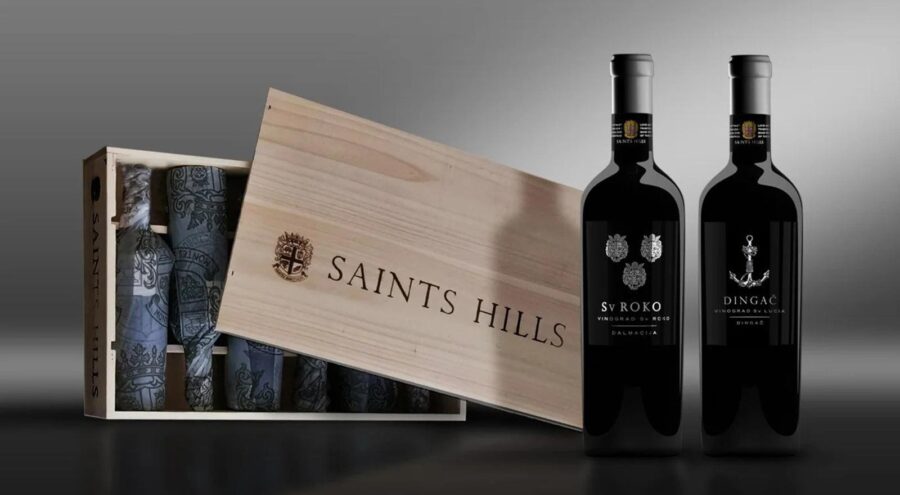 Wine is really popular in Croatia, and it makes not only a great gift but an excellent conversation point with your friends and family back home. Besides, if you visit wineries in Croatia, you can learn so much more about Croatian wine and you will have the experience to remember. Here are a few wines and winemakers we highly recommend.
Dingac is the most popular and most prestige red wine in Croatia. It's made of Plavac Mali grapes grown exclusively in the Dingac region, the first protected wine-growing region in Croatia. Plavac Mali, the indigenous sort used to make this wine, on the other hand, is known as the offspring of Zinfandel, and Zinfandel is nothing else but the Croatian variety Crljenjak or Tribidrag. Both, American Zinfandel and Italian Primitivo derive their origin from this Croatian sort. Anyways, these intriguing stories and history hidden in a simple bottle of Dingac wine are additional reasons to buy this Croatian souvenir. The Saints Hills Winery makes the best Dingac in Croatia to our taste. You can buy their wine in their winery on the Peljesac peninsula, in wine shops all over Croatia, and online through their website. Their wines are also exported all over the world including the USA. Expect to pay around 60 € for a bottle.
Istarska Malvazija is one of the most popular Croatian white wines. Although there are many wine sorts in the world carrying the name Malvasia, they are actually not related to each other. This is the reason that Malvasia wine usually has a preceding word in its name, designating its geographical location. In Croatia, we have Istarska Malvazija native to the Istrian peninsula, and less-known Dubrovacka Malvasija, originating from Konavle near Dubrovnik. It is a fruity dry white wine with 11.5% to 13.5% of alcohol. Almost all Istrian winemakers offer a great quality Malvazija but our favorite Malvazija wines are Kozlovic's Santa Lucia, Damjanic Akacija, Clai's Sv. Jakov, and Ipsa's Santa Elena. Visit any of these wineries for tasting and to buy a bottle or two as a souvenir and you will have a blast! The prices start at 20 € for a bottle.
Plesivica Sparkling Wines are a must for all bubble lovers. While almost all wine-makers in Croatia produce at least one label of sparkling wine, Plesivica is THE Croatian wine region that is specialized in and is best known for its sparkling wines. This area close to the capital Zagreb has a perfect climate and soil for the production of the top quality sparkling wines based on the classic method of fermentation. If you have a chance make sure to visit Tomac Winery and buy some of their sparkling wines. This family has been a synonym for sparkling wines in Croatia, and as someone who doesn't follow the trends, but instead, they set them. Yet, they are very friendly, down-to-earth people. All their vineyards are fully organic. Other winemakers in the area worth visiting and tasting their sparkling wines are Korak Winery, Sember, and Ivancic Griffin Winery.
Prosek Dessert Wine goes great at the end of the meal, it accompanies perfectly any dessert. Prosek originates from the Croatian Dalmatia region, and it is the best-known and most popular Croatian dessert wine. It's made of selected grapes that are dried first on the vine and then some more after the harvest. This way the Prosek wine gets its sweet taste from the sweetness of the grapes. Our favorite prosecco are Bibich Ambra and Karaman Prosek.
Croatia has many more wines than the ones we mentioned here. But, for us, these 4 are representative of the country and a good start for getting to know Croatian wines. They all make excellent gifts to bring back home.
Traditional Liquors and Liqueres (Rakija)
When we are already on the subject of wine, we have to mention another alcoholic treat that makes a great Croatian gift for him or her. Croatian liquors and liqueurs come in a number of flavors, some are strong, others are sweet, and they all contain anywhere between 25% and 40% alcohol. Our favorite schnapps types include those made of roses, sour cherries, myrtle, and walnuts. In fact, these four you can always find in our house. Walnut rakija helps with any stomach pain or problem. At least, that's what Vera claims!
Maraschino liqueur, made with sour Dalmatian Marasca cherry, has already been produced for 5 centuries. In the beginning, it was used as a medicine, but now you do not need to play sick to enjoy its sweet taste and aromatic smell. Maraschino is a symbol of the Zadar region, and you can buy it in any retail store for the price of around 13 € for the 0.7l bottle.
Teranino is a liquere made of red Teran wine, grappa, and spices. It is one of our favorite Croatian liqueurs with its sweet taste and lovely aromas. So far it proved to be one of the best gifts for our friends abroad. You can buy it at any retail shop and the price vary depending on the brand and size. However, we prefer Teranino produced by Istarska kapljica which sells it under the name Mediteran (around 14 € for 0.5l), or family Rossi (around 15 € for 0.5l).
As we said there are so many different liquors and liqueurs in Croatia that you don't need to limit yourself to those two we described above. We highly recommend Istarska kapljica brand because as a base for their spirits, they use the real Lozovaca, made of full grapes (and not grape pomace) from their own wine estate, and without any added sugars. This is the real, and the most natural thing you can have. Then to that base, they add whatever spices, fruit, nuts, or other ingredients like honey, truffles, mistletoe, etc. they need to get various types of schnapps. Some other brands, although more popular, often use cheaper base alcohol, like apple alcohol.
Truffles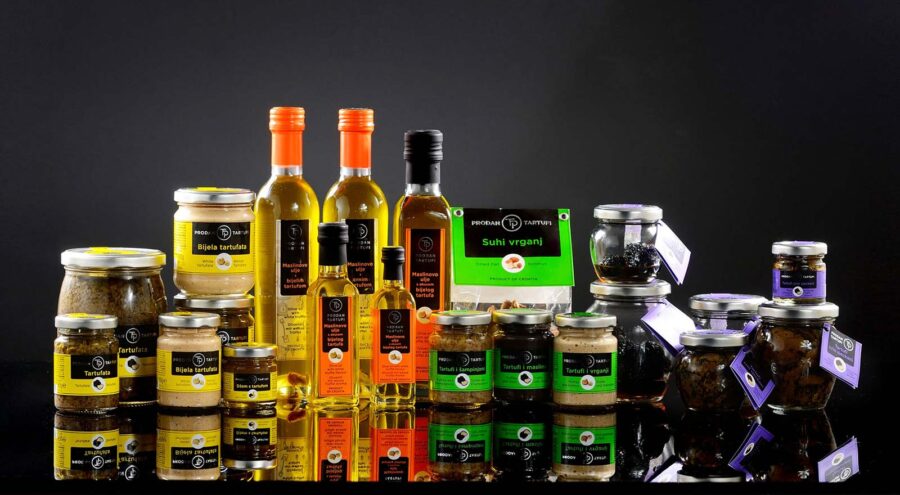 The white and the black truffles have their natural habitat in Istria, mostly in the river Mirna's valley and Motovun Forest. The season of the white truffles, the most expensive and the most valuable truffle, is short, from October to December, and in this period you can find lots of hunters in Motovun selling them.
This is the trickiest of all souvenirs to take home from Croatia. For a simple reason, our truffles are exported a lot to France and Italy where they are then sold under the pretense of being local truffles, and they gain a much higher price. So, when buying truffles in the stores, you really need to be wary of the potentially imported products. If a product smells like truffles, it doesn't necessarily mean it's made with truffles. Flavors do miracles today! However, there are a couple of producers we recommend.
Anyways, if you want to taste or get real Istrian truffles, then the best is to visit restaurants with the Tartufo Vero labels on the door, like Vrh, Morgan, Toncic, or Toklarija. You can also take a truffle hunting tour. If you have a friend at home who is really into truffles, then go to Prodan truffle shops and buy something from their wide range of truffles-infused products like truffle oils, truffle butter, honey, or tartufata, a ready-made truffle and mushroom sauce.
Miniature Kazun
When driving through Istria, you will notice a small stone house among the olive trees. Locally, they are called Kazun and they were used for storing tools and as a shelter for people when the rain would come. They are round in shape, made from stone, without windows, and with spiky roofs. Look in souvenir stores for miniature versions of these typical Istrian stone shelter houses.
Bukaleta
If you visit any of the Istrian restaurants, you will notice a bukaleta, a traditional handmade and bird-shaped Istrian clay jug, used initially to make and serve Istrian soup. Contrary to its name, the soup isn't really a soup but an Istrian version of mulled wine.
Together with kazun, it is one of the most popular Istrian souvenirs. You can buy the real jug or its small version in many souvenir shops and market stalls in all Istrian coastal towns.
Istrian Extra Virgin Olive Oil (EVOO)
Croatia has one of the best olive oils in the world! Istria, the northern Adriatic region of Croatia, is the single most represented region in Flos Olei's guide to the best olive oils in the world. And this has already been the case for seven consecutive years. Flos Olei is the most important publication of its sort in the world, it examines the 500 best olive oil estates from 5 continents and 56 countries. Istria makes a large 13% of the 500 bests!
So if you are in Istria, make sure that you enjoy as much olive oil as you can. And when leaving, make sure to take some of it with you. Most Istrian olive oil producers make monovarietal extra virgin olive oils, although almost all the important ones have at least one blended label.
Actually, blended olive oils have their advantages. First, they are also harvested and stored as monovarietal oils in their separate tanks, and then once in the cellar, different sorts are mixed to form a blended olive. Quality wise blended olive oils are more consistent than monovarietal for the simple reason that there is just as much as we can influence mother nature, and if your one variety of olives, for whatever reason, didn't give the same quality of olives, you'll feel it in the final product. But, the same won't happen with blends, because shortcomings of one sort, you can compensate with another, and always keep a consistent quality level. Anyways, Ipsa and Chiavalon are our favorite olive oil producers in Istria. And our favorite extra virgin olive oils in Istria are Chiavalon's Ex Albis and Ipsa's Selekcija. Both blends!
Rab Cake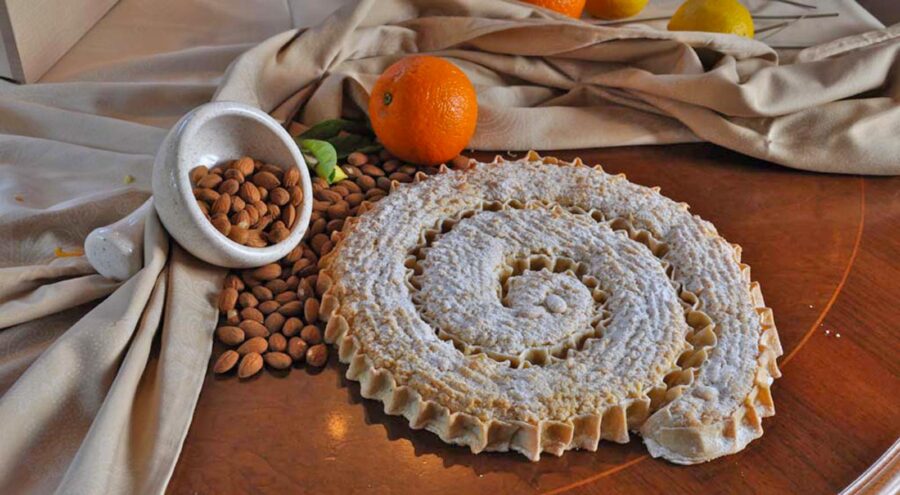 A traditional Croatian cake from the island of Rab with almonds and Maraschino liqueur as main ingredients tastes amazing, and it is an excellent souvenir to buy in Croatia. Traditionally it is spiral-shaped.
We have a friend from Rab, and whenever she comes back from the island, she brings us this cake. It is really great! The only problem is that you need to go to Rab to buy it. Before the cake was available in Natura Croatica souvenir shops, but it doesn't seem to be the case any longer.
The price varies depending on the size, but you can find it already from 10 €.
Croatian Cheeses
Cheeses aren't always easy to carry, but if they are well-wrapped and vacuum-sealed, and are a type of cheese that takes transport well, they are a great gift for someone back home. We always bring back home cheese when we travel in Europe. Below are some Croatian cheeses worth trying and buying.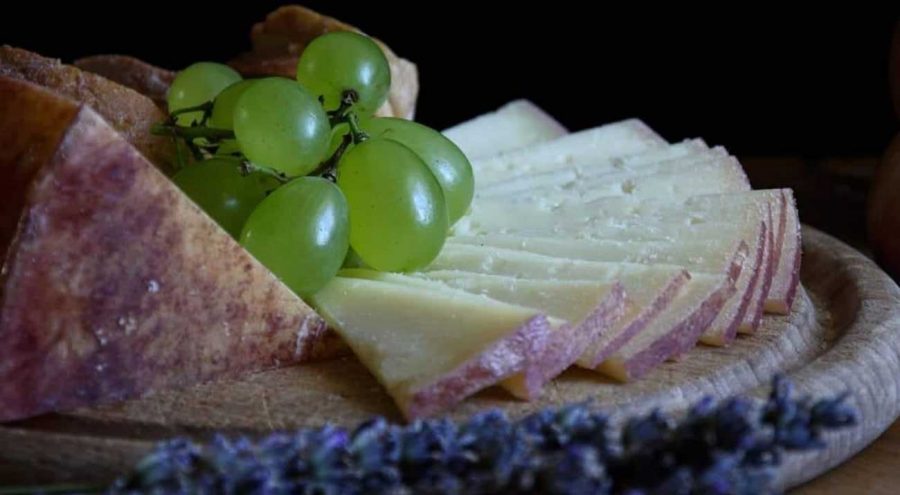 Without a doubt, Pag Cheese is Croatia's best cheese and one of the best sheep cheeses in the world. It is a hard, matured sheep cheese produced on the island of Pag using traditional methods. The Island of Pag is also known as the Moon Island due to its rugged terrain and harsh weather, especially strong wind Bura which leaves the northern side of the island almost completely naked. But in these rough terrains, the Mediterranean herbs are the only plants that survive. And they are what makes Pag cheese so special! As sheep eat a diet rich in those aromatic herbs, the cheese gets a special flavor incomparable to any other cheese of its kind. This cheese you can find everywhere in Croatia, from restaurants' menus to any retail or deli shop. However, we never buy industrial Pag cheese, neither we recommend it. We buy from a small family producer – OPG Fabijanic. If you have a chance this is THE Pag Cheese you should try to taste and if lucky buy it. If not, look for Gligora Cheeses. It is the most popular brand and its prices start at 35 € for a package of 675g.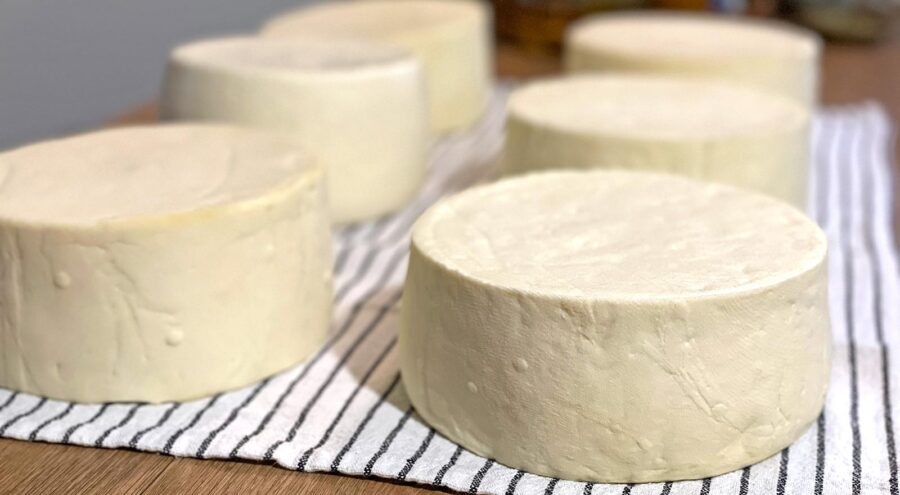 Skripavac is another type of cheese definitely worth trying if not buying. It is a fresh cheese so it doesn't transport well. Skripavac is a squeaky cheese originating in the Lika region, although today it can be found in many parts of Croatia. We always buy our Skripavac from a small farm in the village of Smiljan. If you are in the area visiting Plitvice or Nikola Tesla's birth house and memorial center, and you like cheese, make sure to stop by. Otherwise, you can buy one in Veronika Delicatessen, or just buy one available in large retail stores, like Konzum.
Skuta is a popular cottage cheese from Croatia. It is often made of sheep milk, although sometimes you will find one made with cow milk, or mixed cow and sheep. Some small producers make it also with goat milk, but this is rare. Skuta is basically similar to Italian ricotta or to Corsican brocciu. In many retail stores in Croatia, you can find skuta produced by Gligora Cheeses. But again, the yummiest one that we tasted is produced by OPG Fabijanic from Pag Island.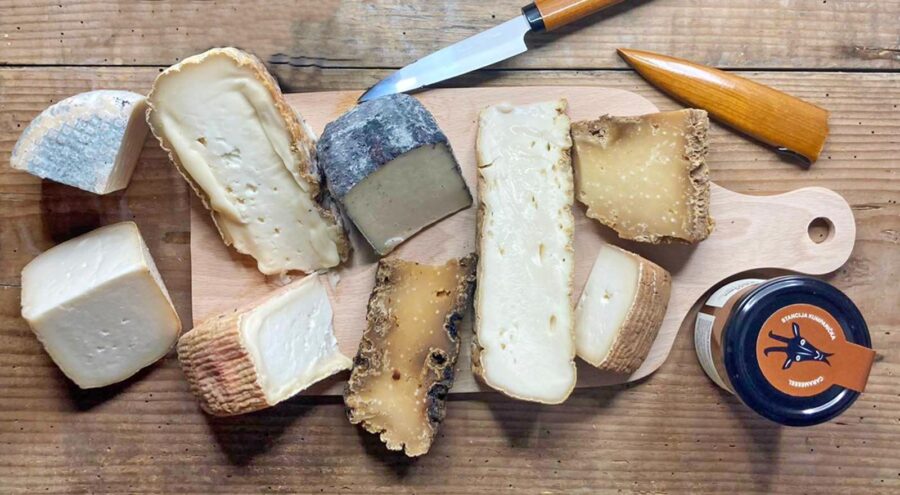 Last but not least – his majesty Kumparicka Goat Cheese! This is our favorite Croatian cheese and one that any cheese lover who visits Croatia has to try out. Kumparicka is a family-run farm in Istria that makes exclusively goat cheeses, and other goat milk products like yogurt, whey, fresh milk, and the most divine caramel. They have a wide range of cheeses especially in spring and summer when goats give lots of milk. Then you can find various fresh kinds of cheese with or without herbs and spices, as well as aged cheeses of different duration. All their products are organic and made with raw milk. Their 250 goats are out, free to roam and graze on Istrian organic pastures. You can buy their cheeses at the farm, at a small market stall in Pula's farmers market, or order online through their website.
Croatian Cured Meats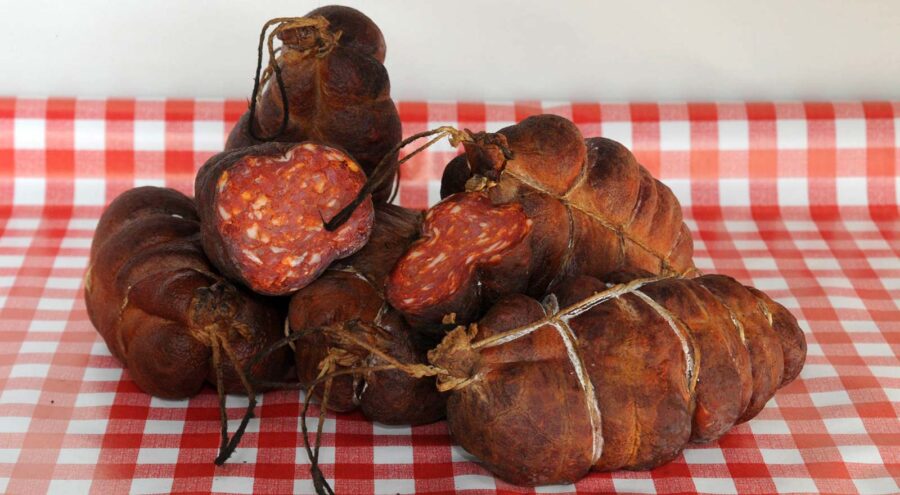 Croatian charcuterie, just like Croatian cheeses, makes a great gift for any foodie back home. However, they are not always easy to carry. But if vacuum-sealed, and taken in small pieces they can probably make it safely back home. Below are our favorite Croatian cured meat products to take with you.
Dalmatian or Istrian prsut is a cured pig leg, similar to Italian prosciutto or Spanish Jamon Serrano. The main difference between Istrian and Dalmatian prsut is that Dalmatian prsut is not only dried but also smoked during the curing process. They are both good, although Dalmatian prosciutto tends to be a bit too salty for my taste. If you plan to bring some home, we recommend Dalmatian prsut Pasquale from Skradin, cured and sold by the owner of Skippers Club Arka, and Dujmovic or Jelenic prsut from Istria.
Slavonian Kulen and Kulenova seka are special sausages from east Croatia made with prime pig meat, and spices, dominantly spicy red paprika. Kulenova is a very wide sausage while Kulenova seka is thin, and this is the only difference between the two. We like OPG Ferbežar's and OPG Matijevic's products. But you can buy this kind of cured meat in all retail stores. PIK is a good brand for industrially made kulen.
Unique Designer Products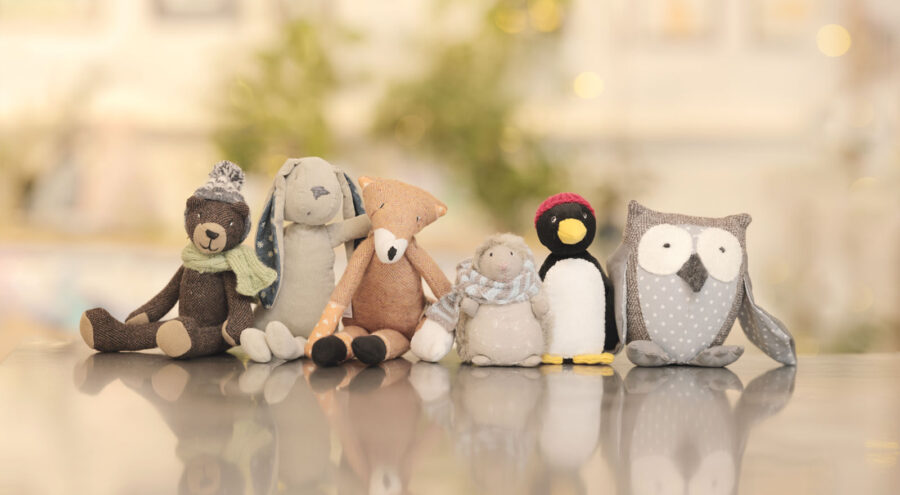 Jasmina Kosanovic, an artist behind the brand Jasmina i lutkice (Jasmina and dolls) makes beautiful handmade dolls. It is a perfect Croatian gift for children. You can find her in her fairytale shop in Petrinjska 40! The atelier alone is worth a visit!
Krtz is another kitchen utensil that I like. It's a walnut opening knife. It's functional (it really works!). It's got a beautiful design. At 18.45 €, it might not be a gift for the aunt you've never really liked, but it can be a great gift for somebody close to your heart who likes walnuts. Like me, for example.
Bring the streets of Zagreb back home with you with a range of products designed by the Croatian Like a Map brand. This brand prints cartographic illustrations of Zagreb on various everyday products like tote bags, notebooks, and wall posters. You can buy these products at the Take Me Home shop in Zagreb Tomiceva Street.
Marinski Heartmades offers quality handmade and heart-made ceramic crafts. Bowls, cups, vases, ornaments but also jewelry for those who don't have enough room in the luggage for bigger or heavier items, you'll find them all at Marinski Heartmades. You can buy Marinski's ceramics in designated retail shops, in their shop in Kastav near Rijeka, or online through their website.
Ceramic cookie stamps with traditional Croatian motives are another interesting Croatian souvenir for kids and adults alike. LumenShop makes these lovely stamps along with other interesting ceramic items for gifts and home. You can also find them in the Take Me Home shop in Zagreb.
Morčić Jewelry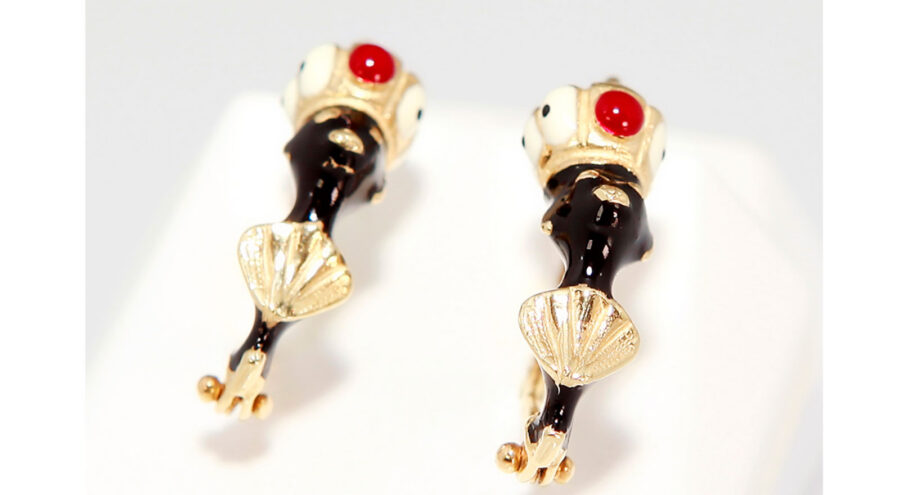 Traditional folk jewelry is one of the most popular symbols of The City of Rijeka as well as Kvarner and Croatian coastal regions. Originally it was created as an earring, although today you can find neckless or bracelets with the motif of Morčić. Worn not only by women but also sailors and fishermen (who would put it only in one ear), the Morcic is believed to be a charm that brings luck, love, and health. Morčić earrings you can find in many jewelry stores all over Croatia, and the price for golden ones starts at 200 €. However, in Rijeka and Kvarner regions there will also be different souvenir shops with motifs of Morčić at a low prices. If in Rijeka, visit Croatia in a Box or Šta da?! stores, which have original and unique offers.
Glagolitic Script (Glagoljica)
Glagolitic script (Glagoljica) is the oldest known Slavic alphabet, with 41 characters, dating all the way back to the 9th century. The Glagolitic script was used until the early 19th century when it was replaced with the Latin alphabet. In the Istria and Kvarner, especially on the island of Krk, there are lots of (stone) monuments with writings in Glagoljica.
You can find many souvenirs in Croatia like table mats, cloths, pillowcases, etc. featuring prints of Glagolitic letters. Prices range depending on the item but for around 10-15 € you can buy many lovely souvenirs with the Glagolitic script.
Croatian Cookbooks
There is no better gift for somebody who likes to cook than a good quality cookbook. As you will hopefully agree after visiting the country, the food in Croatia is really good. All those various rulers who ruled on Croatian soil throughout history, have left at least something good, the variety of cuisines: Austrians, Venetians, Greeks, Hungarians, Turkish, Italians, French … yes they all influenced what we know today as Croatian cuisine. When you are home, creating the Croatian dishes you enjoyed the most, will recreate the memories of your trip. So you can actually buy this Croatian souvenir for yourself if you like cooking, or for someone who likes cooking but will also invite you to share all the divine Croatian dishes. Below are two best Croatian cookbooks translated into English.
If you have a sweet tooth, then you'll be happy to know that Andrea Pisac has put together the entire cookbook dedicated to Croatian desserts. This book, simply called Croatian Desserts, features recipes for 50 authentic cakes and sweets made in Croatia. You can purchase it directly through the writer's website – Croatia Honestly.
Andrea has also recently published a cookbook with recipes for 100 authentic savory Croatian dishes. The book Croatian Classics is available on her website. Check out the book here!
Croatia – The Cookbook is Mate Jankovic's, Croatia's most popular chef, work. He gathered together 36 best Croatian chefs who shared their favorite recipes from their home region in Croatia. The result is 155 recipes from all corners of Croatia, written in a nice and easy way, and with lovely photos. You can buy it in Skolska knjiga shops, or online through their website.
Croatian Sea Salt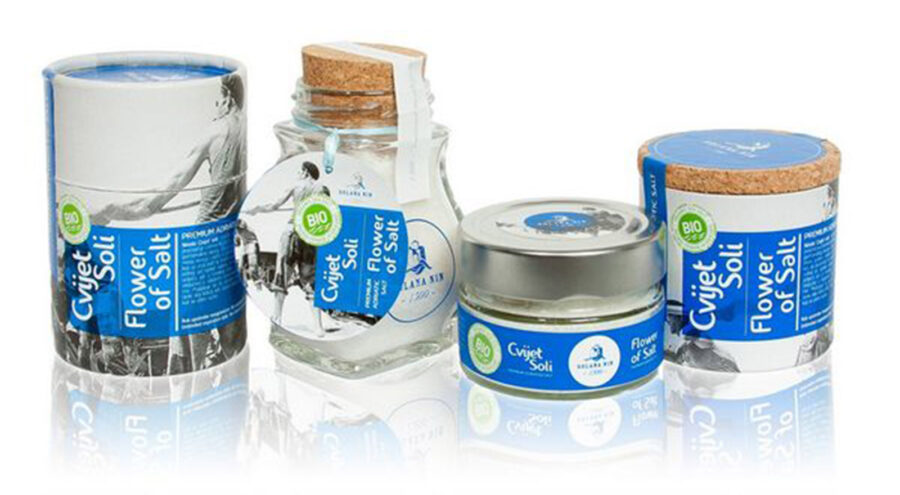 Croatia has two sea saltworks: Ston Saltworks, on the Peljesac peninsula, and Nin Saltworks near Zadar. If you are staying near these saltworks, make sure to pay them a visit. It's always interesting to see and learn something new.
However, if you are not close by, you can look for salty souvenirs. The products from Ston are hard to come by. This is our go-to salt for home cooking. This salt goes through less processing than any industrially processed salt. In fact, it's very humid, and it remains like that.
Fleur de sel whose literal translation would be the Flower of salt can be a great souvenir from Croatia. Fleur de sel is a rare type of sea salt and much more expensive than ordinary sea salt because first there is less of it, and second the process of harvesting is much more delicate. It's basically the thin top layer of the salt that forms in the salt basins. The weather conditions must be ideal to collect it, and this can be done only early in the morning or late in the evening when there is no wind.
Anyways, Nin Saltworks produce this rare delicacy among other salty products. And you can find it in many retail stores throughout Croatia, or in their webshop. Price ranges from 5 € to 11 € depending on the size and design of the package.
Home Fragrances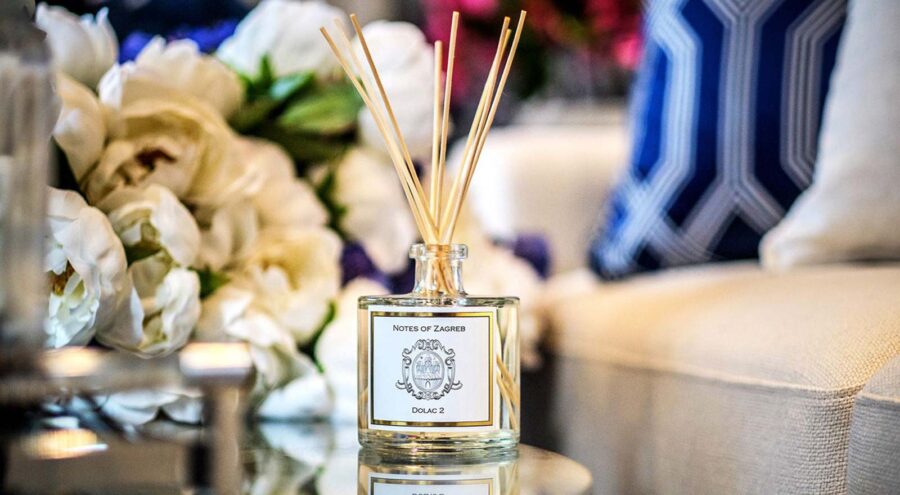 Profumo di Rovigno is a small shop in Rovinj selling perfumes, home scents, body and bath products, and home decorations. If you are staying in Rovinj or just visiting, it is a great place to find an original souvenir to buy in Croatia.
Notes of Zagreb is another Croatian brand offering lovely home fragrances, perfumes, and even dog perfumes.
Natural Cosmetics
Natural cosmetics are gaining ground in Croatia, and many new innovative brands emerged in the last few years. While each of these brands has its distinctive style and products, they do have some things in common: their products are natural, ecological, vegan, and whenever possible locally-sourced. Here are some of our favorite Croatian brands of natural cosmetics.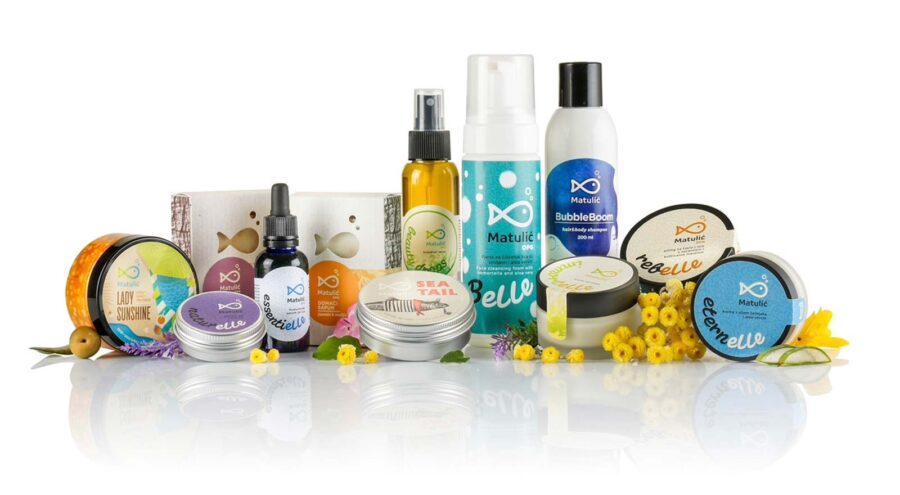 Matulic family, on the island of Pasman in the Zadar archipelago, makes the most divine natural cosmetics and interesting food products. The husband and wife duo creates handmade soaps, face creams, and shampoos based on locally sourced ingredients and the island's traditions. They also make yummy treats like gourmet sea salt, vinegar with figs or sour cherries, and hot sauces.
BooLab stands out with its philosophy that whatever goes on your skin can go in your mouth too. So, all their cosmetic products you can literally eat. We like their Ultra Rich Lip Balm and Lips&Cheeks makeup.
Sapunoteka is one of the first companies in Croatia to offer natural cosmetics. They offer a range of skin-friendly products based on top-notch vegan raw materials. We like their solid shampoos and hand creams.
Immortella offers a range of natural handmade cosmetics for the face and body, deodorants, floral waters, and essential oils. We like their facial toner and roll-on deodorant.
Kobali Hats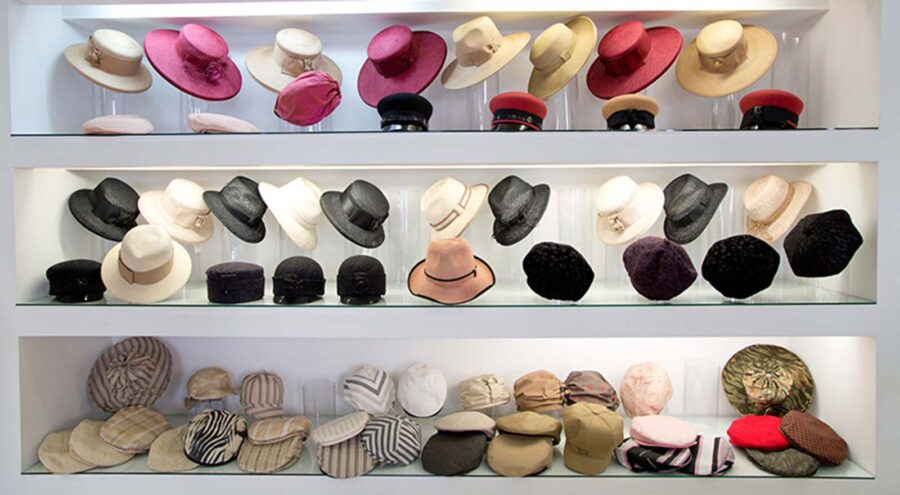 Croatian handmade hats make a stylish and unique gift for her. Kobali Hats are a well-known and established brand of hats from Zagreb. The Kobali family has been making hats for over 100 years. Visit their shop on Cvjetni Square in Zagreb, and look for a unique model of hat to gift to someone important back home.
Nautical Bracelets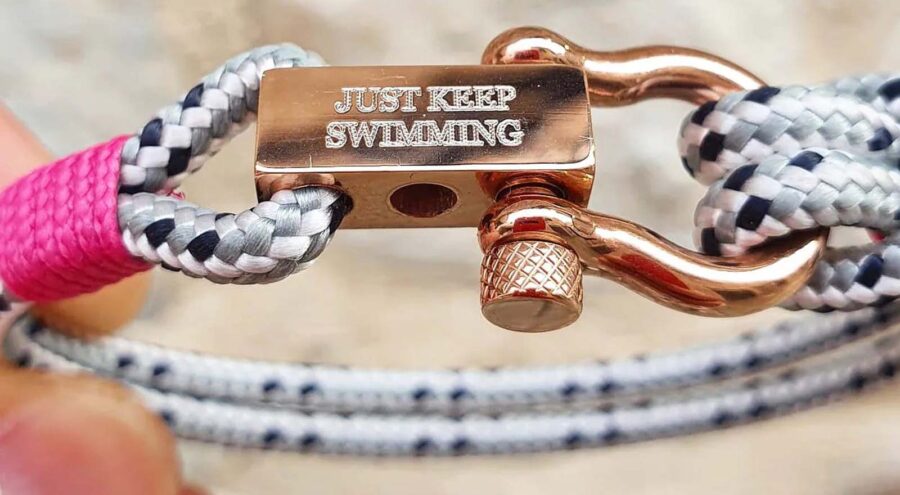 Break Time is a Croatian brand of nautical bracelets. They are based in Split, but you can find their products throughout Croatia. They used to have their own stores but sadly had to close down the majority of them after Covid-19 hit. However, they still have a store in Split, they have their products featured in other souvenir shops across Croatia, and you can also buy their bracelets online through their website.
Croatian Hot Sauces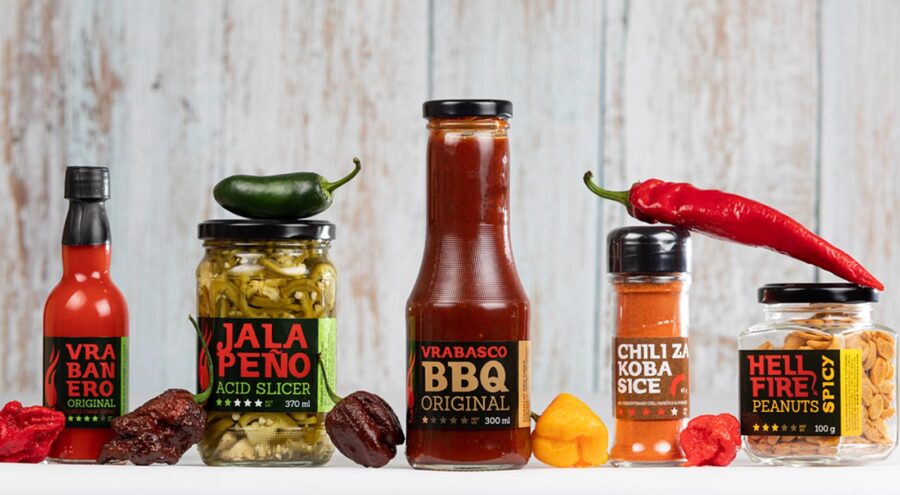 Volim ljuto was the first Croatian brand of craft hot sauces. They launched their line of hot sauces back in 2013. Their brand Vabrasco is today the best hot sauce brand in Croatia. They have a great line of products, and for someone who likes spicy stuff and likes to eat, this is a perfect gift to bring back from Croatia. You will find their products in many grocery stores, like Konzum, in many specialty shops like Aura, and in their webshop.
What kind of souvenirs do you usually buy on your travels? Share your souvenir habits in the comments below.