If you are visiting Zagreb as a couple, and you are looking forward to some romantic sites, walks, activities, candle-lit dinners, and charming cafes, this post is for you.
Croatian capital town, Zagreb has a good vibe, lots of parks, historical sites, museums, good nightlife, and an exciting restaurant scene. It's an interesting place to visit in Croatia, and it is a great place for couples.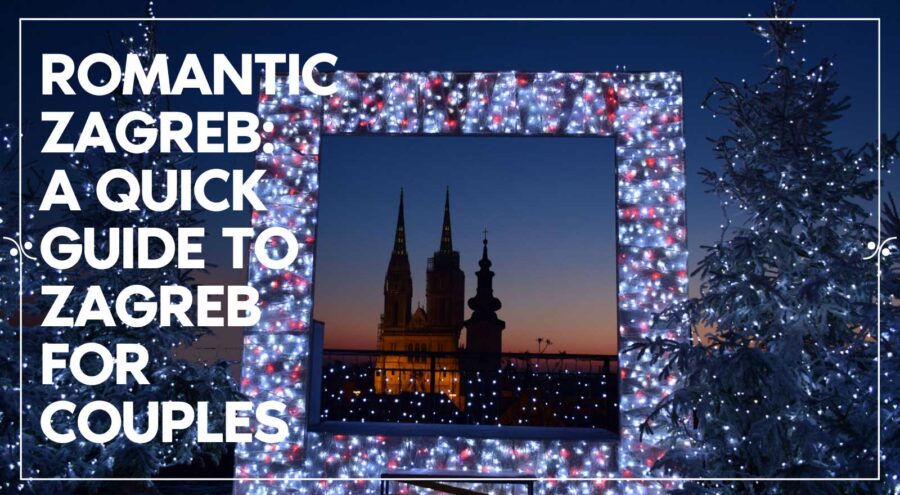 Is Zagreb a Good destination for couples?
Zagreb is so romantic that even a city map comes marked with the town's best-kissing spots.
The Upper town still features gas street lamps. And they are lit by hand every evening.
Funicular, in operation since 1893, is still running between Upper and Lower town.
Lots of parks and a historical old town offer endless opportunities for romantic walks.
Zagreb has lots of cafes with lovely terraces.
Plenty of restaurants for a romantic dinner.
Zagreb has great nightlife and a variety of street festivals.
Things to do in Zagreb for couples
Have breakfast at the Broom44. You will feel the vibe of Dolac market where usually couples come to buy fresh fruit and vegetables.
Visit the Upper town. Zagreb's Upper Town is located on a small hill, and it's absolutely romantic place to explore.
Take a funicular ride. A funicular connects Down and Upper town. The ride is only a few minutes, and a ticket costs 0.66 € per person.
Go for a romantic walk. A fellow blogger, Andrea, put together a post on Zagreb romantic walks. Check it out!
Have a picnic at one of many Zagreb Parks. Zagreb is really a town of parks and forests. We've written about Zagreb forests in this post re-published by Business Insider.
Dine out at Zagreb's top restaurants. We love Mali Bar, Lari&Penati, and Gajbica.
Bargain at Dolac, Zagreb green market. It's located right behind the main square and it's a perfect place to feel the pulse of the town.
Visit the Museum of Broken Relationships. This quirky little museum is located in the Upper town, and it's dedicated to love gone wrong.
Walk along the Sava River banks. Not too many tourists go to this part of the town. However, locals love walking along the Sava river. Here is a post on Zagreb itineraries for travelers.
Spend a day at lake Jarun. Another spot more for locals than tourists, Lake Jarun is an artificial lake with cycling paths, lots of green spaces for picnics, restaurants, and a couple of nightclubs.
Visit Samobor, a lovely little town near Zagreb. You can take a bus from the main station. A one-way ticket costs 4.5€.
Do as locals do – just relax at any of the pavement cafes, and watch the world go by.
Share an ice cream. In Zagreb, you'll find the best ice creams in all of Croatia.
Read a full post on things to do in Zagreb.
Accommodation in Zagreb for couples
Esplanade Hotel – This charming hotel, first built in 1925, has always been an important part of Zagreb's social life. Rooms are spacious with luxurious bathrooms, double-casement windows, comfy beds, and complimentary WiFi. We also love their on-site restaurant – Zinfandel's. Room prices start at 130 € per night.
Irundo Downtown Apartments– ZigZag provides apartments and rooms at various locations in downtown Zagreb. All apartments are well-furnished, modern, and airy. Apartment prices from 70€ per night for a one-bedroom apartment.
Hotel Jagerhorn – The oldest standing hotel in Zagreb, hotel Jagerhorn first open in 1827. Located in the heart of the city, but hidden from the sights in a courtyard, off the main Ilica street, the hotel features 18 well-appointed rooms. The hotel has a nice breakfast area and a relaxing outdoor terrace. Room prices start from 80€ per night.
Here is our list of recommended accommodations in Zagreb.
We hope we've given you an idea of Zagreb for couples. If you plan on visiting Zagreb, check out our other posts about Zagreb: things to do in Zagreb, the best places for lunch in Zagreb, must-try restaurants, where to stay, and Zagreb itineraries. We also have posts on Christmastime in Zagreb and the best places for a beer.
If you have any questions, please leave them in the comments below.