I hope you haven't had a bad thoughts when you read a title. It's got nothing to do with, well people, but everything to do with olive oil. And this is actual a slogan for Chiavalon Olive Oil, bien sûr extra virgin olive oil.
I am having a hard time to start this post, as words cannot describe the excitement I feel about Chiavalon olive oil. If you can't find already enough reasons to visit Istria, then visit it to taste this sublime liquid. And make sure to taste it at the Chiavalon Olive Oil Estate.
A little bit about Istrian olive oils
The olive oil is one of the most important foods in Istria. Due to its geographical location, and a type of soil, Istrian olive oil is of a superior quality. I don't want to brag much about it, but even in a 2000 year old cookbook De Re Coquinaria, you can read about manipulating Spanish oil, adding salt, roots and leaves to it, to fake a superior quality Istrian olive oil. See?!
However, Istrian olive oil is excellent, and you'll notice it yourself if you ever get a chance to taste this awesome gold liquid.
Istria has many olive oil producers, and I would dare to say that it's hard to find today a bad Istrian olive oil. That said, make sure to learn how to distinguish good from bad olive oil (you'll learn it while olive oil tasting at Chiavalon).
Tip: Some touristy places will try to trick you with cheap industrial Greek or Italian oils bought in bulks, bottled and then sold as genuine Istrian olive oil.
Tip 2: Don't ever buy olive oil at stands along the roads, or on the green market. Buy olive oil directly from producers, or from designated stores.
And now back to Chiavalon Olive Oil
Chiavalon brothers, Sandi and Tedi, make one of the best olive oils, not only in Croatia, but in the world. Chiavalon brothers, Sandi and Tedi, make one of the best olive oils, not only in Croatia, but in the world.
Don't trust me? No problem! Back in 2016, World's Best Olive Oil Association placed their farm among TOP25 producers in the World and recently the Italian Organization Premio il Magnifico awarded their olive oils with 3 stars (think Michelin 3 stars ? in the world of olive oil) and placed them among TOP12 producers in Europe.
Funnily enough, they don't come from a long family line of olive oil producers. Sure, Chiavalon family, just like every Istrian family, had olive trees, and they used to make olive oil for their personal use.
But for Sandi Chiavalon, olives were his life call, and he knew it early on. He was hardly 13 years old, when he decided to make an olive oil, and his grandfather handed him 50 olive trees.
Today, Chivalon is the most awarded Croatian olive oil producer. The Chivalon family has over 7.500 of their own olive trees, and overlooks an additional 5.000 trees from contracted cultivators. The family produces around 20.000 litres of extra virgin olive oil a year, and they export over 60% of it.
The harvest is manual, and fruit is pressed within two hours after the harvest to obtain a high quality extra virgin olive oil.
Chivalon is (to my knowledge) the only olive oil producer in Istria who resisted a temptation to put on the market a single-sort olive oils, like for example Belic did.
A single sort olive oil is exactly that – an olive oil made of a single sort of olives, like leccino, picholino, or buza.
Chiavalon haven't adopted this fashionable philosophy of producing single-sort olive oils only for one reason – to be able to guarantee a consistent quality of his olive oil.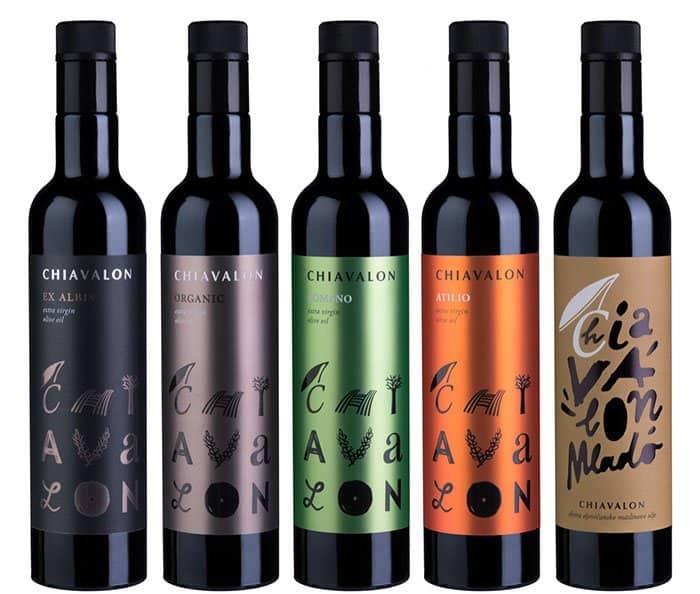 Today Chiavalon produces five different extra virgin olive oil blends: ExAlbis, Organic, Mlado, Atilio and Romano. Atilo and Romano are made in honor and named after their grandfathers. Atilo was a big meat eater, and thus Atilo extra virgin olive oil marries perfectly with meat dishes, while Romano enjoyed fish, and Romano blend goes perfectly with any fish and seafood dishes.
Chiavalon does harvest one sort at the time, just like others. He also stores each sort in a separate stainless steel barrels. But when the time to bottle the olive oil comes, oils are mixed and matched to get the olive oil of an excellent and also consistent quality.
What to expect from olive oil tasting at Chiavalon
Chiavalon's tasting room is located at their family home in Vodnjan. Their tasting room is modern and sleek with wooden tables and a nice open fireplace. There are also a small kitchen and toilet facilities.
Tasting is run by a family member, the most often Tedi, older of two brothers. Tedi is passionate about their work and their product, and you can feel it.
He'll teach you everything about olive oil: the way to smell it, to taste it, and how to feel the difference between the real extra virgin olive oil and a massed produced lampante oil (many times sold as an extra virgin).
Chiavalon offers few different tastings. The simple one includes a tour of the premises with a short introduction to the history of their business, followed by tasting of Chiavalon olive oil. You'll learn the way olive oil is made from tree to bottle. Simple tasting costs 85 kn per person, or nothing if you buy their oil.
You can also arrange a visit to their olive groves, and a tasting of Istrian cured meat and cheeses; or a full lunch. This offer is upon request, and everything is arranged directly with the owner (btw, their mother prepares heavenly food!).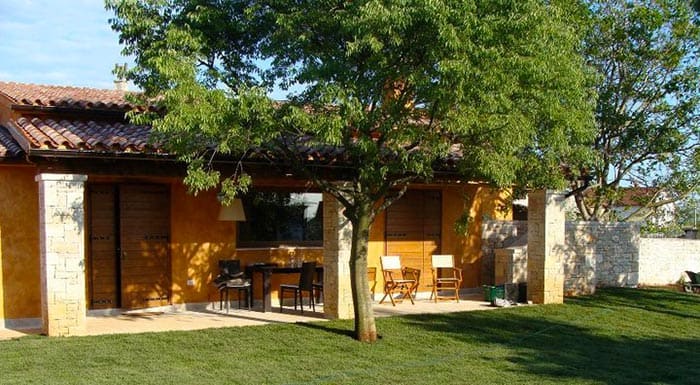 On our last visit we booked the Grand Tasting which included a welcome drink on arrival (a fantastic sparkling wine Malvazija from a local producer Babos). It continued with a tasting of four different olive oils. Olive oil tasting was guided, and after Tedi explained everything about olive oil's smell, taste, colour and how to pair it with different blends with different food in order to get the most out of olive oil, we were olive oil tasting like pros. Olive oil tasting was accompanied with yummy Istrian snacks including homemade salami, cheeses and wine. No tasting, let alone The Grand Tasting, would be complete without a dessert. Dessert was also topped with olive oil and accompanied with a local dessert wine. This tour lasts two hours in total. It costs 375 kn per person, and in our opinion it's worth every dime.
At the end of the tour, you can stop in their shop to buy some olive oil to take home. The oil can be purchased in bottles of 0.1l, 0.25l, 0.5l.
Besides olives, Chiavalon family also grows barley, oats, spelt, melons, watermelons, and tomatoes. And they also produce organic tomatoes sauce that you'll find on sale in their shop.
Olive oil tasting at Chiavalon is one of the best experiences in Istria, and we highly recommend it. You can also combine it with a previous visit to the basements of Pula's Colosseum where you'll find an exhibit of ancient olive oil equipment and learn about olive oil history and a production during ancient times.
Chiavalon Olive Oil Estate: Location and contacts
Contacts: a: Vladimira Nazora 16, Vodnjan |  t: +385 52 511 906  | m: +385 98 860 566 |  e: visit@chiavalon.hr | Website | Shop
We absolutely love Istrian olive oil, and we highly recommend to everybody to go olive oil tasting while in Istria. We went olive oil tasting at Ipša, Agrolaguna in Porec, and Belic in Rabac. While Chiavalon is our favorite olive oil producer in Istria, others are well worth a visit too. As I said at the beginning of this post, it's hard to find a bad Istrian olive oil these days. You can also check our post on reasons to visit Vodnjan. Enjoy!
Have you ever been olive oil tasting? Any questions? Please, leave them in the comments below.