Love, love, love Istria! Seriously, when it comes to food there is no better place in Croatia to visit. We've been in Zagreb recently, and although there are some great restaurants in Zagreb, bustling with people, nothing compares with Istrian restaurants.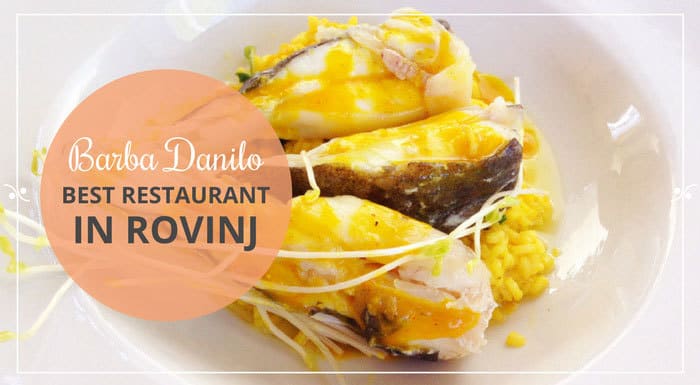 Top quality ingredients, traditional recipes (sometimes with a modern twist), homemade bread, a choice of extra virgine olive oils at the table, and lovely and affordable Malvazija wine, put Istrian restaurants apart. And this is not a philosophy of a selected few, this is now the standard found at so many restaurants here.
Barba Danilo Rovinj, our latest discovery
Our latest discovery is the restaurant Barba Danilo at the outskirts of Rovinj. I must admit that the name and the location of this place didn't really turn me on; or made me rush to try it out. It rather made me question it and resist it for awhile.
The name, Barba Danilo, translates to Uncle Danilo in English; and it sounds  like an uninspiring and old-fashioned place with a red-checkered table cloths and a bean soup and sausages on a menu (not that there's anything wrong with that). The location, within a small campsite at the town's end, didn't sound promising either.
But when we've finally made it to the Barba Danilo we were simply blown away; mind-blowing place, owners, service, and the food. We've loved it so much that within a day we went back just to eat exact the same meal. It was that good! Simply beyond the words.
Barba Danilo Rovinj is a family-run restaurant that recently changed hands from mother and father to their two children. This is also the first year the restaurant is open a year around (only closed in January for vacation).
The interior is lovely, colorful and elegant, with two partly-separate dining areas. One at the entrance can accommodate 8-10 people and for a group of this size ensures privacy, while the other dining area can accommodate 30 people. Atmosphere is warm, and the staff is very friendly. The restaurant has a beautiful ourdoor terrace for eating al fresco on a warm day.
Our experience at Barba Danilo Rovinj
Barba Danilo is equally famed for its fish and meat dishes. Both times here, we've eaten their fish specialties. Actually, as I've already mentioned, both times we've had exactly the same meal.
Sandi, our waiter and the owner, offered to serve us a selection of their seafoid dishes; and we were more than happy to follow his lead.
We started our meal with a choice of cold starters: smoked dorade mousse, octopus carpaccio, marinated anchovies, bonito tartar, and tuna carpaccio. Loved everything, but if I need to choose a favorite my vote would go to bonito tartar. I've eaten it begore at the konoba Tramerka in Volosko. And it was as good. Both places are worth visiting if only for bonito tartar.
Next we had a choice of warm dishes: cuttlefish tagliata, grilled tuna and bonito in seasam seeds, braised calamari with barley, and octopus with polenta in a zucchini and cherry tomato sauce.
Everything was super yummy. I've never had such a tasty cuttlefish. Sandi explained that they took on an idea of Italian beef tagliata and applied the method on a cuttlefish. Large cuttlefish are first cooked until tender. Then sliced and finished in a pan with olive oil, balsamic vinegar, spices and Gran Padano cheese. The result is awesome. The cuttlefish delicious.
For a dessert we ordered mascarpone with dry figs, and Barba Danilo's interpratation of a cheese cake. Loved that cheese cake served with cherry coulis.
With lunch we drank two glasses of table wine (Malvazija Ravelico), a bottle of water, two shots of schnaps, and two coffees.
The price was 270 kn per person. Not cheap, but totally worth it.
Final verdict: This is one of the best places we've eaten in Istria, and at the moment our favorite restaurant in Rovinj. Food is super delicious. Owners are nice and friendly. The atmosphere is convivial; you can notice many locals and repeaters.
People at the table next to ours ordered a fish soup. But they first chose a fish from a fish tray and a soup was made only for them, on place at the moment. No pieces of fish in the soup, but the whole beast, from head to tail. You know kind of a fish soup your mum makes at home.
We haven't yet tasted meat dishes at Barba Danilo, but what we seen ordered at other tables looked as delicious: homemade sausages and pork loin are great and popular winter dish here; and veal peka with potatoes looked tempting.
Barba Danilo: location and contacts
Address: Polari bb, Rovinj | t: +385 91 121 9487 | Website | Facebook
Working hours: Daily from 6 pm to 11.30 pm
Any questions or thoughts on restaurant Barba Danilo Rovinj? Let us know in the comments below.