With its rugged coastline and karst mountains, it's easy to guess that in Croatia you'll have plenty of opportunities for rock climbing, hiking, trekking, or mountaineering. A wonderful Adriatic sea offers lots of water-sport opportunities.
Speedy rivers, from Mreznica and Kupa to the north to Zrmanja and Cetina to the south offer splendid sites for white water rafting and kayaking. So if you enjoy adrenaline-pumping activities, you'll be happy with a choice of outdoor activities in Croatia.
Outdoor activities in Croatia not to miss
Rock climbing
Rock climbing is a very popular activity in Croatia. Paklenica National Park is the most popular rock climbing site, not only in Croatia but in all Southern Europe.
There are approx. 400 marked climbing routes of different difficulty level (grade 3 to 8b+) and length. The most popular climbing rock within the park is Anica Kuk.
Caving
Croatia has a thriving caving scene. The country offers a variety of caving sites, with different levels of difficulty. Modrica Cave is the most popular caving site in all Croatia. The cave is located near Rovanjska, a small village 30 km northeast of Zadar.
Modrica Cave is 829 meters long. It's a natural cave, meaning that you won't find any trace of concrete or railings in the cave. The entrance is narrow, but the chambers are pretty spacious. There are few narrow passages to pass as you advance through the cave.
Visits are arranged through and run by Marijan Buzov, a professional speleologist and an owner of the Zara Adventures travel agency.
A visit takes two hours, and it costs 160 Kn. Marijan provides all the necessary equipment and safety instructions. A visit to the cave is available all year.
Other popular caving sites in Croatia open to visitors are Veternica Cave near Zagreb, Biserujka on the island of Krk, Baredine, Festinsko Kraljevstvo and Romualdova Spilja in Istria, and Grabovaca Cave Park in Lika region.
Paragliding & tandem flying
You can rise high in the air at so many spots in Croatia: from Mount Cicarija and Ucka in Istria, Lic, Tribalj, and Baska in Rijeka & Gorski Kotar region, to wonderful Mount Biokovo in Dalmatia.
While we love Raspadalica site near Buzet – one of the most popular take-off sites in Istria, Tribalj southeast of Rijeka remains a site with the highest number of take-offs a year.
Tribalj's take off site is at an elevation of 790 m, with an altitude difference to the landing of 700 m. Favorable flying winds here are S, SW, and W. Tribalj is popular for its great thermals, the uplifting winds necessary for smooth and longer flights.
A paragliding club Flumen offers paragliding courses, and schools, but also a paragliding tandem where you can fly with an instructor. Flight prices from 65€ for 15-25 min tandem flight.
Ziplining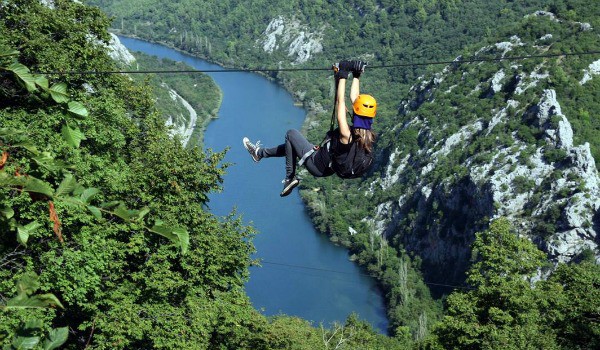 Zip-lining is a fun activity that you can experience in a few places in Croatia.
The most popular zip-lining site in Croatia is Omis – a wonderful zip-lining site above the Cetina River Canyon. Omis Zip-lining consists of eight wires with a total length of 2.100 m. The longest single wire is 700 m. The speed is up to 65 km/h. Prices start from 400 Kn (53 € / 59 US$ / 48 GBP) per person.
In Istria, you can fly above the Pazin Cave. Zip-line goes across a canyon where the cave is located. There are two lines; the shorter is 220 m long and you can pick up a speed of 40 km:h, while the long line is 280 m long with a speed of 50 km/h. Prices are super affordable – 140 Kn (19 € / 21 US$ / 17 GBP) per person. Check what others say about this experience.
Plitvice is another popular ziplining site in Croatia. The zipline center Beware of the Bear (Pazi Medo!) is located in a village of Rudopolje, not far from the Plitvice Lakes National park. Suspended 80 m above the ground, the total length of wires is almost 3.000 m while the longest single wire of 1.700 m. You can reach speeds of 115 km/h. The price is 280 Kn (38 € / 42 US$ / 34 GBP) per person.
White water rafting
Croatia is a country rich in rivers, lakes, rapids, and canyons. From rivers Mreznica, Dobra, Kupa, Korana, and Una in continental Croatia, to wonderful Zrmanja and Cetina in Dalmatia, you'll have ample opportunities to experience white water rafting in Croatia.
The most popular white water rafting site is the Una River. The river makes a natural border between Croatia and Bosnia. And the most popular white water rafting tours happen actually in the Bosnian part of the river.
You have a choice of rafting routes that you can take on Una, but the prettiest and the most challenging is the stretch from Strbacki Buk waterfalls to Lahovo. This 15 km long route takes four hours of paddling (at times through IV and V grade rapids) and it passes entirely through Una National Park. Check Raftrek's website for more info or read our post on white water rafting in Croatia.
Canyoning
Traveling through Croatian canyons using a variety of techniques is a unique way to experience Croatia.
The most popular canyoning sites in Croatia include Vraziji Prolaz (Devil's Passage) in Gorski Kotar, Badnjevica in the Imotski area, and Cetina near Omis.
Devil's Passage is 800-meter long, 100 m high, and about 2 m wide canyon. According to many, it is one of the most impressive natural sites to see in Croatia. Canyoning through Devil's passage includes hiking, abseiling, swimming, and optional water diving. The trip takes around two hours, and it costs 35€ per person. Check Kupa Sports for more information.
Cycling
If you like cycling, then Istria is the best place in Croatia for cycling tours, whether self-guided or organized.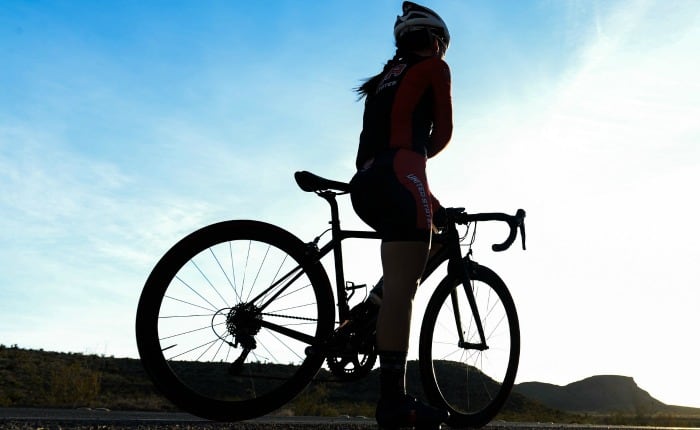 You can base yourself either in Central Istria, or in Porec, and take daily cycling tours of 40 to 60 km. Another option is to travel by bicycle through Istria, covering 40 to 60 km a day. Another popular cycling tour combines three countries: it starts in Venice or Trieste in Italy, passes through Slovenia, and ends up in Croatia, on the Istrian peninsula. This tour takes you through Parenzana Trail, once a narrow-gauge railway that connected Trieste and Porec.
Istrian cycling trails are marked, and most pass through less inhabited areas, vineyards, and olive grows. General difficulty level is easy to moderate. Expect some challenging ascends on trails on east coast of Istria (Rabac area) and northern Istria.
Hiking & Trekking
Croatia is one of Europe's finest hiking & trekking destinations. The most popular hiking & trekking destinations in Croatia include the Mount Ucka in Istria, Risnjak, Plitvice, Northern Velebit & Paklenica National Parks, Mosor, Kozjak and Biokovo Mountains, Brac, Hvar & Vis Islands.
The Biokovo Mountain is the highest mountain in Dalmatia. The highest peak, Sv. Jure (St. George), lies at 1762 m. It overlooks the Adriatic Sea, and on a clear day, it offers spectacular views over the sea, the central Dalmatian islands, and even as far as Italy.
There are many different trekking routes, of a different difficulty level (from easy to advanced), and of a different duration. You can take on this adventure as a self-guided or an organized tour. We recommend Dalmatia Trekking if you are looking for a group tour.
Windsurfing
Many of my friends here in Croatia are windsurfers. And seriously, these people are passionate about their favorite water sport. How about waking up at 4.00, driving for an hour, just to windsurf for 20 minutes before going to work?! That's kind of a passion we're talking about here. Crazy!
There are many windsurfing places all along the Croatian coast, but the most popular is Viganj on the Peljesac peninsula. Other places include Premantura and Ravni in Istria, Preluk near Opatija, Baska on the island of Krk, and Bol on the island of Brac.
Viganj is a small village on the Peljesac peninsula, just north of Orebic. It offers good winds and windsurfing conditions for all levels, and all year. During the summer, morning conditions fit beginners, while the afternoon winds, with an average speed of 20 knots, are suitable for more advanced windsurfers.
Kite-boarding
Kite-boarding is a relatively new activity in Croatia. However, as a sport and a recreational activity, it evolved quickly to become one of the coolest summer activities in Croatia.
The most popular kite-boarding destination in Croatia is the Usce Beach near Metkovic. Other popular kite-boarding destinations are Nin near Zadar, Bol on the Brac Island, and Viganj on the Peljesac peninsula.
The Usce Beach is a long sandy beach at the estuary of the River Neretva. It's a great spot for kite-boarding as the beach is sandy, the water is super shallow, ad the winds are strong. There are a couple of cool surf bars along the beach.
Snorkeling
Funnily enough, the sea in Croatia is so clear at the majority of places that you even don't need to snorkel in order to see the underwater life. I sometimes watch it from my balcony in Komarna.
Our favorite snorkeling spots in Croatia include the Brijuni, Hvar, Mljet and Vis Islands, Premantura in Istria, and Makarska Riviera.
Diving
Croatia is a popular destination for wreck-diving. All along the coast; from Savudrija to the north, to Dubrovnik to the south, diving sites include shipwrecks, in situ underwater museums, cargo loads like ancient amphorae used for transport of olive oil and wine.
The most visited shipwrecks are the Baron Gautsch off the coast of Rovinj, the HMS Coriolanus whose shipwreck lies near Novigrad, an Italian cargo steamer The Totonno sunken off the coast of Dubrovnik, and the Lina, a cargo steamer.
The Lina sunk in 1914 after hitting the reef due to the heavy fog. Today it represents one of the most beautiful diving spots in Croatia. The shipwreck lies on a sandy, but steep seabed. Its bow is at 20 m, and it's stern at 55 m. You can explore her cabins and cargo decks.
Horseback riding
Horseback riding is a popular activity for tourists, and you can find it in (almost) all touristy places.
Equestrian clubs and local ranches offer different riding experiences and trails, while at some places you can spend an entire horseback riding holidays.
In Istria, Ranch Istra Star, located in the vicinity of Pula, offers the best horseback riding experience.
Not far from Zagreb, in a village of Golinja, you'll find an Old Mulberry Farm, offering lodging in traditional homes, soul food from their granny's kitchen, and 10 awesome horses for a wonderful horseback riding holidays.
Nestled within the Velebit Mountain, the Linden Retreat Ranch spreads on 50 hectares and it offers first-class horseback riding experiences.
Equestrian Club Split offers two interesting trails; one of them through the Plitvice Lakes national park.
Sailing
Croatia is a sailing hot spot. With over 1.000 islands, almost 6.000 km of coastline, the country is best explored aboard a sailing boat.
Kornati Islands are Croatia's most popular sailing destination. And all Kornati sailing adventure start, pass or end in Murter marina on the Island of Murter.
Murter is the closest island to the national park; many people from Murter own land or a fishing house on Kornati Island.
Sea kayaking
While sea kayaks can be rented at many beaches in Croatia, what we find particularly interesting are guided single or multi-day sea kayaking trips.
Croatia is a perfect destination to discover it with a sea kayak. Many hidden beaches, coves, and bays can only be explored from the sea.
Sea kayaking tours are particularly popular in and around Dubrovnik. Two most popular Dubrovnik sea kayaking tours are Old Town tour; and the Kolocep Island tour. Fellow travel blogger Ashley from A Southern Gypsie shared with us her sea kayaking experience in Dubrovnik.
The Island of Kolocep is one of the Elafiti Islands, located off the coast of Dubrovnik. This full-day tour departs from the Zaton Bay; it includes 2-2.5 hours of paddling each way (5 in total), swimming, walking, and a lunch break on the island. Prices start from 400 Kn (52 € / 60 US$ / 44 £) per person (lunch isn't included). Check Adriatic Kayak Tours for more info.
More posts from our travel blog