If you are planning what to do in Porec during your holidays, consider visiting the Baredine Cave, the oldest cave in Istria open to visitors (since 1995).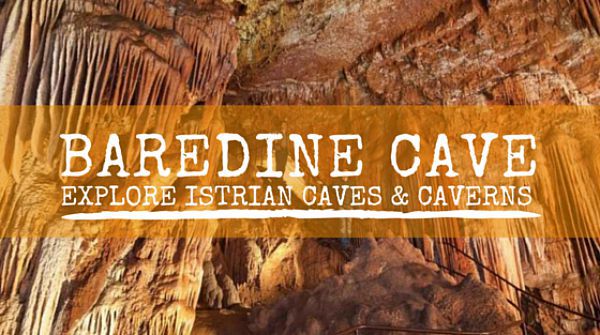 A visit to the Baredine Cave is a great activity for the whole family, as the cave is super adapted for visitors of all ages. This cave is not far from our villa rental (check it if looking for places to stay in Istria and Porec!).
Baredine Cave Croatia: Overview
The Baredine Cave is located between a village of Nova Vas and Gedici, only 8 km northeast of Porec. The cave is privately owned.
The cave consists of five chambers. It's 60 m deep, and it keeps a cool temperature of 14°C even on a hot summer day when outside temperature easily reaches 30°C.
It's not the most impressive cave you've seen in your life, but it consists of wonderful stalagmites (growing up-down) and stalactites (growing down-upward), many of them formed over ten thousand years ago.
There are also underwater lakes within caves, and in some of them you can see "the human fish" – this is a literal translation of Croatian name Covjecja ribica, a lizard-looking non-pigmented creature. This is actually a salamander, endemic to karst caves.
Some sculptures are named after something they resemble. So you can find the Tower of Pisa, a snowman with a torch, or a 10-meter long curtain. Light makes you see through crystal made stalagmites and stalactites (this is a really interesting part!).
The guided tour starts every half an hour, and it lasts 40 minutes. The guided tour is available in German, Italian, and English.
There are lots of stairs, and they are tiring on the way back up. Floors can get really wet and slippery, but railings are everywhere and they help.
Facilities
The rural setting surrounds the cave. Next to it, there is a plantation of peaches, and when they are in season (July), you can taste and buy some.
In front of the cave there is a large parking, and next to it lots of tables and benches for a picnic. If you don't fancy a picnic, you can refresh with a drink, or have lunch at the konobon Gallery, on-site restaurant.
The small ones can enjoy the Tractor Story, an open-air exhibition of old tractors.
Clean bathrooms are also at your disposal, as well as a small souvenir shop.
Practical info
If you stay anywhere around Porec or Tar, you can easily visit the Baredine Cave Croatia by bicycle.
You need to wear good shoes (no flip-flops) and a light jacket.
If you suffer from claustrophobia, you might want to stay outside.
Floors and steps get wet. Hold the railings at all times.
Avoid a visit to the cave on a rainy day during the high season. This is basically the time everybody else visits the cave, and you can have queues.
Location, contacts and working hours
Contacts | t: +385 52 421 333 | m: +385 98 224 350 | e: info@baredine.com | Website
Working hours | April, Oct: daily from 10 am-4 pm | May-June, Sept: daily from 10 am-5 pm | July-Aug: daily 9.30 am-6 pm
What do you like about caves and caverns? Have a question? Please leave it in the comments below.
Further reading: