Although we live in Porec, we realized the other day that here on our blog we almost have no posts about Porec. I guess it's like traveling in your backyard, it's just there, and you feel you can visit it anytime, and then you end up never visiting places that are so close to home. Anyways, following our recent discovery, we've decided to put Porec under the spotlight.
We often get asked by our readers about a nightlife in Porec. Actually that the single most visited web page on our rental website. I guess this makes Porec nightlife a searched keyword on Google.
Porec along with Pula and Umag has the best nightlife in all Istria.  Rovinj is too romantic, and although Rovinj does host the Unknown Festival at the beginning of September, it's not exactly a party destination. And while Pula hosts lots of music festivals, like Seasplash, Dimension and Unknown Festival, and Umag tries hard to appeal to party loving crowd with its hip clubs like Jimmy Woo, or Saint & Sinner, Porec has probably the best balance of family.-friendly environment, destination for active holidays, and party driven destination for young and restless.
Porec bars, clubs, and nightlife: where to party in Porec
1 | Villa Club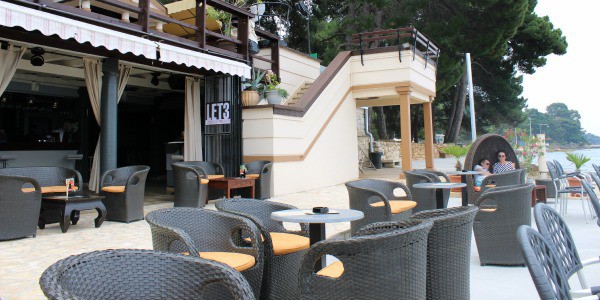 Villa Club is a popular bar and club in Porec. Located right at the seafront, with its own beach, Villa Club is a perfect place to chill out during the day, and to party at night time. This club spreads on two floor, where the ground floor open completely onto outdoor terrace and onto the sea. Resident and guest DJ parties, along with go-go dancers and live concerts happen regularly in Villa Club. Villa club is open from May to October.
2 | Byblos
Byblos is the largest disco in Porec, and in Istria. It opened in 1967, and since then, although under different names and ownership, it has been and it still remains the center of Porec nightlife. Famed DJs, like Fatboy Slim and David Morales play regularly here, as well as resident DJs. Admission fees tend to be expensive (for a regular night 6,60 euro per person until midnight and 9,20 euro per person after midnight), but the parties are great.
3 | Saint&Sinner Club
Saint and Sinner is a popular chain of clubs and beach bars with venues in Umag and Porec. And while in Umag, the beach bar transforms into a night club, Saint & Sinner in Porec has two distinctive locations: the nigh club is located downtown, and a beach bar is located in Zelena Laguna Resort.
Saint & Sinner plays electronic music throughout the day, with go-go dancers warming up the crowd. The beach bar spreads on two levels. Comfortable seating is available on the upper terrace, while the ground level terrace feature canopy beds, deck chairs and parasols to rent. Crowd is young. The bar is open from June to September, from 10.00 to 18.00. The party continues in Saint & Sinner venue located in downtown Porec.
4 | Tequila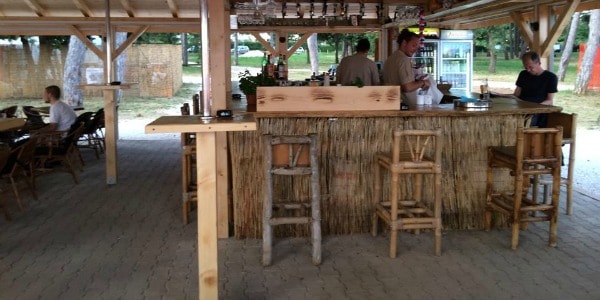 Beach bar located at the Pical beach, just below hotel Zagreb, Tequila got a face lift in summer 2014 when the entire beach was renovated. Live bands perform on weekends, and resident DJs on other days. Music is retro, anything from 60's to 90's: rock, pop, hip-hop, funk. Great atmosphere and very local feel.
5 | Corner
One of my personal favorite bars in Porec, The Corner Caffe has a warm and cozy atmosphere, friendly staff, good choice of beer and local wine by glass, and in winter an awesome mulled wine. Music is great, anything from rock, funk, metal, reggae and alike (luckily, no Croatian folk music plays here, and no electronic either). Corner organizes thematic evenings with live concerts, stand-up comedy sessions, and different after parties.
6 | Epoca
Located at the far end of Porec seafront promenade, at the ground floor of the Jadran Residence, Epoca is a place to go for a glass of wine, quality beer, or a cocktail. This chill out bar has a large seafront terrace, comfy seating and it's perfect place for people-watching. There is a small play area for children indoor. Epoca also serves simple bites like toast, bruschetta, and cakes.
7 | Yesterday
Tucked away in a small side street near town's park, Yesterday is a unpretentious little bar with cheap drinks, and nice courtyard terrace. Locals go for a morning or an afternoon coffee, and a croissant, while at night time it's a nice place to have a beer in a rather cool, and quite atmosphere.
8 | Old Time
One of the oldest bars in Porec, located at the Marafor Square, the Old Time attracts a bit older crowd. Music is mostly rock. This is often the last bar open in the old town. And one of the locals favorite bars in Porec, Old Time is a place where all locals end up sooner or later during the night. The bar is tiny inside, but has a large outdoor terrace where live bands often perform.
9 | Ski lift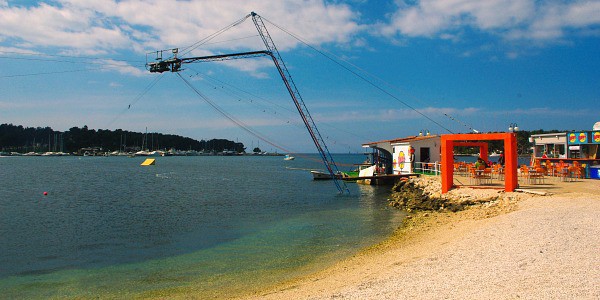 My favorite summer spot to chill out during the day with a coffee or a beer. Located in Zelena laguna, Ski lift bar, as its name indicates, offers cable surfing and wake boarding. You'll always find lots of boarders and skiers at Ski lift. Ski lift also serves simple bites like burgers, french fries, sandwiches and ice cream.
Porec Bars, Clubs and Nightlife: Location on map
[mappress mapid="33″ width="98%"]
FURTHER READING