Zadar Croatia is a seaside town in Croatian region of Dalmatia. Located in the northern Dalmatia, just below Velebit mountain, Zadar was less popular tourist spot than southern Dalmatian towns, like Makarska or Dubrovnik. Zadar hinterland was also badly hit during the 1991-1995 war, and its remains can still be seen in the villages around the town. However with Zadar airport awakening and new highways, Zadar has become increasingly popular in the last ten years. The old town is located on the small peninsula, surrounded by medieval fortification walls.
The mainland, where the new part of the town stands, can be reached by the pedestrian bridge, or you can wave a boatman to take you across in his little rowing boat. His family has been doing that for centuries. In the old town there are lots of historical sites, dating back from Roman times. From remains of roman forum, to 21st century sea organs, Zadar is an excellent town to explore on foot.
Zadar Croatia at a glance
Best time to travel to Zadar Croatia is summer. First, there are lots of low cost flights flying into Zadar airport. Second, there are lots of events and festivals happening in Zadar during the summer months. Third, loads of beaches in and around Zadar, dozens of small and big islands are waiting to be discovered.
Accommodation in Zadar: There are just few hotels in the old town. Art Hotel Kalelarga, Hotel Bastion, and Hotel Venera. However there are plenty apartments to rent, and hotels out of the old town and in Zadar surrounding area. Prices are the highest in August. The most popular campsite is campsite Zaton located in the village Zaton, 17 km north of Zadar.
Food in Zadar: Zadar is quickly becoming exciting food destination. The town is blessed with great local produce: fresh seafood from the Adriatic, excellent lamb from the nearby mountains, sheep cheese from the island of Pag, veggies from the inland villages. Apparently the best potatoes grow in the mountainous villages in Zadar hinterland. Frank tried them and he agrees that they taste great. Meals in the restaurants are affordable (much better value for money than in Dubrovnik).
Beaches in Zadar: Town's beaches are not the best beaches you'll find in Croatia. If you would like to swim on a really nice beach, you'll need to get out of the town. There are some excellent swimming spots on the nearby islands. The most popular beach is a sandy beach Saharun on the island of Dugi Otok. Another excellent bay for swimming is Lojenka Bay on the islet Levranka, a part of Kornati Islands National Park.  The closets beach to the town is Kolovare Beach. The beach is very crowded, but it can be reached by foot from the old town.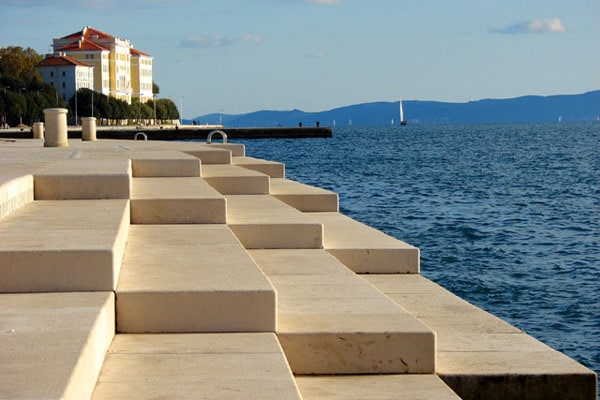 Transportation in Zadar: Zadar can be easily explore on foot. The old town is mostly car free zone. If you stay outside of the old town, you can use public buses. They run frequently and the one-way ticket costs 1.4 € if you buy in the bus, or alternatively if you buy your ticket at the ticket office, you'll pay  2.2 € for a two-way ticket. You can reach Zadar by plane, or by bus. Zadar airport is well connected with European airports. Lots of low-cost flights fly into Zadar during summer months. If you are arriving with a car, Zadar is easily reachable by highway. Highway toll from Zagreb to Zadar is 16.2 €.
Parking in Zadar: There are plenty parking lots in Zadar. However, the parking is extremely expensive in July and August.  In the old town, parking costs 1.6 € per hour, with maximum parking time of 2 hours. Other parking lots charge 1.4 € per hour in July and August. There is also a public garage that costs only 0.4 € per hour and the first hour is free of charge. However, it will take you 15 minutes by walk to reach the old town from the garage.