When I think about snorkeling in Croatia, two stories come to my mind immediately. And they are just slightly connected with snorkeling in Croatia.
A friend of mine operates a glass bottom boat in a tourist resort in Croatia. Every evening in summer he takes a group of tourists on a glass bottom boat tour. And they never manage to spot any fish. They even tried to fabricate some sightseeing: like planting the colorful, plastic fish on their route. It didn't work. The currents were too strong. Now they simply offer the best party glass bottom boat tour. Their tour is no longer about the underwater, it's about partying.
Anyway, all this not to say that there aren't beautiful sites for snorkeling in Croatia, but to prepare you to distinct Adriatic from the Caribbean or Red Sea. Fish here are simply not colorful, tropical fish.
Another story that comes to my mind when I think about snorkeling in Croatia has a very different moral to teach.
My first neighbor grows mussels in the sea right in front of his house. Now you need to imagine his house being literally two meters from the sea. He's got a small tavern at the ground floor where he spends 18 hours a day, every day. He's watching his mussels, and pretty much everything and everybody around. This is all he does (in case you wander).
Imagine now, it's August, the high season in Croatia, and a French family is arriving to the village for their 2-week holidays. A minute later the husband is jumping in the sea, head first, and fully-equipped (mask, snorkel, fins, and yes, even weights). Three minutes of floating around, he dives in, and comes back with a bag full of mussels. A proud wife is cheering him from the balcony, getting ready a nice big casserole. You should have seen the face of my neighbor. He remained calm, and never said a word, but, even now almost five years since that, he's still stressed out with the event. As for the French tourist, the entire village still refers to him as a chasseur de moules.
This is to say that Adriatic Sea is still rich in underwater life. And sometimes you can get yourself a lunch. However to fish you need a permit and we'll cover that one in a separate post. So just don't dive in assuming you can pick up anything you see and find. Watch it, but don't touch it.
If you like to snorkel, just get your best snorkeling gear with you, and you are set to go. Dip in the sea, mask, snorkel, and fins on, it's as simple as that.
Pros & Cons of snorkeling in Croatia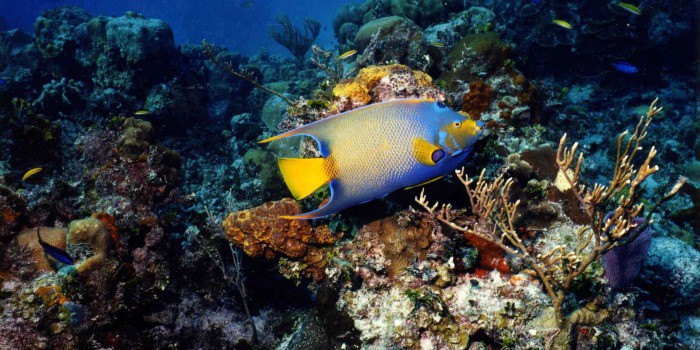 We love snorkeling in Croatia or elsewhere, because it's easy (anybody can do it!), it's family-friendly, and it's relatively cheap (you can do it anywhere, and with a simple gear).
The sea in Croatia is very clear, and clean. The sea bed, especially in the shallow waters, is pebble. Thus the underwater visibility is excellent. The Adriatic Sea is very safe to swim and snorkel. You won't find any sharks, whales or other dangerous species live in these waters. You can encounter lots of dolphins in the Adriatic. The most famous sites for dolphins are the island of Losinj, and Rovinj. There are also lots of ship wrecks all along the coastline.
Maybe the only con is the fact that the underwater life is not as exciting, or as colorful as it is in the tropical seas.
Also, snorkeling is not popular as an organized tour, but rather as an individual activity anybody with a snorkeling gear can partake in. It's also often an optional activity on many kayaking or boat tours.
If you like snorkeling, and search only for the best sites for snorkeling in Croatia, then you should consider following destinations in Croatia.
Eight best places for snorkeling in Croatia
National Park Brijuni
Brijuni is one of eight Croatian national parks. It consists of an archipelago at the south coast of Istria. We recommend snorkeling in Brijuni for couple of reasons. The islands have very rich history dating back to Roman times. Some of remains are located underwater. In the Veriga Bay, you can explore archaeological underwater sites on a guided tour.
Protected as a national park since 1983, fishing in the area around the Brijuni Islands is strictly regulated. This makes the underwater flora and fauna better preserved and simply richer than elsewhere.
The seabed is full of sea urchins, crustaceans, shellfish, sponges, and fish. You can even see the two protected species: the pen-shell and the date-shell. Dolphins can also be seen in the waters of Brijuni.
How to get there
Boats to Brijuni Islands depart from a village of Fazana. From June through September boats run regularly from 6.45 am until 10.00 pm, every two hours or less.
You can arrange your own snorkeling around the island. However, if you wish to explore archaeological underwater sites in Veriga Bay, you'll need to join organized tour. You can obtain additional info at izleti@np-brijuni.hr.
Additional info for the Brijuni Islands
Cape Kamenjak
Cape Kamenjak is a nature park located at the southernmost point of Istria, not far from Pula. This park is worth a visit if you enjoy nature, like long walks, cycling, and water activities like swimming, snorkeling, diving, kayaking, or windsurfing. The entrance fee to the park is relatively cheap (you actually only pay a daily fee of 40 kn / approx. 6 euro for the car).
The coast is mostly rocky, with few pebble beaches (pebbles here are round, but rather large).
The underwater caves around the cape are home to the Mediterranean monk seal (one of the most endangered mammals in the world).  If you are lucky you might see it on your snorkeling adventure in the waters of the Cape Kamenjak.
The sea here is crystal clear, there are lots of underwater caves and passageways, and very rich underwater life.
How to get to Cape Kamenjak
From Pula follow signs for Banjole and Premantura. When you reach the village of Premantura, take a right turn direction Kamenjak. It takes you another 2-3 minutes to reach park's entrance.
Additional info on Cape Kamenjak
Pakleni Islands
Pakleni Islands near Hvar are an archipelago just a quick boat ride from the town of Hvar. The archipelago consists of over 20 islands and islets.
The islands are made of limestone, and thus many beaches are rocky and pebbly. The islands are stunning, with lots of bars, restaurants, but also pretty beaches. The sea is azure blue with great underwater visibility.
Our favorite beaches on the islands are a sandy beach Perna near Palmizana, and Zdrilca Bay beaches.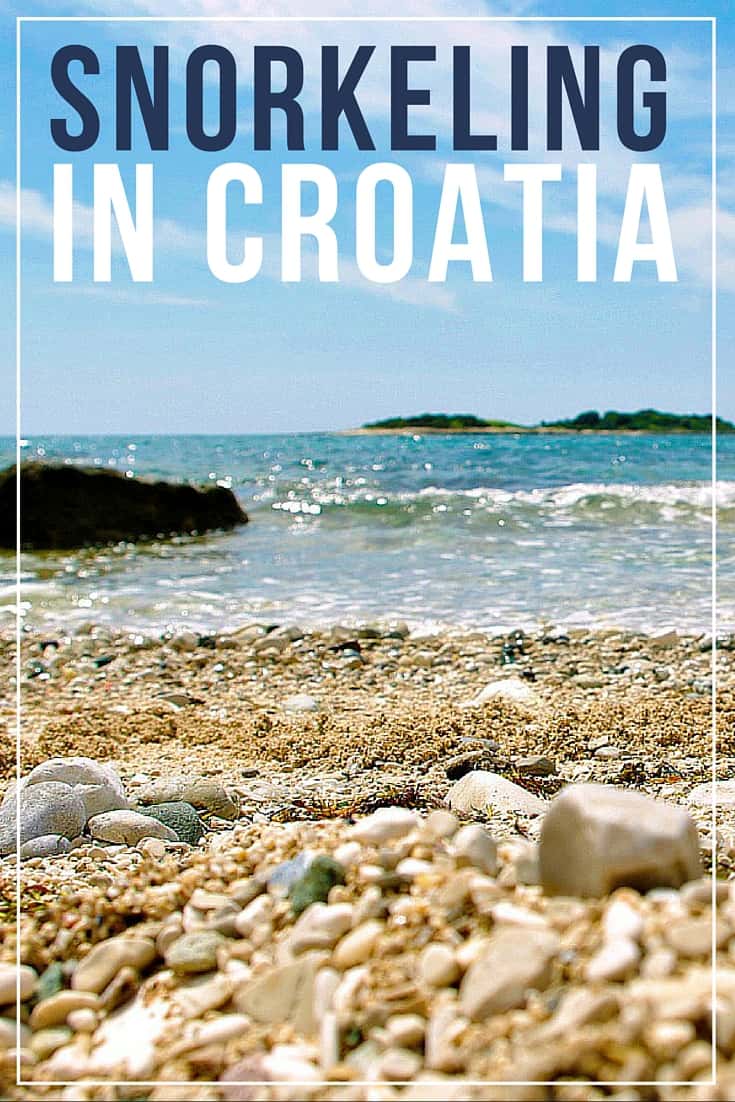 The archipelago is also a very popular diving spot, particularly underwater walls off the island of Veli Vodnjak, an underwater cave near Ujedinjeno Gasko.
The most visited islands are Sveti Klemen, Marinkovac, and Jerolim.
 Sveti Klemen is the largest island of the archipelago. It has three settlements, among them, Palmizana with its 160-berth marina is the most popular.
 Jerolim is the closest to the town of Hvar. Jerolim boasts two popular beaches, each one with a beach bar: Amo Beach, and Kordovon Beach.
 Marinkovac is largely popular due to Carpe Diem Beach Bar located in Stipanska Bay. Stipanska Bay is also popular among naturists, and thus it is a clothing-optional beach. Carpe Diem offers day and night food, drinks, and partying.
How to get there
You can reach Paklinski Islands by taxi boat from Hvar harbor. We suggest you get there early (10 am at the latest) if you want to take a good spot on any of the beaches. A return ticket to Jerolim costs around 40 Kn, and a bit more to other islands.
Another option is to rent a boat and spend a day cruising the islands, stopping for snorkeling and swimming breaks along the way.
You can also hop on many organized kayaking and snorkeling tours departing from Hvar waterfront.
The Hvar Adventure Tour Company offers also kayaking tours to the Pakleni Islands, with a swimming and snorkeling break at the less-visited beaches on the islands.
Additional info on Pakleni Islands
Makarska Riviera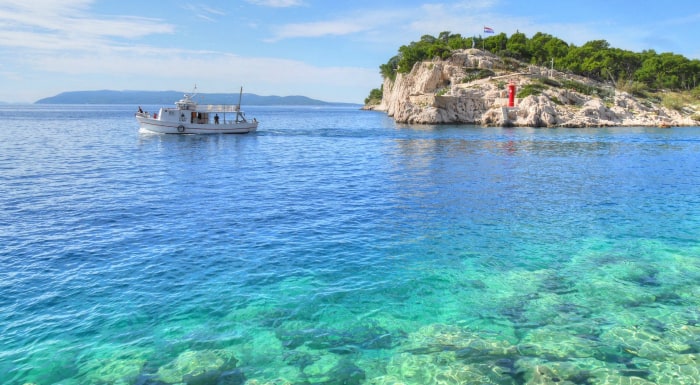 Makarska Riviera is a coastal area stretching approximately 60 km, from Brela to the north to Gradac to the south. Makarska is the largest town along the Riviera and its municipal center.
This area boasts the best Croatian beaches. The entire Riviera is a continuous stretch of small coastal villages, and pebbly beaches, some of them in uninhabited bays, other in the center of villages.
Makarska Riviera is one of the most popular tourist destinations in Croatia, and thus really crowded in summer. However, it offers multiple snorkeling options, all along its coast. The underwater visibility is excellent. And I always felt wonderful, coming out of the sea, and watching Biokovo Mountain rising high straight from the Adriatic.
Our favorite beaches here are Nugal Beach, then beaches in Zivogosce, and secluded beaches between the villages of Drasnice and Igrani.
Like elsewhere in Croatia, here you can spot much small fish, octopus, small crabs, sea urchins, starfish, etc.
Further reading: Makarska Rivera Secluded Beaches Part 1 and Part 2.
How to get around
Villages along Makarska Riviera have really good bus connectivity. You can easily get around by bus throughout the day.
Renting a car will give you the possibility to explore even the beaches that aren't located within inhabited villages while renting a boat will set you to explore all hidden bays and secluded beaches of the Riviera.
There are also organized kayaking tours that take you to some of the less accessible beaches and include a snorkeling break.
Additional info on Makarska Riviera
Vis Island
The island of Vis is the farthest inhabited island off the Croatian mainland. And it's perhaps the best for snorkeling in Croatia.
Vis used to be an important military base for the Yugoslav National Army, from 1950 until 1989. This meant that the foreign visitors weren't allowed to the island. This left the island well-preserved, and today, its authenticity, nature, food, and wine attracts many tourists.
The most popular snorkeling spots on Vis Island are Stiniva and Srebrna Beach, a peninsula where known as Ceska villa, waters around the Blue Cave on Bisevo Island, and around Green Cave on Ravnik Island. Vis also has old military sea tunnels that served as warship shelters. They are interesting to explore.
Stiniva is a small, pebble beach with emerald waters. It's the most popular beach on the island. We highly recommend taking a kayak tour to the beach. Our friends, Xania and Craig, over at Wearactive offer kayaking tours.
Mljet Island
Mljet Island is the greenest Croatian island and home to one of eight national parks in Croatia. Similar to Brijuni Island, as a protected natural site, all water activities and especially fishing, are controlled and limited.
The underwater life is very rich. Within the national park (but elsewhere on the island as well), the sea is crystal clear, clean, and you can see lots of sea urchins, cucumbers, interesting underwater rocks, etc.
Popular snorkeling spots on the island include Veliko Jezero (Big Lake),  Rikavica, and Odysseus Caves, both natural marvels rich with underwater life like sponges, octopus, scorpionfish, and other small fishes, crabs, and anemones. Mljet is also a place where you can see coral reefs, particularly stony corals.
Dugi otok
Dugo Otok, the northernmost island of the Zadar archipelago, offers a myriad of possibilities for snorkeling-aficionados. The island is home to numerous bays, and beaches, and a wonderful Telascica nature park.
The underwater world along the coast of Dugi Otok brims with life, partly due to the fact that both, Telascica Nature Park, and Kornati National Park, are protected areas where fishing is strictly regulated.
Several popular snorkeling spots on the island include:
How to get here
Ferry boats depart few times a day from Zadar port. If you travel by car, check Jadrolinija car ferry. You can also reach the island by G&V Line. Passenger ferry sails to Sali. Jadrolinija car ferry sails to Brbinj and catamaran sails to Bozava. The crossing takes about 1 hour 30 minutes.
Getting around the island can prove more complex than reaching the island. Buses are few, usually scheduled to correspond with a ferry arrival, but not very reliable to move around the island.
It's a small place with very few scooters/ car rentals and few that are available tend to be expensive. If you plan to rent a car for few days or longer, you better get a quote from Zadar car rental companies. While you'll need to purchase a ferry ticket for a car, it's perhaps still cheaper than to rent one on the island.
You can also rent a boat on the island. Adamo Travel, a local travel agency from Sali, has a wide range of speedboats to rent. Prices range from 120 € a day to 220 € a day. As per Croatian law, you need to have a valid boat license to operate any kind of motorboat. More info at Adamo Travel.
Additional info on Dugi otok
Tip on restaurants: While Dugi Otok doesn't offer many exciting dining options, nearby Kornati Islands are famed for yummy, fresh fish. Restaurants in Kornati are located in secluded bays, only accessible by boat. The most popular restaurants here are Opat, Konoba Zakan, and Levrnaka. Reservation is essential.
Drvenik Veli
Just a couple of years ago, Drvenik Veli was locals' best-kept secret. Visitors to the island consisted mainly of people owning a vacation property on the island, and their friends.
And some sailing boats who searched for a safe port on their way to Brac, or Vis. Or they simply know that in few restaurants on the island you can eat really, really good. Then somebody renamed beautiful Krknjasi Bay, to tourists-more-appealing Blue Lagoon. And the next thing you know, every travel agency in Trogir, Ciovo or Split, is offering a half-day trip to Drvenik Veli.
Things will never be the same. Especially for locals who enjoyed peace and quiet for years.
However, the positive thing is that now everybody, including you, can reach easily Drvenik Veli, and enjoy its beautiful turquoise seas.
The Blue Lagoon stretches in a cove between three islands: Drvenik Veli on one side, and Small & Big Krknjasi Island. Among locals, the cove is actually known simply as Krknjasi.
The sea is crystal clear, intense blue, and turquoise, with a sandy sea bed. The underwater life abounds in sea urchins, octopus, small crabs, and various small Adriatic fish.
Tour boats usually stay at the lagoon from noon to 5 pm. Before and after that time, the place is so peaceful and almost deserted.
You won't find a lot to do here besides swimming and snorkeling. But hey that's the reason to visit Drvenik Veli in the first place.
Tour boat leave from Split and Trogir.
How to get there
From June through September, the ferry departs three times a day from Trogir (two times a day on Friday).
However, perhaps the best way to reach the island is on one of the organized boat tours either from Trogir or Split. Many local agencies offer this tour. We recommend Sugaman agency from Split.
Additional info on Drvenik Veli
Practical Info:
Recommended snorkeling gear:
We are not the snorkeling mavens, but we love snorkeling and we snorkel regularly. We've also reached out to our friends who love snorkeling and travel around with their own snorkeling gear. Here are our recommendations.
Snorkeling packages:
Camera & other electronics:
What do you like the most about snorkeling? Have you done any snorkeling in Croatia? Let us know in the comments below.
Further reading: