Elafiti Islands are a small archipelago consisting of several islands, located off the coast of Dubrovnik. Only three islands are inhabited: Kolocep (or Kalamota), Lopud, and Sipan.
A visit to Elafiti Islands is a popular day trip from Dubrovnik. The islands are a short boat ride from the city, yet they feel miles away. They have a completely different vibe, very few vacation rentals, and two hotels, one on Lopud Island, and the other on Kolocep. Basically, groups on a day trip from Dubrovnik are the only ones making a buzz. Otherwise, the islands are pretty quiet.
Locals like Elafiti for their laid-back vibe, especially off-season, a sandy beach Sunj that is especially suitable for small kids, outdoor activities, and a good choice of restaurants.
We visited all three of the biggest Elafiti Islands – Sipan, Lopud, and Kolocep. And we visited them in style – aboard a nice motor yacht Jeanneau Prestige 42 Fly. We can't really say which one is our favorite. Each island is nice in its own way. They are all very small with only one or two settlements, beautiful unspoiled nature, gorgeous sandy and pebble beaches, and a slow pace of life.
People come here to relax, to swim or kayak in a crystal blue sea, and to indulge in the small pleasures of life. We couldn't stop taking photos trying the capture the beauty of these islands.
We started our day cruising along the coast of Dubrovnik, from the town's port to the old town, then around Lokrum Island, and off to the Elafiti Islands. Seriously, I've never expected to fall so much in love with this beautiful archipelago.
How to Reach Elafiti Islands
There are a few ways to reach Elafiti Islands.
The cheapest way to visit the islands is by ferry in your own arrangement. A ferry departs daily from Dubrovnik's Gruz port and it stops on all three islands. In July and August, the ferry departs 4 times a day which gives you enough time to visit each of the three islands, and still make it to the ferry on time. The cost of the ferry (three islands + return to Dubrovnik) is 18 €. For detailed schedules and rates, you can check on Jadrolinija's website. You can also book your tickets online through their website.
You can also visit Elafiti Islands on a group tour from Dubrovnik. Many agencies in Dubrovnik offer this tour. So you shouldn't have any problems finding it. For as little as 42 €, you get a boat ride to all three islands, a meal, and a selection of local wine, water, and soft drinks. This Elafiti Boat Trip with Lunch has the most affordable prices and great reviews!
The best way to visit Elafiti Islands is on a private boat tour. It is a bit more expensive, but at 100 € per person for a group of four, it's still affordable. And nothing can compare with having a boat and a skipper for yourself. On a private boat tour, besides the islands, you will be able to experience Dubrovnik from the sea while sailing around the old town, visit cave beach Betina, and also Green, Blue, and Pidgeon's cave. All these stops are out of reach if going to the islands by ferry, or on a group tour with a bigger boat. The secrets of Elafiti Islands Boat Tour is the most popular private boat tour to Elafiti.
Kolocep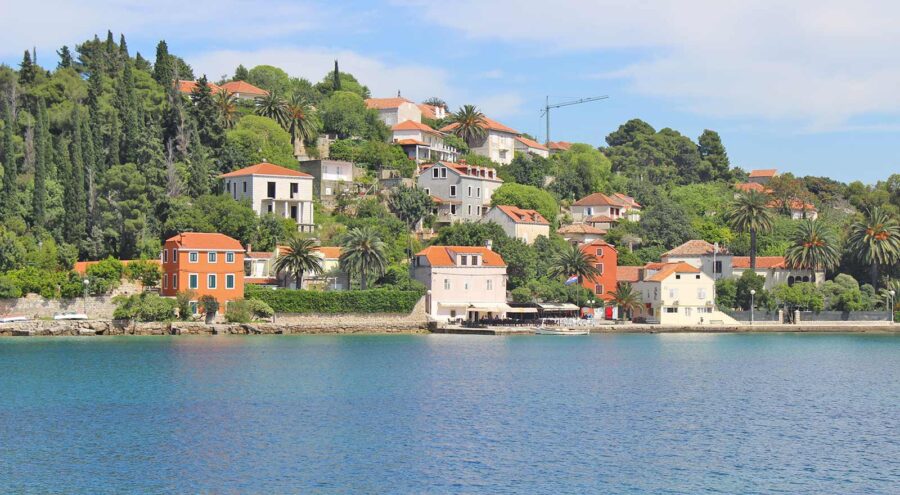 The car-free island of Kolocep, or as locals call it Kalamota, is the closest to Dubrovnik. Kolocep is a small island with two settlements. There is a nice 3 km long walking trail between the villages.
Both villages on Kolocep are located within a small cove and protected from the winds. Donje Celo is the island's main village, with a couple of bars, restaurants, and one hotel (and a few apartment rentals!).
The only hotel on the island, the Kalamota Resort, is an all-inclusive couples-only hotel. Restaurant and lounge bar Villa Ruza has a wonderful seafront terrace, and it is a popular dining spot on the island (not that the choice is wide :) ) – even if you are not staying at the island, you can try out the restaurant.
You can rent kayaks, or a motorboat, or just explore the island on foot.
Lopud
The car-free island of Lopud is the most popular Elafiti Island. There is only one village on the island (also called Lopud). A wonderful, over one-kilometer-long sandy beach Sunj is a popular summer spot for tourists and locals.
The beach has a few beach shack restaurants and offers deck chairs and parasols to rent, as well as snorkeling and kayak rentals and tours. The beach is located on the opposite end of the island's only village.
You can reach the beach by boat, on foot (not far, but on a hot summer day a bit tough), or by a golf cart that runs continuously between the village and the beach (approx. 5 € per person). The hotel Lafodia is the only hotel on the island.
Restaurant Obala is our favorite restaurant on the island. They make wonderful scampi buzzara, one of the best I've ever eaten.
Sipan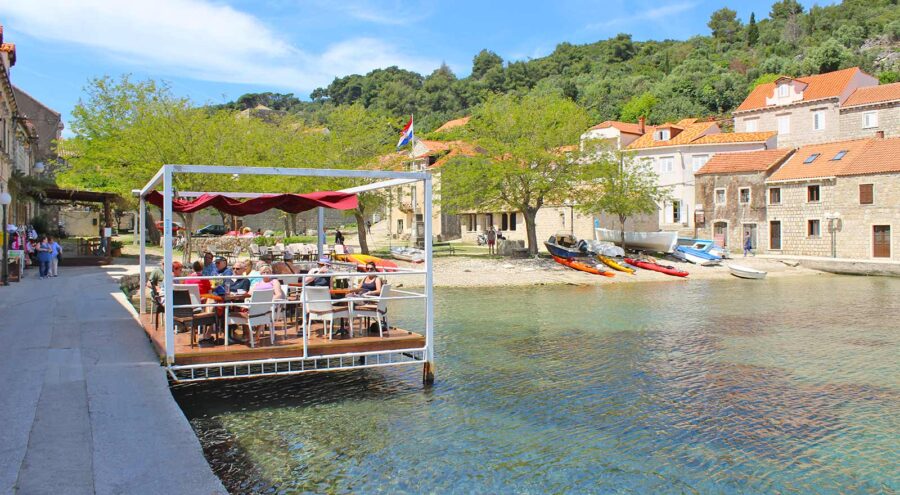 With a surface of 16 km2, Sipan is the largest Elafiti island. There are two small fishing villages located at either end of the island: the smaller Suduraj, and the bigger village Sipanska Luka.
The two are 5 kilometers apart one from the other, and there is a local bus running between the villages (usually scheduled in accordance with a ferry schedule). You can also walk from one to another village. We hiked this trail, and worked out the appetite for a lunch we had scheduled on Lopud Island. The walk is easy, and mostly flat.
Both villages have several restaurants and bars, nice beaches, and a hotel. It's a really small, but very charming village. There is a beautiful 16th-century fortress in the village. It used to be a summer residence of a local sea merchant.
A special experience you can have if you visit restaurant BOWA. It is located in the bay Vrbova, you can only reach it by boat and it is described as a "Robinson Crusoe" get-away. The name BOWA means the Best Of What's Around and, really, here you will get the best of nature in every sense. Clear blue sea, rocks, carob and olives trees combined with the top notch food. The menu is created on the daily bases depending of the catch of a day and available fresh food.
On the island there are a dozen apartments to rent and 4-star hotel Bozica Dubrovnik Island, situated in Suduraj. The hotel is open from May to mid-October and prices ranges from 140 € in the off season to 315 € in the peak of season.
Practical information about Elafiti Islands
Each island is very small. There is not much to do there out of the main season (except walking & exploring). Take that into consideration when planning a visit to the islands during a shoulder season, or on a rainy day.
If you are not into peace and quiet, or "away from it all" kind of holidays, the islands are still worth a visit at least for a day.
The islands can be reached by ferry, a private taxi boat, or on an organized island cruise departing daily from Dubrovnik
The ferry departs from Dubrovnik and it takes 30 minutes to reach Kolocep, another 20 minutes to reach Lopud, and additional 20 minutes to reach Sipan. The one-way ferry ticket costs 4 €. Check the ferry schedule to Elafiti Islands on the Jadrolinija website.
Have you ever been to the Elafiti Islands? Would you like to go? Let us know in the comments below.