We wouldn't be wrong if we say that Dubrovnik is Croatia's biggest brand. It makes a part of any itinerary of every first-time visitor to Croatia. In fact, many people decide to visit Croatia based on photos of Dubrovnik they've seen somewhere.
And it's so for the reason! There are not so many picture-perfect towns like Dubrovnik. Its old town is unbelievably well-preserved. Encircled by 2 km long town walls, old town Dubrovnik abounds in lovely Renaissance, Gothic and Baroque palaces, churches, and monasteries, narrow cobbled streets, passages, and alleys, quaint restaurants and lively bars, endless sea views, swimming and diving opportunities. There are only two downsides to visiting Dubrovnik: high prices and crowds.
But still, regardless of all this popularity, people tend to spend a short time in Dubrovnik. They stay for one to three days, see the main landmarks within the old town, take a walk atop the walls, get a cable car ride up to Srd Hill, and then move on to another destination in Croatia or elsewhere. They tick Dubrovnik off their list, that's all!
But Dubrovnik is actually an excellent place to spend your main summer holidays! From beautiful pebbly beaches to wine-growing slopes of Peljesac and Konavle, and endless opportunities for active holidays, there are so many things to do in Dubrovnik beyond the city walls.
What to do in Dubrovnik Beyond the Old Town
Dubrovnik is much more than the old town. And you won't believe how much more affordable it gets once you leave the old town.
Here are things to do in Dubrovnik beyond the city walls.
Experience Wine and Olive Oil Tasting in Konavle
OK, we might be slightly overexcited with the olive oil and local wine. OK, actually we are nuts about olive oil, and we are proud of Croatian wine. We don't travel anywhere (not even for a weekend break!) without a provision of Croatian olive oil, and wine we usually bring as a gift to hosts, or fellow travelers we might meet on our trip. This is why we always happily jump on any opportunity for olive oil tasting. In the Konavle region, just south of Dubrovnik, you can visit local producers and taste their wine and olive oils.
There are a few tour companies offering this experience as an organized tour. You can choose whether you just want to taste wine on this half-day tour or you want to spend the whole day exploring Konavle, its main sights, and do a wine and olive oil tasting.
We did olive oil tasting as a part of a group tour, but you can try to call directly and arrange an individual visit. When food and wine are involved we always prefer a group or organized tour because that way we don't need to worry about drinking and driving. We visited a family farm Glavinja, located in Cilipi, and Karaman Winery in Pridvorje.
Spend a day at Elafiti Islands!
The Elafiti Islands are an archipelago consisting of over 10 islands and islets. The islands are a short boat ride from the town and a great getaway from the hustle and bustle of Dubrovnik.
They are really within easy reach, and convenient to visit for a day with many transport options to get to Elafiti from Dubrovnik.
Only three islands that make the Elafiti archipelago are inhabited: Sipan, Lopud, and Kolocep. Ferries leave frequently from Dubrovnik port, and you can also hop on smaller tour boats that offer day trips to the islands. These tours are considered good value for money especially since lunch and drinks are included in the price of the cruise. You can relax by the sea, hike, or cycle around the islands. Kolocep and Lopud Islands are car-free.
Visit Trsteno Arboretum
This beautiful 70-acre arboretum is located in the small village of Trsteno, a 20 minutes drive from Dubrovnik. The arboretum gradually descent from the road toward the sea. It includes a Renaissance garden and villa, a nice symmetrical fountain with nymphs and Neptune sculptures, over aqueduct made of 14 arches, and a small chapel. The fountain spouts water into a pond full of small fish and water lilies. You'll also notice some old oil presses. It can be a nice, and different day out if you are staying in Dubrovnik.
There are three ways to reach Trsteno. You can rent a car. Check the Rentalcars.com website for the best deals, and price comparison. Parking is limited, so you might consider taking a local bus to Trsteno. Check the timetable on the Libertas website. And finally, visit Trsteno Arboretum as a part of the Game of Thrones guided tours since it is the Red Keep garden. When you come there you will know why it made one of the filming locations.
Get active at Kojan Koral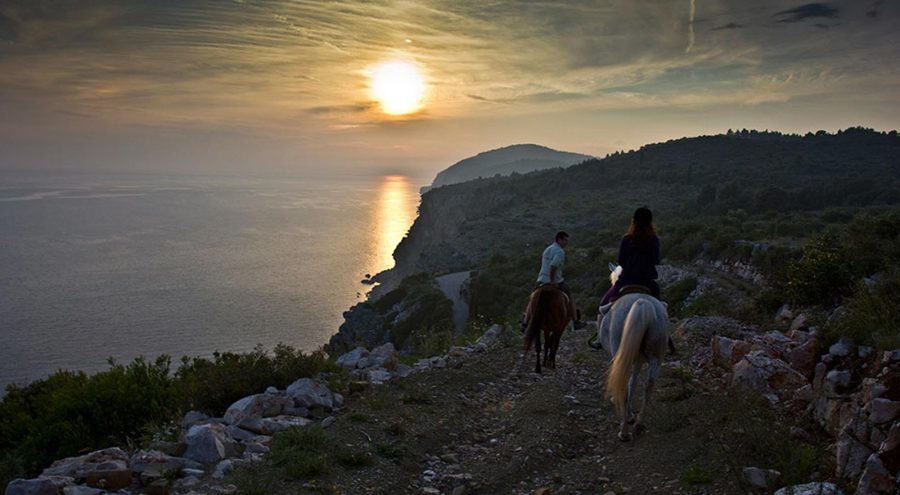 Kojan Koral is located in the small village of Popovici, 30 km south of Dubrovnik. It's run by our friend Pero, so we might be biased here. Although, if you just check reviews of his tours, you'll understand why we highly recommend you pay him a visit.
Kojan Koral offers horseback riding, ATV Quad, and Buggy rides. All tours are guided, and take you through the countryside. The path takes you to the edge of the rocky coastline, and the views are amazing. Stables at Kojan Koral are really kept clean, and there is a nice outside area where the staff prepares a small snack for you upon your return from the tour.
You can also book these experiences through our partner Get Your Guide, Here are the links: ATV Quad Safari, Buggy Safari, and Horseback Riding.
Sea Kayaking
I like sea kayaking. This simple, carbon-free activity gives so much pleasure and also many opportunities. You can escape crowded Dubrovnik beaches and head somewhere quiet. You can take a picnic with you, and spend a nice day in nature.
In Dubrovnik, many tour companies offer a sea kayaking tour. Tours are guided, and you shouldn't worry about your level of experience. It's just lots of fun, and eventually, you also learn how to paddle :). You can book morning or sunset tours with nice stops along the way, swimming, and cliff jumping, as well as snacks.
This Sunset Sea kayaking Tour in Dubrovnik is super popular!
Spend a day at the beach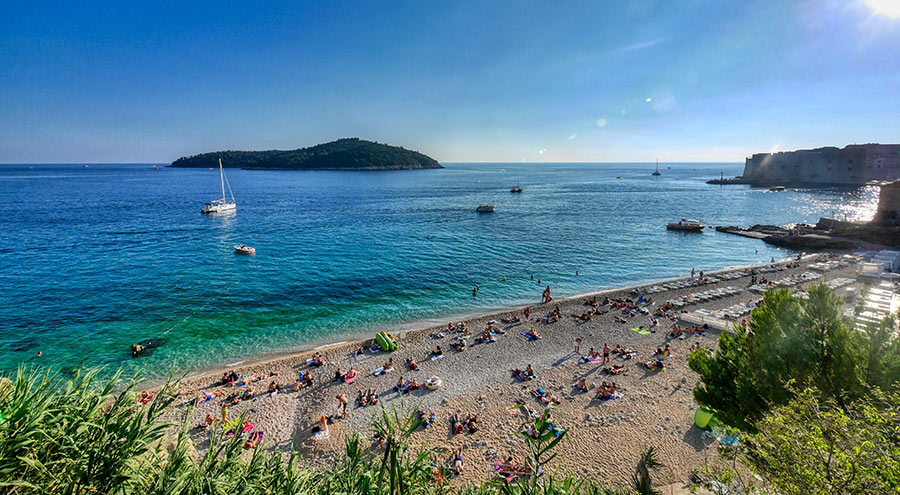 Dubrovnik has many beaches. Pick out your favorite beach in Dubrovnik, lay your towel down, and just relax.
Eat local in Konavle
Konavle is a rural region where, among other things, locals go for a hearty meal. The most popular village for dining out is Gruda. The most touristy of all restaurants in Konavle is a restaurant Konavoski Dvori. However, we always eat at the tavern Vinica Monković. They have a gorgeous terrace right at the river bank.
Drive the old Napoleon road
Now, this is a special one that I wouldn't know anything about if it wasn't for my father-in-law. That guy knows every corner of Dalmatia. The old Napoleon road runs above and parallels the main national road. We took the Napoleon road from the village of Trsteno to the village of Slano. Now if you are fit, you can also cycle along this road. However, we are not that fit. We just drove in the car. This road will award you with some of the best views you can imagine. The view stretches far and wide.
Again an important lesson – if you will be visiting Dubrovnik in the summer and you are planning to rent a car for this tour, try to do it as early as possible to ensure a good price, and a car, of course. On Rentalcars.com you can check for the best deals.
Have you been to Dubrovnik? What have you enjoyed the most during your stay? Let us know in the comments below.