Today we finally visited Plitvice Lakes National Park, the UNESCO World Heritage site and one of the most popular places in Croatia. We've got quite a story to tell about our visit to this natural wonder (let's just say for now that we've cut our visit short). But before we reveal all other details of the visit, we really wanted to share with you few images of this amazing national park.
Images of Plitvice Lakes Croatia
There are two main entrances to the park. We took an entrance no. 1 and the first sight we've seen was the Veliki Slap (or Big Watrefall).
We've always heard stories about the amazing color of the lakes. You'll really see all the shades of blue, green and that amazing emerald.
We've seen few rainbows too.
At the times, the hike was really demanding. OK, this is where we almost cried. Over 100 steep steps to climb. Just to realize we've made a wrong turn. And we should have never climbed those stairs. Ouch!
But in no time, we were back to walking on the water. No kidding!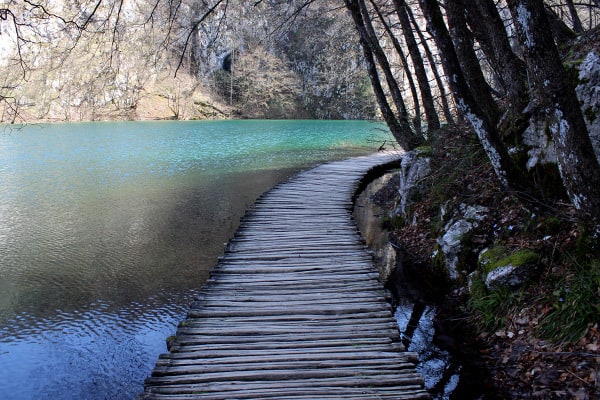 We also visited a small village of Rastoke, 20 kilometer north of Plitvice Lakes. This is a charming settlement of watermills. This site is less popular and thus less crowded. We spent almost two hours at this place.
We hope you've enjoyed this short Plitvice Lakes journey through photos. At least your legs don't hurt from all the stairs (they were a killer!).
Have you been to Plitvice Lakes? Would you like to visit the lakes? Let us know in the comments below.