If you are planning to visit Croatia, you might wonder what is the best lightweight luggage for Europe. When it comes to experiencing Europe, and Croatia is no different, lightweight luggage can make a big difference.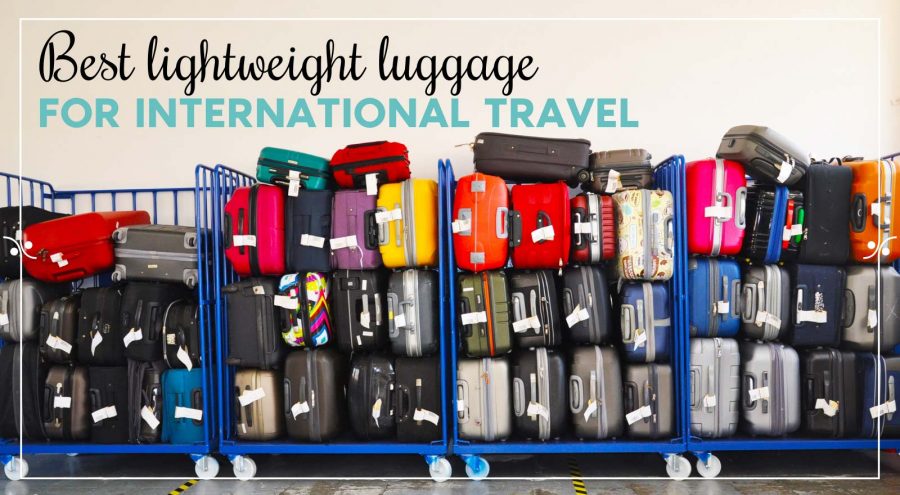 Many European towns and villages, especially old town's centres, consists of tiny alleys, cobbled-stone streets, uphill walks, and many of them are also car-free.
Having this in mind, travelling with lightweight luggage is super important.
We often travel within Croatia, and around Europe. Sometimes we fly, and sometimes we drive, rarely we use trains. And we can tell from our own experience that choosing lightweight luggage for Europe is a necessity.
Tips for choosing lightweight luggage for Europe
Different people have different needs when it comes to travel and packing.  And we won't pretend that ours match yours. However, we would like to share a few tips on things to consider when deciding on your lightweight luggage for Europe. When we were buying our lightweight luggage, we did extensive research all over the internet, from product reviews to forums, and blogs, and we hope our tips can help you choose what's best for you.
Weight
First things first, search for the exact weight of each lightweight luggage for international travel you consider buying. And if that information isn't specified, walk down to the first luggage store in your neighbourhood with hand-scale in hand, and simply weight different luggage.
Fabric: soft shell vs. hard shell
If you are anything like us, you'll be concerned about soft-shell suitcases for two reasons: strength, and style.
We won't lie, we like much more hard-shell suitcases. We just prefer them from the design point of view. They are simply more stylish.
Worry not, lightweight luggage for Europe comes in all styles: hard-shelled and soft-shelled alike.
A material used in making luggage is more important than if the casing is soft or hard. Although, truth be told, soft-shelled luggage is always lighter.
The best lightweight luggage with a hard shell is made of technologically-advanced materials like polycarbonate. Polycarbonate is also flexible (no bumps), strong, and waterproof. So, no need to give up on your favourite suitcase shelling.
Size
Sure enough, you don't need us to tell you that the smaller the suitcase is, the more lightweight it is. It really goes without saying. However, sometimes you simply can't travel only with a carry-on. If you go on a 2-week trip to Europe, there is a good chance you'll need at least a 25" suitcase, and perhaps even bigger 28" luggage will be more suitable.
Still, within these suitcases, you want to choose one that weighs the least.
Also, even if you are looking into travelling light, and packing minimum possible, we strongly advise you to choose a suitcase that can extend for extra space. Look, if you have fewer items than it can fit in the suitcase, it won't be a problem. But when you need that extra space (hello souvenirs cheese from Europe!), you'll appreciate expendability of your lightweight luggage. The only downside of expendable full size checked luggage is that it can easily trick you into packing more weight than airlines allow on international flights. So, have this in mind when packing.
We would ideally travel everywhere with a carry-on cabin size luggage, but it's often not possible, especially if we go on long-haul, or simply longer trips.
However, we at least try to keep our luggage to max 25" high. Everything above becomes too impractical (unless we pack only one suitcase for both of us).
Interior and exterior compartments
Compartments come handy when it comes to organizing your luggage, and when you need to keep certain things separate. E.g. dirty clothes from the clean one. Or toiletry bottles (not to mention coco oil when travelling to places with a temperature above 25 °C; I should have known better!).
And although today you can find all kinds of packing cubes and similar gadgets to help you better organize your suitcase, I still think, that when choosing your lightweight luggage for Europe, a suitcase with better-designed compartments has an advantage (if its weight is comparable with the one that doesn't have compartments).
Wheels (roller vs. spinner)
Oh, boy, how many times did I wish that my old 2-wheel suitcase had spinner wheels! The answer is, many, until I finally decided to upgrade my luggage, and bought one with spinner wheels (and one with double spinner wheels, just to be on a safe side!).
The only downside of spinner wheeled suitcase compared with a 2-wheel suitcase is a little bit less packing space on the same size suitcase. But that sacrifice is well worth the advantages that come with spinner wheels. And even more so if planning to travel to Europe.
Handling your luggage
Handles on your suitcase are as important as weight, so make sure that handle is ergonomic, retractable with adjustable length, smooth when pulling out and pushing in, and durable (it can withstand pulling up and down as many times as you need to).
Also, you will have a choice between mono-tube, and two-tube handles. Mono-tube handle usually spins which can be interesting when manoeuvring your lightweight luggage for Europe. Suitcase with mono-tube handle also looks sleeker.
However, the two-tube handle is more practical if you need to hold some things atop the suitcase. Vera often hangs her laptop bag on the handle, and two-fold handle holds better, and it gives more stability.
The multi-stage handle isn't the only handle on the suitcase. Make sure your suitcase also has a side handle for easier handling.
Scratches
Although the majority of quality suitcases are durable, they aren't immune to scratches. This is especially a case with hard-shell suitcases. Soft-shell suitcases better handle scratches due to their material.
Some lines of hard-shell suitcases use brushed finishes, so even if scratches happen (and they inevitably will), they are less noticeable.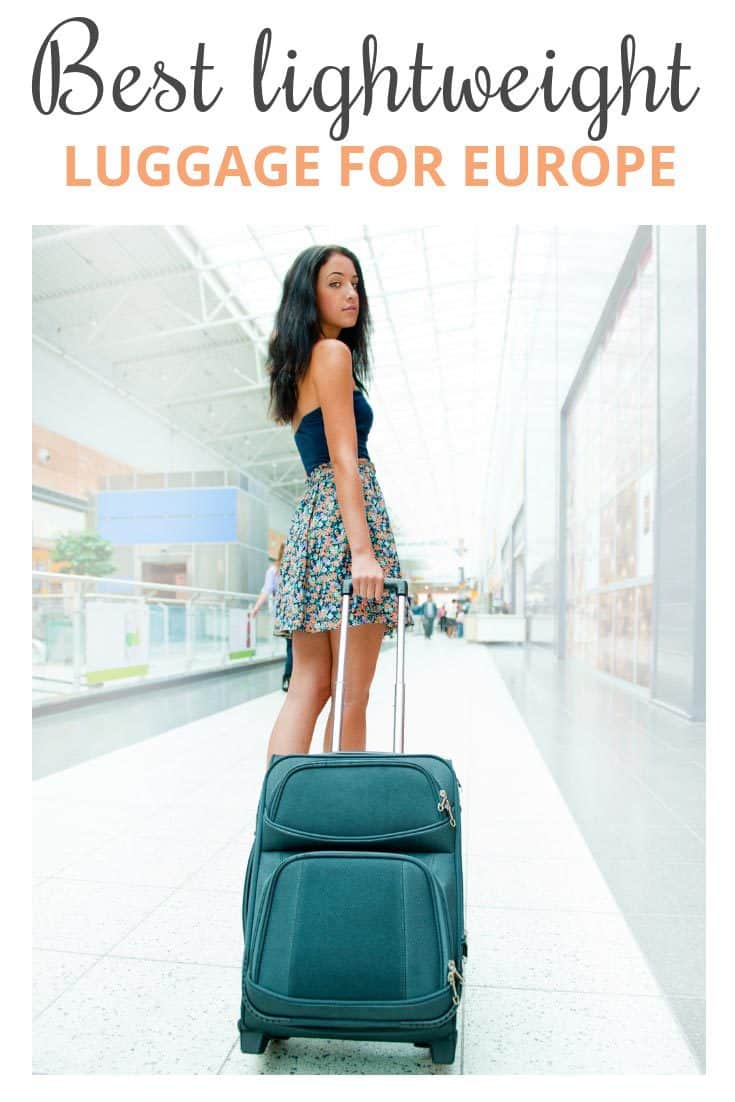 Safety
When choosing lightweight luggage for Europe make sure that built-in lock on the suitcase, if it exists, is TSA-approved. Majority of suitcases on the market have safety TSA-approved locks. But it's better to double-check before buying.
However, if the suitcase doesn't come with a built-in lock, don't worry, you can always buy one. It's just that built-in locks look better than ones that hang from the side.
Price
As someone who not only travelled a lot but who used to live off my suitcase when I used to work on ships, I know my suitcases well. And I have never been cheap when it comes to buying a suitcase.
The formula is simple, a good suitcase isn't cheap. However, you need to look for the best value for your money. It also pays to look for seasonal discounts. You can also secure a good deal on clearance when the entire line has been discontinued. You don't need to buy the latest design. All you need is a good quality lightweight luggage for Europe.
Warranty
If you are already investing in a suitcase (and as we've seen, top quality suitcases aren't cheap), then at least make sure that manufacturer offers good warranty coverage in case your suitcase breaks or get damaged in any way.
Best lightweight luggage for Europe 2021 comparison table
Best carry-on lightweight luggage
Samsonite Freeform Carry-On Luggage Lightweight Suitcase Spinner 21" review
Samsonite is a well-established brand and a market leader when it comes to suitcases. Yet, many times, you'll find their suitcases cheaper than many less-known brands.
I love their sleek design, variety of colours (especially the mint green!), and thoughtful compartments including a laundry bag. The carry-on also has TSA-approved lock and spinner wheels. With 21" height, and over 15″ width, this carry-on luggage fits a lot of clothes.
Samsonite also offers a 10-year limited warranty. Important to say, that at 6.5 pounds (2,9 kg) it's one of the lightest carry-on bags we've reviewed here.
Delsey Cruise Lite 19″ Carry-on review
With 19" height, this Delsey carry-on is slightly smaller than other reviewed carry-ons. Nevertheless, it is well worth considering if you are looking for a new carry-on to buy.
Elegantly designed, it comes in platinum (our favourite!), red, and black colour. This is a hard-shell suitcase, but it has a unique opening feature: 90/10 split just like a softshell suitcase. This way you can pack better, and it also allows you to open your suitcase easy on a luggage rack.
Other features include double spinner wheels, two-stage top handle, and additional side handle, TSA-approved lock, and most importantly it allows you to expend its exterior up to 2".
Olympia Apache 21″ Carry-on Spinner review
With a weight of only 6,2 pounds (2,8 kg), Olympia Apache 21" is one of the lightest carry-ons on the market.
The case of the luggage is black while trim comes in a variety of colours to choose from: red, yellow, blue, etc.
It splits into two sides when open. It's also expendable. But besides all regular features (spinner wheels, multi-stage handle, TSA-approved lock, etc.), the Olympia Apache has a patented hidden pocket that withholds a laptop. The suitcase is made of ABS material which is the reason it's also cheaper than the other suitcases reviewed.
American Tourister Stratum review
This carry-on luggage is one of the most elegant, and beautifully designed carry-on luggage we came across.
It is also one of the lightest hard-shelled luggage you can find on the market. It weighs only 6.3 pounds (less than 3 kg). The design is sleek, and the wheels are as smooth as butter. It is made of polycarbonate and it has two dividers storage.
It comes in five different colours and it is expendable. Zippered interior compartments and pockets help keep your clothes well organized.
This is a premium suitcase, but the price is very affordable, that makes it one of the best value for money carry-ons on the market.
Click here to check the latest prices and additional information.
Amazon Basics Urban Softside Spinner 20 review
This small but roomy soft-shelled Amazon Basics carry-on is a real bijou. At 15.5" it is wider than many of other carry-on luggage, and polyester ensures its lightweight. However, Amazon Basics 20" carry-on is very well-made and sturdy. Spinner wheels move quickly in all directions, while side handle and multi-stage handle make sure to manoeuvre it easily.
Classic design and simple black colour ensure that it will stay fashionable for a long time.
It also features two exterior pockets handy for slipping something in on the go, like a bottle of water or newspaper.
It is the cheapest carry-on luggage reviewed here.
Best mid-size lightweight luggage
Delsey Paris Turenne 25" review
Delsey Paris Turenne is a stylish scratch-resistant and lightweight midsize luggage. It is hard-shelled luggage and when open it splits into two halves.
Both inner compartments come with a zipper and are closed to keep clothes in place. There is also a separate zipped bag for laundry and shoes.
Double spinner wheels and a two-position telescopic handle ensures great manoeuvrability. This is the lightest Delsey's suitcase.
Coolife Luggage 24″ review
Coolife Luggage 24″ is built of lightweight and durable polycarbonate and ABS hard plastic shell. It features silent spinner wheels and a telescopic handle.
It's one of the cheapest hard-shelled suitcases on the market in its category. It comes in four colours, and it has a very elegant look.
When open it splits into two compartments; one consists of three zipped storages, while the other side has a cross strap. The suitcase isn't expandable, but its interior is roomy.
Click here to check the latest prices and additional information.
IT Luggage Review
IT Luggage advertises itself as the lightest luggage on the market. And this is completely true! Any given IT luggage is at least 2 lb (1 kg) lighter of its competition in any size category.
Being the lightest luggage on the market comes with few downsides. It is a soft-shelled suitcase made of a fabric sheet. And, I must admit, it does look a bit flimsy. However, don't let the look deceive you. This suitcase is as durable as it can be.
The suitcase has three zippered pockets: two exterior and one mashed interior pocket. It lacks smaller pockets for better organization, but you can easily overcome this drawback by using packing cubes.
It comes in a variety of colours. We love the one in burgundy.  The frame is made of fibreglass, while the top handle is made of aluminium. The suitcase also has a side handle and 8 spinning wheels.
Travelpro Maxlite5 Lightweight 25″ review
Travelpro's Maxlight soft-shelled suitcase is on the market for a while, and since launch, it has been priding itself in building the best sturdy, durable, yet lightweight suitcases on the market.
Their Maxlight3 was a huge success, and Maxlite5 is just improved newer version of that already awesome luggage. And it's half a pound lighter than the previous model.
It comes in a variety of colours, our favourite is a dusty rose, but if you like to keep a classic look, you can get it in black as well.
It has a bottom, top and side handles, a full-length interior lid pocket on one side, and two adjustable straps for keeping clothes secured in the main compartment. It also expends an additional 2" for extra storage.
This is an excellent suitcase for medium and longer travels.
Best full-size lightweight luggage
Samsonite Freeform 28" review
One of the lightest full-size suitcases on the market, Samsonite Freeform 28" is very roomy, and comes with multiple interior pockets, and cross straps to help you better organize your belongings
Double-spinner wheels, four-stage wide telescopic handle, top and side retractable handles make manoeuvring this large suitcase super-easy. It offers additional storage space when extended.
This suitcase come in a variety of colours. But in our opinion, it looks the best in white.
Delsey Luggage Cruise Lite 29" review
Cruise Lite is Delsey's lightest luggage. In our opinion, it's also the company's most stylish suitcase.
Just like its smaller 19" version (already reviewed under carry-on section), Delsey Cruise Lite 29", although hard-shelled, has 90/10 top lid opening typical of soft-shelled suitcases.
Besides standard features like a telescopic handle, TSA-approved lock, double-spinner wheels, top and side carry handles, this luggage has a built-in overweight indicator that alerts you when the weight of the suitcase exceeds 50 lbs (23 kg).
London Fog Newcastle 28" review
The beautiful patterned fabric gives this suitcase very fashionable look, but it also makes luggage easy to spot on a baggage carousel.
Spinner wheels and multi-stage handle work smoothly. Side, bottom and top carry handle make it easy to lift the suitcase when needed.
The main inside compartment is large, and it has two straps for securing your belonging. An interior lid comes with two shoe pockets and zippered meshed pocket.
My only complaint is that it doesn't come with a built-in lock. However, this feature is easy to come around. You can simply purchase a TSA-approved lock.
Kenneth Cole Reaction Out Of Bounds 28" review
We decided to add one suitcase below 100 $ in this review of the best lightweight luggage for Europe. So for us, Kenneth Cole Reaction Out Of Bounds definitely made the list.
This suitcase is made of ABS and not polycarbonate. It's widely-used material, but just a bit cheaper, and a notch-less durable than polycarbonate.
However, this suitcase is well-loved, and really one of the most popular suitcases on Amazon.
It comes in a variety of colours. It features a telescopic handle, spinner wheels, top and side carry handles, and two interior compartments.
It's handy when suitcase has a couple of zippered pockets on one side, but unfortunately, it isn't the case with Kenneth Cole Reaction Out Of Bounds. And that's for me the only downside to this suitcase. Otherwise, it offers good value for money.
Further reading: Packing list for vacation In Croatia, Best travel money belt for international travel and Unique Travel Gifts For All Budgets.