Rizman Winery is a brand new winery located in Komarna wine region. And although the winery wasn't yet officially open when we visited back in September, owners were more than happy to show us around and to invite us for a wine tasting.
A location of the winery is spectacular, at the top of the hill above Komarna with wonderful views over the sea, the Peljesac peninsula, islets and vineyards. Rizman Winery consists of a production line, a wine cellar, a small shop, and a modern sea facing tasting room opening into the large terrace with gorgeous sea views.
The entire winery is surrounded with greenery. The landscaping has not yet been done when we visited, but it should be nice once it's done. At the far end of the winery, there is a nice vantage point offering views over the vineyards, and the sea.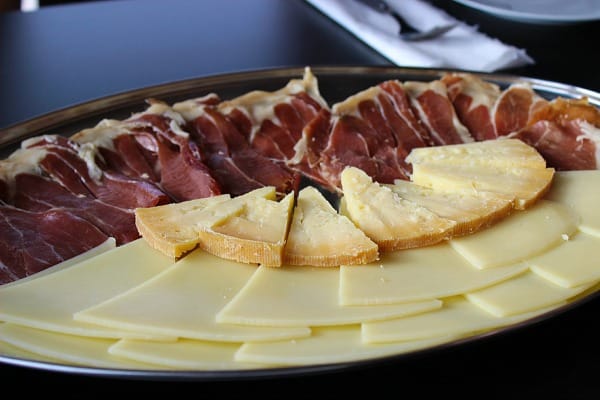 Our wine tasting included a tasting of 6 different Rizman wines: Rosé Rusula 2013, Posip 2013, Posip Nono 2011, Placac mali Primus 2010, Tribidrag 2011, and Tempranillo 2012. A wine tasting was accompanied with an excellent homemade Dalmatian prosciutto, a goat cheese (btw, excellent!), bread, and Rizman's own olive oil. Stimac family produces also two kinds of olive oil: one mild, and another one intense.
Rizman Winery:  six wines to taste
1 | Rosé Rusula 2013
Rizman Rosé Rusula is fresh and light wine made of Plavac mali grapes. Like other wines from Rizman vineyards, Rusula is organically produced wine. Rusula has pink cherry color, delicate bouquet, and refreshing taste. It's dry in the mouth with a dose of acidity.
2 | Rizman Posip 2013
Young refreshing white wine made of posip grape variety, Rizman Posip 2013 is fresh, aromatic and fruity.
3 | Rizman Nono 2012
Produced in limited quantities, Rizman Nono 2012 is made of 100% indigenous posip grape variety organicalky produced on the steep slopes of Komarna hills descending sharply to the sea. Nono is a serious white wine, that passed a cold fermatation process and it has prolonged aging in oak barrels. We love aged whites, and seriously enjoyed tasting this elegant white wine.
4 | Rizman Primus 2011
As its name suggests, Primus is the Rizman Winery's first wine. Robust wine with ruby-red color, low acidity, and fruity aromas, Rizman Primus has a food-friendly charms and "only" 13,9% alcohol.
5 | Tribidrag 2012
Tribidrag, also known as Crljenak Kastelanski, is an old Croatian indigenous sort, and as the DNA analysis proved, Zinfandel is actually Crljenak Kastelanski, also known as Primitivo in Italy. Rizman Tribidrag was a first wine of this sort produced in Croatia that we tried. And we felt in love with this wine immediately. For us it was less acidic and creamier in the mouth compared with Primus, and just easier to drink, although at 14,4% its alcohol content is higher.
6 | Tempranillo 2012
It was quite a surprise to find Tempranillo at Rizman Winery as it's not a very common sort to find anywhere in Croatia. Actually this is the first Croatian tempranillo I've ever tasted. And it was good.
Rizman Winery Komarna: contacts
Contacts | a: Stolovi bb, Slivno-Ravno | t: +385 91 2449 040 | Website | Facebook
Are you a wine aficionado? Do you like to visit wineries and taste local wines when travelling? Let us know in the comments below.