Konavle region is a rural region south-east of Dubrovnik with Cavtat as its municipality center. It is southern most part of Croatia. It is a small region with a distinct character: its rocky coast on the South, its scrub covered mountain to the North and its green valley in between.
Konavle region is excellent for cycling, hiking, horse-back riding, and basically anything to do with nature. Cavtat, located at the northern tip of the region is the biggest town and the most known tourist resort in Konavle region.
Although it attracts lots of tourist, Cavtat offers to its visitors much slower pace than neighboring Dubrovnik. This small waterfront town is located on wooded peninsula. It has nice beaches, but big hotels are right at the beach front. Cavtat is an excellent choice if you want to avoid hustle and bustle of summer crowd in Dubrovnik, while still not being too far from Dubrovnik. There is a frequent and cheap public bus from Cavtat to Dubrovnik and back. For a day out in Konavle region, you can visit Kojan Coral in the village Popovici. Kojan Coral offers horse-back riding and ATV safari, both half-day guided tours in Konavle countryside.
Konavle region: Eating traditional, tasty, home-made food
Konavle region is also very popular among foodies. Many local restaurants serve genuine dishes from the region, using fresh and local produce. Frank went to village Gruda, a small village famous for its restaurants, river Ljuta and remains of many watermills. The most touristy of all restaurants in Konavle is a restaurant Konavoski dvori. It is a nice place with very good food, but it can be very busy with bus groups. In Frank's opinion, it is a good reason to avoid it. He rather chooses less touristy, family run tavern Vinica Monkovic. Tavern lies right at the shores of the river Ljuta. The river is small with rough waters and tiny waterfalls. Tavern Monkovic is a family run restaurant with beautiful terrace for dining outdoor.
The tables are in the natural shade and right by the edge of the river. One table is even on the wooden platform just above the river. And during the summer when the water gets really shallow and water bed dry, you can eat right under the bridge. The river brings natural refreshment during the hot summer days.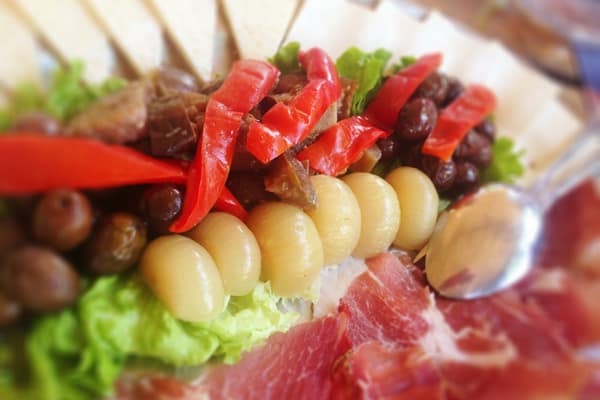 The food at tavern is simple and old fashioned, tasty, home made with fresh, local produce. The wine served is mostly local and good value for money. The atmosphere is warm and friendly. The service is impeccable.
Frank's starter included some good home made prosciutto, fresh goat cheese, aged ship cheese, marinated and salty anchovies, grilled and marinated bonito fish, olives, marinated peppers and onions. Everything was extremely tasty, and home made. Plates were huge, and they hardly left any place for a main meal. Tavern Monkovic prides itself with excellent beef, baby beef and lamb. They offer them grilled or in a traditional dalmatian sauce. Frank went for "pasticada", a traditional Dalmatian recipe, where baby beef is marinated in vinegar, red wine, and plums, and herbs (rosemary and cloves). The meat is pickled with carrots and dried bacon. It is served with gnocchi.
The best pasticada that Frank has tasted is made by his mother-in-law, but he needs to admit that one he tasted at Monkovic tavern was very, very good.