Located 4 km north of Rovinj, the Resort Amarin Rovinj is a large tourist complex featuring self-catering apartments, rooms and campsite. There are 461 apartments in total (including 190 brand new one- and two-bedroom apartments built in 2013), and 650 pitches in the campsite. The brand new apartments built in 2013 are by far the best and coolest apartments that any resort in Croatia has to offer.
Resort Amarin Rovinj Overview
Unique and original, new apartments in the Resort Amarin Rovinj are by far the best apartments of its kind in Croatia. For a long time, I haven't been so impressed with a tourist complex in Croatia. Most of the resorts are decent, but so boringly similar one to another. The Resort Amarin Rovinj is completely different.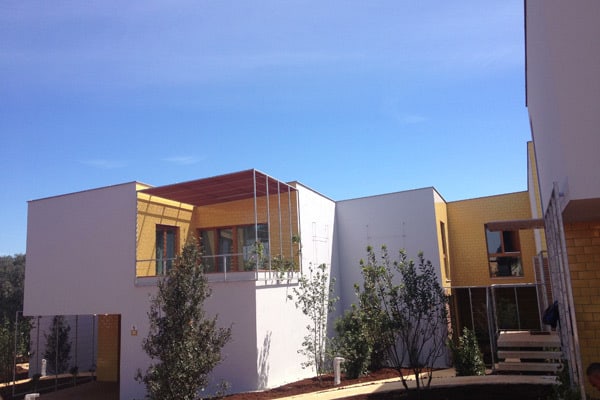 All the apartments are air-conditioned. Two-bedroom apartments are spacious duplex apartments, featuring fully-equipped kitchen (stove, microwave, oven, dish-washer), bathroom, separate toilet, living room, two-bedrooms and private patio with small garden. One-bedroom apartments are equally well-equipped, featuring terrace or balcony instead of patio. They are outfitted with natural wood making the apartments modern and slick, but warm and cozy at the same time.
The pool area has also been renovated and enlarged with two additional pools, and the restaurant complex overlooking the pool.
Resort Amarin, being a large resort catering not only to the apartment guests, but to the camping and caravan guests, has its negative sides. But it is a nice resort, with great views over Rovinj, taxi boat service to take you to the town, and as from this year, with the best apartment complex you'll find anywhere in Croatia.
Resort is best suited for families with kids, and young couples.
Resort Amarin Rovinj Highlights
Brand new apartments – newly built apartments are beautiful and hard to beat in the sense of comfort, design and equipment.
Atmosphere – large resort with many activities; great pool area, restaurant offering half-board meal plan; water sports
Resort Amarin Rovinj Downsides
Internet – just like all other properties of the Maistra hotel chain, this resort doesn't offer free internet, but instead charges a fortune for it.
Too crowded – the high season can be really busy with over thousand people staying at the resort. Beach and the pool can get crowded.