Mussels in a white wine sauce is very common dish in coastal Croatia. Mussels are of a good quality here, and they are cheap, especially in southern Croatia.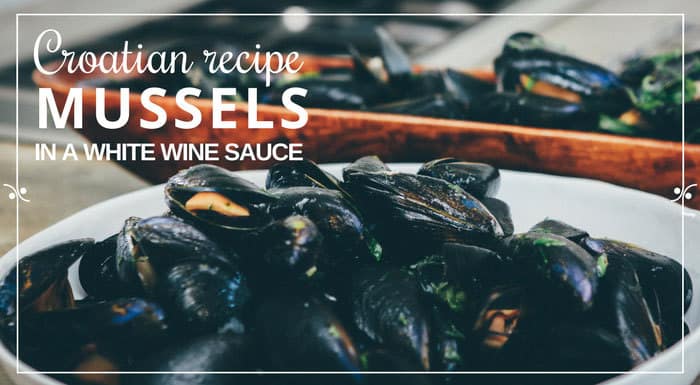 Buzara, on the other hand, is a popular cooking method for seafood in coastal Croatia. It is an excellent, simple and delicious recipe. This recipe can be used to prepare shrimps or shellfish (mussels, clams, …).
This way of preparation gives plenty of delicious juice, sometimes even more tempting than the main ingredient itself. No matter what type of seafood you decide to cook alla buzara, you will always need the same ingredients:
parsley
breadcrumbs
white wine
olive oil
garlic
and then,
shrimps, mussels or another shellfish
For mussel a la buzara, you will first need to clean your mussels. The best way to clean them is to clean them in the fresh water. Fresh water will remove any of remaining sand or other dirt from the shells. It will also help to desalt them a bit. If you see any open or damaged mussel, you should trow them away. From each shell, you will need to remove what is known as "beard". To remove a "beard" from the mussel, hold mussel in one hand, and pull a "beard" with another toward the hinge. It should come off easily.
Once that your mussels are clean, put them in a pot. Put the pot on the fire and cook for 5 minutes or so, until they release the water. Remove from the fire and strain the water. Put the mussels back on fire. Add olive oil, parsley and garlic.
Close the pot, take it by both handles and shake it. Add breadcrumbs and white wine. Shake your pot again. Cook it on the medium fire for another 5 minutes or so. Your mussels are done.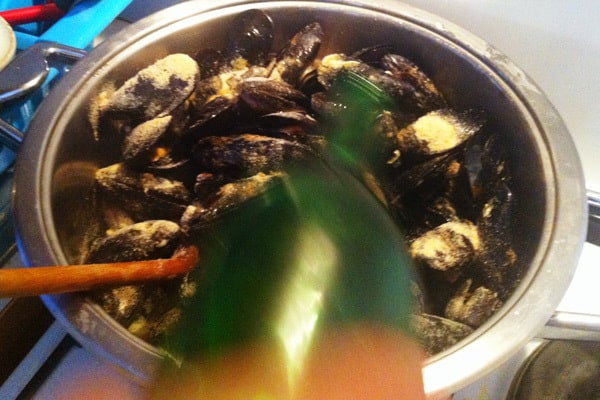 Serve with bread because the sauce is great. In coastal Croatia mussels are often served with boiled potatoes and/ or Swiss chard.
Mussels a la buzara you eat with hands and you get dirty :-). Enjoy!