Although I've actually never really planned to live in Istria, this is the place I call home for now. And man, I could have hardly chosen a better place to live (especially considering it was more of a gamble than a real plan). If you are curious about the things I cherish here, check my article on awesome things about living in Istria.
Istria is a north Adriatic region of Croatia. It's a heart-shaped peninsula which means that not only we can visit the entire peninsula (seaside and a hinterland) within one hour drive from our house, but we can also visit three countries (Croatia, Slovenia, Italy) within one hour drive.
Istria offers so many pretty and outstanding places to visit. We often get in the car without a particular place in mind and just take any local road in search of a new exceptional corner of this beautiful region. And although we have been living here for nine years now, Istria keeps surprising us with its allure. 
The hilltop towns with its spectacular views over the countryside are so typical for the region. Trust me Istrian hilltop towns and the vistas stretching all the way to the sea are breathtaking. There are so many of them, and although we do call them towns because of their urban layout and a feel, their size is more of a small village than of any town as we know it.
Here are our some of our favorite Istrian hilltop towns. If you you are interested in visiting some charming villages beyond Istria, check our post on 14 enchanting villages in Croatia that you need to visit. 
My favorite Istrian hilltop towns
Groznjan
We start with Groznjan, because it's our favorite of all Istrian hilltop towns. This medieval town remained largely untouched. It sits on the hill, a 228 m above the sea level, and it offers amazing vistas over the Mirna Valley, olive groves and vineyards, the sea and the coastline from Novigrad to Umag. As you drive up toward the town, you pass beautiful olive groves and vineyards.
Stone used to build houses and other buildings is different in shape and color than the stone used in other areas of Istria. You'll notice this immediately, and it's kind of nicer. The town has a typical medieval layout, houses are built very close one to another, streets are cobbled, with lots of small alleys, and the town is walled. Groznjan is a town of art. The popular summer jazz festival & school takes place here every summer. There are lots of art galleries too. Groznjan is also full of stray cats.
Motovun
Motovun is the most popular of all the Istrian hilltop towns. Located on a 280 m high hill above the Mirna River, this town and the surrounding area is famous for the black and white truffles you can find in the nearby forests. Motovun film festival takes place here every summer.
There are few bars, art galleries, souvenir shops, and restaurants in Motovun. Restaurant Mondo has been featured in a New York Times, and it's on my restaurant wish list. But we still haven't tried it out. My friend runs a small B&B in Motovun, called Villa Borgo. Check him out if you plan on staying in Motovun.
Zavrsje
Završje is the most mystical of all the Istrian hilltop towns. This is quite a big village, but it's been mostly abandoned. Today majority of the houses are covered in creeping ivy. There is also interesting leaning bell tower. Not quite like in Pisa, but it leans 40 cm. There is a nice local inn nearby offering very affordable, tasty homemade food.  
Oprtalj
Oprtalj is another charming medieval town located above Mirna Valley. Just out of the town walls, there is a nice Venetian loggia, offering beautiful views over the neighboring hills, and olive groves. Compared with other hilltop towns, Oprtalj seem to be more colourful. Many houses have bright colored facades.
There are still many more houses in need of restoration. If you like olive oil, visit two famous olive oil producers in the vicinity of Oprtalj. Zigante is in the village of Livade, and Ipsa is in the village of Ipsi.
Boljun
Boljun is a small, fortified town located in Central Istria, below the Ucka Mountain. The town has a really large and well-preserved medieval Castle. I love the view through castle's windows – beautiful vistas over the Boljuncica valley and Ucka Mountain. There is a small restaurant in Boljun.
Gracisce
Gracisce is another medieval hilltop town located in Central Istria. I don't know the full story of this place, but there are two things that intrigue me about it. First, there are way too many churches here for such a small place. And second, near the main church there are some gravestones with skull and crossbone sign on them. And this is something I haven't seen anywhere else in Istria.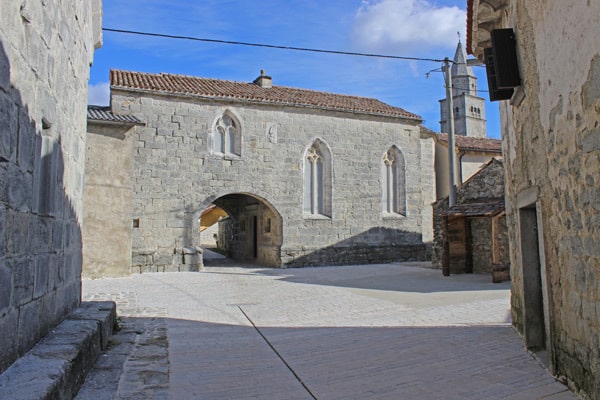 I tried to find out at the local tourist office what the origins of this symbol in Gracisce were, but they haven't known much about it. However, Gracisce is very cute place to visit. It has a grocery store, bar, and a restaurant. And every year for Easter weekend, a very popular Grasicse Wine Faire takes place here. It gets really crowded, hustle to find a parking, but it is an interesting event to attend with a great atmosphere, and lots of fun.