You remember when I've wrote a farewell to Dubrovnik, a couple of years ago?! And then I went back again, and had an awesome time sailing on a private motor boat. This year I was back in Dubrovnik.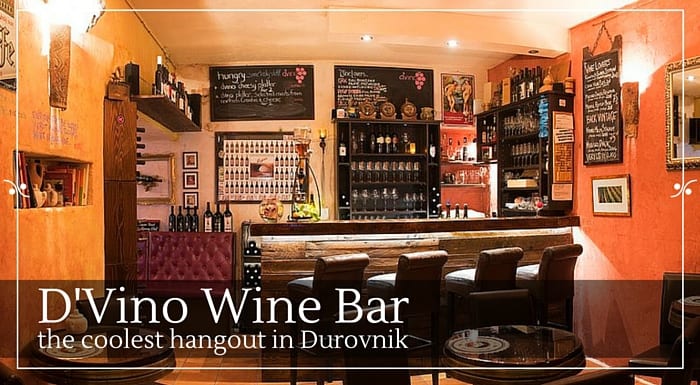 And while I've enjoyed my time in Dubrovnik (especially a little warm up at the D'Vino Wine Bar Dubrovnik), I am still a little bit mad about how expensive Dubrovnik is. I've heard tons of excuses for this, but IMO nothing can justify it. It's just beyond acceptable, especially when I compare it to Istria, the most visited tourist region in Croatia. I won't rant about it, just keep in mind that Dubrovnik is double more expensive than the rest of Croatia. So expensive that they even offer locals-only discounts on many tours, bars, and restaurants. I don't even know if this is legal!
Back to D'Vino Wine Bar Dubrovnik, absolutely awesome place to hang out in Dubrovnik, especially for wine aficionados.
Like in many bars in Dubrovnik's old town, you will find very few, if any, locals at the D'Vino. But unlike many places, D'Vino Wine Bar has a great, cosmopolitan feel, excellent choice of Croatian wine by glass, and super-friendly staff.
It's a small place, tucked away in one of the side streets of the old town, with just a couple of tables inside, and even fewer at the outdoor terrace. Staff is very knowledgeable about wines on offer and extremely helpful with suggestions.
We love Croatian wines, and over the years we've tasted a lot of them. However, that evening at the D'Vino, the staff made us discover some wines we haven't even heard of, like Premium Antunovic Grasevina.
D'Vino offers food platters, along with a wine. They also offer a flight of different local wines, where you can taste at least 3 different wines. Staf was also very kind to offer us to taste three different wines for a price of one, as we were three persons, and it was easy to share the wines. So instead to pour us a 150 ml of wine in three glass, they pour us a 50 ml in each glass (three glasses per person). So, we all got to sample three different wines. Awesome!
Prices are high by Croatian standard (approx. 50 kn per glass), but acceptable for tourist standards.
Adjacent to the bar, and run by the same owners, is D'Vino's private tasting room ideal for group tastings including food and wine pairings.
D'Vino Wine Bar Dubrovnik: Location and contacts
Contacts | Palmotićeva 4a – Dubrovnik Old Town | +385(0)203211230 | info@dvino.net | Website | Tripadvisor
Working hours | April-November, daily 10am – late
Have you been to D'Vino Wine Bar Dubrovnik? What's your favorite hangout in Dubrovnik? Let us know in the comments below. 
Photo credit: main photo & food platter photo curtesy of the D'Vino Wine Bar