Visiting Dubrovnik is a must for anyone who loves to travel and explore different cuisines. As one of the oldest cities in Croatia, Dubrovnik has a unique culinary tradition that goes back centuries.
Dubrovnik is renowned for its Mediterranean cuisine influenced by Italian, Greek, and other coastal cultures. The city is mainly known for its seafood, given its location on the Adriatic Sea.
Traditional Dubrovnik food consists of fresh seafood, grilled meats, hearty stews, and many vegetables.
One must-try dish is the 'Black Risotto,' a rice dish colored by cuttlefish ink and packed with fresh shellfish.
Meat lovers should take advantage of 'Zelena Menestra,' a traditional dish made from cured sheep meat, pork, and cabbage.
Another popular local dish is 'Sporki Makaruli,' a pasta dish with beef in a red wine sauce typically served during the patron saint's day, St. Blaise.
There are many delicious dishes in Dubrovnik, so here are some must-try traditional foods you should sample there! We also share the best Dubrovnik restaurants where you can try this delicious food.
Best traditional food in Dubrovnik you must try
Visiting Dubrovnik is the perfect opportunity to sample some delicious traditional food.
Whether you're looking for a hearty local stew or trying yummy and fresh seafood dishes like black risotto, there's something to please every palate in this Dalmatian city.
One of the best things about the food in Dubrovnik is the abundance of fresh seafood. You'll find many delicious seafood dishes across Dubrovnik restaurants, from mussels and shrimp to tuna and calamari.
Though Dubrovnik is known for its savory dishes, its sweet treats shouldn't be overlooked, either!
For a real taste of the city, sample some of its traditional cookies and cakes, like Rozata or Arancini. These local sweets are the perfect way to finish off any meal.
Grilled fish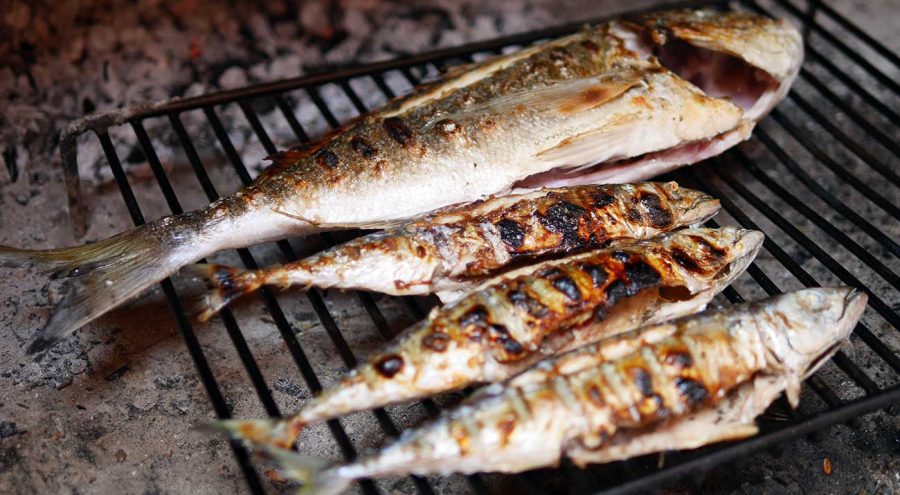 Grilled fish is one of the most popular food choices in Dubrovnik restaurants. It's a staple of Mediterranean cuisine, a simple yet mouthwatering dish you can find in most restaurants here.
No need for fancy fillets – we like our fish grilled whole, from head to tail.
You'll find options like sea bass, sea bream, and tuna, but my favorite is John Dory. The fish is usually grilled on a metal grate over a bed of wood embers. It's simple yet delicious!
And let's remember the delicious sides! In Dubrovnik, just like the rest of Croatia, fish is usually served with Swiss chard, grilled veggies, boiled potatoes, or good old French fries.
At Restaurant Lady Pi-Pi, within city walls, you can enjoy delicious grilled fish cooked traditionally over a wood fire.
Salt-baked fish
Salt-baked fish, a delicacy in Dubrovnik, is one of my favorite ways of preparing large fish. The fish is typically covered in salt and then baked for an hour or two before being cooked. This way, the fish remains tender and juicy.
It's a remarkably flavorful dish that you can find served with Swiss chard, potatoes, or some other vegetable side.
Fish restaurant Proto in the old town Dubrovnik is one of the best restaurants in Dubrovnik to taste this dish.
Octopus Salad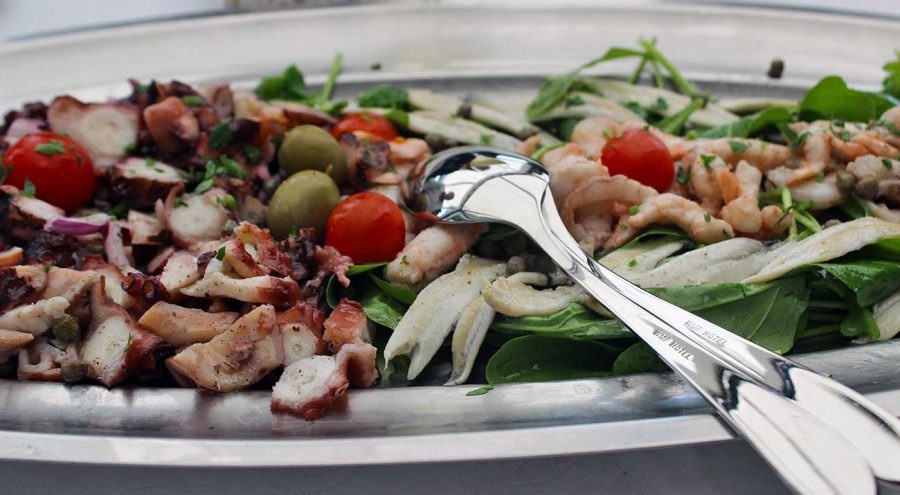 Octopus salad is another classic dish served in many restaurants in Dubrovnik. It's a simple dish of boiled octopus, potato, onion, and sometimes fresh tomatoes mixed with olive oil and vinegar. This fantastic combination of flavors showcases typical Mediterranean cuisine and will delight your taste buds!
Dubrovnik boasts many restaurants serving octopus salad, which is consistently delicious across the board. No need to search for a hidden gem, as you can confidently order this delectable dish from any of the best restaurants in town.
Black Risotto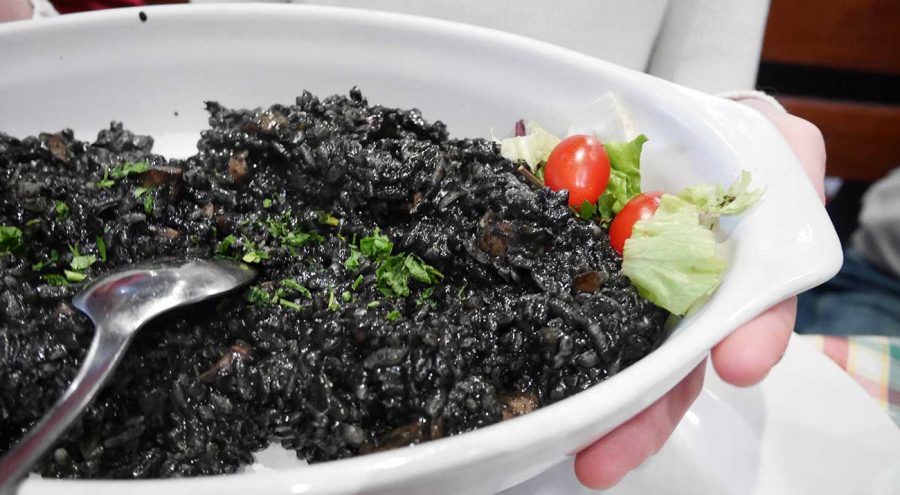 You can't leave Dubrovnik without tasting black risotto. Black risotto, a much-loved local delicacy in Dubrovnik, is made with cuttlefish ink and served as a main course.
This dish is simmered to develop its unique flavor: the intense taste of the cuttlefish combined with garlic and white wine makes it delicious. As an added bonus, the black color of the risotto makes it a visually stunning dish.
Visit Stara Loza to taste the best black risotto in Dubrovnik. This Dubrovnik restaurant has a lovely rooftop terrace.
Šporki makaruli
Šporki makaruli, one of Dubrovnik's most iconic dishes, is a macaroni-style pasta with beef stew. This hearty meal is traditionally enjoyed during the winter season. While similar dishes can be found in other parts of Croatia, the name "Šporki makaruli" is unique to the Dubrovnik region.
Only a few of the best restaurants in Dubrovnik serve this traditional dish.
The best place to taste this yummy food is the restaurant Orsan. Many traditional dishes are on their menu, like black risotto, grilled fish, and Stonski makaruli.
Orsan is located on the Lapad peninsula, within an Orsan Yacht Club – a perfect spot to start your culinary journey through this beautiful city.
Oysters
Dubrovnik is not just about its stunning architecture and rich history. It's also a paradise for seafood lovers! If you're one, taste the exquisite oysters of Ston, a small town on the Peljesac peninsula. The oysters here are renowned for their unique flavor, thanks to the perfect mix of fresh and seawater in the area.
Many restaurants in Dubrovnik serve these gems from the Adriatic Sea, but a few standouts include Oyster & Sushi Bar Bota and Kamenice Restaurant. At Kamenice, you can savor oysters served right from the shell, paired with a glass of local white wine.
Meanwhile, Oyster & Sushi Bar Bota, located in the heart of Dubrovnik's Old Town, serves oysters in various styles, from fresh raw to tempura, catering to multiple palates. These are just two places to indulge in the best oysters Dubrovnik offers.
Buzara
Buzara is another popular seafood dish in Dubrovnik. Shrimp and mussels buzara are the most popular. It's made by cooking shrimp or mussels in white fish with garlic, parsley, and sometimes tomatoes.
Many restaurants in Dubrovnik serve shrimp or mussel buzara, but no favorite stands out. Some of the best include Restaurant Obala on Lopud Island and Ludo More Cavtat, a neighboring town. Both serve delicious buzara variations that will tantalize your taste buds!
Zelena menestra
Zelena menestra, a local favorite in Dubrovnik and its surrounding areas, combines different types of cabbage like kale, green, and savoy cabbage with potatoes. These ingredients are cooked with various pork and cured sheep meat, creating a delicious winter treat.
To savor authentic Zelena menestra, head to Konoba Dubrava, a restaurant tucked away in the hills above Dubrovnik. Not only will you have the chance to enjoy this traditional dish, but on the way to this eatery, you'll also enjoy a stunning panoramic view of the city.
Konoba Dubrava is known for its homey atmosphere and an excellent variety of local wines, making your dining experience delightful. Remember that it's a popular place, so consider making a reservation in advance to secure your spot!
Eels and frogs brudet
Brudet, a hearty stew made with fresh fish, onions, garlic, and tomatoes, is a delectable dish enjoyed along the Croatian coast. However, the unique combination of eels and frogs in brudet is exclusive to the Dubrovnik-Neretva region, particularly the Neretva Valley area.
Trying the eels and frogs brudet is a must for those visiting Dubrovnik. This delightful dish is typically accompanied by homemade bread, baked in a fireplace under a dome-shaped lid covered with embers, adding an extra layer of deliciousness.
A visit to the Neretva Valley is necessary to savor the finest eels and frogs stew. One of our favorite restaurants to indulge in this traditional delicacy is Djudja i Mate, located in the charming village of Vid.
Meat or octopus peka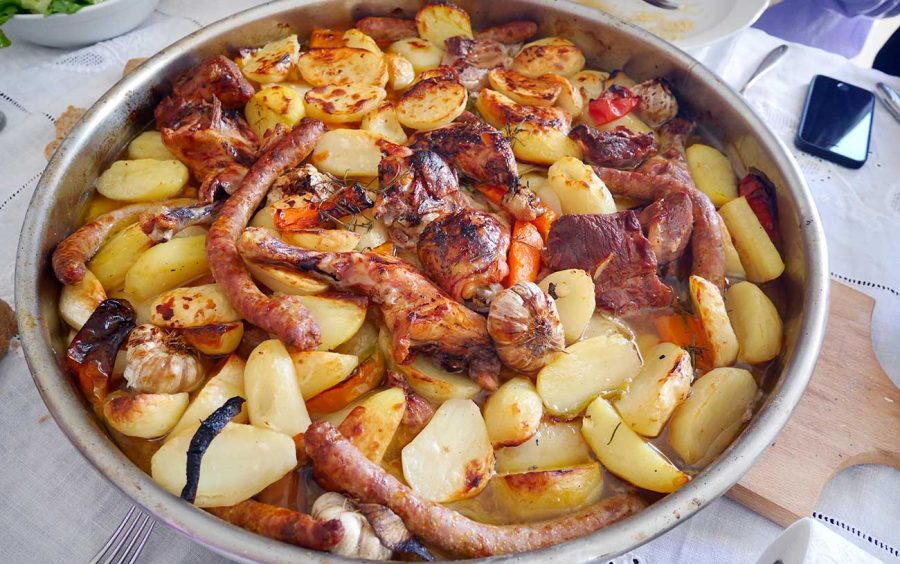 "Ispod peke" is a traditional Croatian cooking method where dishes are prepared by slow-cooking them under a bell-shaped dome. In Dubrovnik, this culinary technique is widely used to create delicious and tender meals.
The plate is typically made with meat, such as lamb or veal, vegetables, and herbs. The meat is marinated, placed in a baking tray, and covered with a dome-shaped lid. It is then simmered over hot coals, allowing the flavors to meld together and the meat to become incredibly tender. The result is a mouthwatering dish that captures the essence of Dubrovnik's rich culinary heritage. If you're not a fan of meat, octopus is an equally popular "ispod peke" dish.
Regarding the best "peka" in Dubrovnik, locals and tourists unanimously favor Konoba Dubrava. This cozy tavern, located on the slopes of Mount Srđ, serves mouthwatering peka. Whether it's succulent veal or tender octopus, their peka is renowned for its unique flavors, thanks to their traditional cooking method.
Another hidden gem worth mentioning is Mlinica Ano Majkovi. Nestled in a picturesque village surrounded by lush greenery, it is a go-to place in the region to eat peka.
These two establishments offer an authentic taste of Dubrovnik's culinary heritage, showcasing the best traditional food in Dubrovnik. Their dishes satisfy any palate and provide a deep dive into Dubrovnik's gastronomic culture.
Pasticada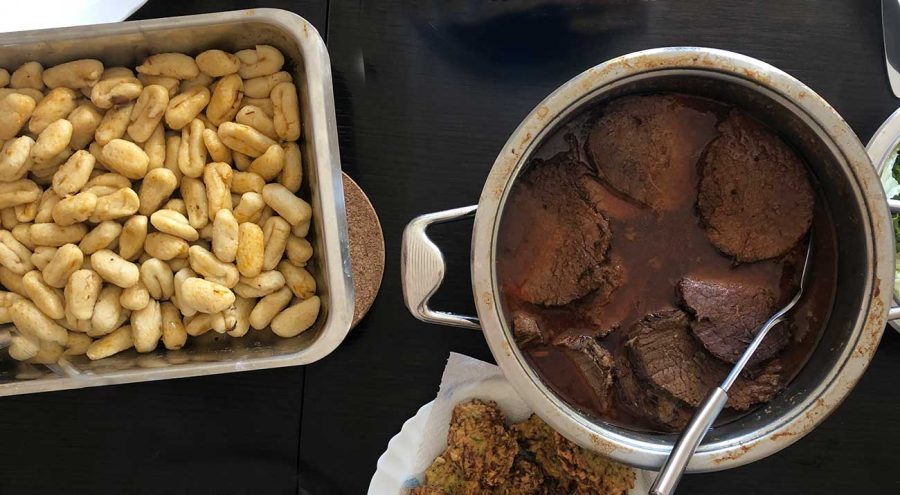 Pasticada is another must-try dish in Dubrovnik for meat lovers. It's a slow-cooked meat stew made with beef, carrots, onions, and dried plums, all slowly simmered in a red wine sauce and served with homemade gnocchi. Pasticada takes hours to prepare—but it's worth the wait!
The restaurant Kopun serves the best pasticada in Dubrovnik, a traditional meal that locals and tourists love. Their gnocchi is also delicious.
Grilled meat
Grilled meat is a popular dish in many restaurants in Dubrovnik. The most common meats are pork, lamb, and beef. They're marinated in herbs and spices, grilled to perfection over an open fire, and served with potatoes or polenta. It's an excellent option for those looking for something hearty after a day of exploring the city.
Many places in Dubrovnik serve excellent grilled meat platters. However, our go-to place is the Taj Mahal. This restaurant serves traditional Bosnian dishes and is a mecca for grilled meat, except pork.
Here, you get perfectly grilled chicken, veal, beef, and lamb over an open fire. To complete your meal, you can also order some of their delicious side dishes, like roasted vegetables or marinated eggplant with garlic yogurt.
Rozata
Rozata is a traditional Dubrovnik dessert that you've got to try! It's a delicious custard pudding similar to crème brûlée but with a unique twist – a local liqueur made from rose petals, known as rozulin, gives it a distinctive flavor.
The dessert is typically served chilled, topped with a thin layer of caramel, and sometimes garnished with candied almonds. It's the perfect sweet ending to your culinary exploration of Dubrovnik!
When tasting the delectable Dubrovnik dessert – rozata, Bistro Tavulin is our top choice. While other restaurants also offer it on their menu, Bistro Tavulin is where we always turn to.
Stonski Makaruli
Stonski Makaruli is a delightful pastry unique to the region of Dubrovnik. At its core, this dessert is a tasty cake made of pasta! You read that right: pasta isn't just for savory dishes.
The pasta is carefully crafted into narrow tubes and baked with a sweet, creamy filling made of walnuts, almonds, dark chocolate, butter, eggs, and sugar.
It's a captivating fusion of textures and flavors that beautifully represents the innovative spirit of Dubrovnik cuisine. Take the chance to indulge in this quirky yet delicious dessert when you're in town!
We liked the most Stonski makaruli we had in the restaurant Kapetanova Kuca in Mali Ston.
Arancini
Arancini, a favored local delicacy, are candied orange peels that have gained popularity throughout the Dubrovnik region. If you're looking for an exciting way to taste the soul of Dubrovnik's traditional cuisine, arancini are worth a try.
You can buy arancini in many specialty stores in Dubrovnik.
Best Food Tours in Dubrovnik
A guided food tour in Dubrovnik is a must-do experience for every gastronomy enthusiast. It's about tasting the food and understanding each dish's rich history and cultural significance.
As you meander through the ancient city streets, knowledgeable local guides will lead you to hidden culinary gems away from the beaten tourist paths.
You'll sample various dishes, from the juicy buzara, a traditional seafood dish, to the fresh local oysters and the delectable black risotto.
Along the way, you'll hear fascinating stories of Dubrovnik's culinary heritage and gastronomic traditions, adding depth to your dining experience.
Food tours are a great way to savor the delish food scene in Dubrovnik and immerse yourself in the local culture.
Food, Wine, and Old Town Walking Tour
Combine food tasting and sightseeing with the Food, Wine, and Old Town Walking Tour. This tour takes you through the lovely streets of Dubrovnik's historic Old Town while offering the chance to try local delicacies.
Taste traditional Croatian food at local taverns, savor a selection of local wines, and learn about the city's rich history from your professional guide.
It's a fantastic way to explore Dubrovnik's iconic landmarks while tickling your taste buds.
Old Town Food Tour
This is another popular food tour through some of the best restaurants in Dubrovnik. Take delight in some of the most delicious dishes Dubrovnik offers.
This tour lets you discover the joy of food and wine in Dubrovnik with an authentic local guide. The guide takes you to the heart of Dubrovnik's vibrant food scene, visiting local eateries.
The experience is a feast for your taste buds and a learning journey about the city's history and culture.
Traditional Cooking Class
For those who enjoy getting hands-on, the Traditional Cooking Class in Dubrovnik tour offers a unique blend of cultural immersion and culinary education.
Start your day with a trip to the local farmhouse where you'll join a local family and help them prepare a 4-course traditional Dalmatia meal while enjoying delicious local wines. You will use the freshest ingredients from their garden for your class.
This tour offers a unique, heartwarming way to experience Dubrovnik cuisine and hospitality first-hand, making it a highly recommended food tour for those seeking a truly local experience.
Ston Oysters and Wine Tour
The Ston Oysters and Wine Tour is an experience not to be missed for any seafood lover. Departing from Dubrovnik, your journey to Ston, a small town renowned for its oyster farms, begins.
Here, you'll be treated to a locally guided tour of the oyster farms, where you will learn about the delicate process of oyster farming and taste these succulent delicacies fresh from the sea. You will also visit a small family-owned winery where you will sample local wines.
In addition to its gastronomic delights, Ston boasts remarkable historical sites such as the Walls of Ston, often referred to as the 'European Walls of China.'
This tour perfectly combines a culinary adventure with a dash of history, offering a delightful day out from Dubrovnik.
Best restaurants in Dubrovnik
For those looking for a fine dining experience, some excellent restaurants in Dubrovnik serve deliciously diverse and creative cuisine.
Besides, Oysters and Sushi Bar Bota, Bistro Tavulin, Stara Loza, Kopun, Taj Mahal, 360, Nautika, and BOWA also deserve your attention.
360 Restaurant is the only restaurant in Dubrovnik with a Michelin star. It offers modern cuisine with Mediterranean influence and boasts an outstanding view of the old town from its terrace.
For a unique experience, Nautika Restaurant is on the waterfront and offers delicious seafood dishes and breathtaking views across the Adriatic Sea.
BOWA serves a mix of Mediterranean and international cuisine in its chic setting.
There's so much more to savor in Dubrovnik's culinary scene – this only scratches the surface! Check out our post about The best restaurants in Dubrovnik, where we delve deeper into the gastronomic wonders of this Adriatic gem.