Few months ago we were in Komarna and we were contemplating visiting few wineries on the Peljesac peninsula. I called a friend of mine Emil, who also happens to be one of the best Croatian sommeliers, to ask him which winery on the peninsula we should visit. His immediate answer was – Frano Milos Winery. Milos makes great wines and his Stagnum has won many awards, but then again so many wines here did well in this regard.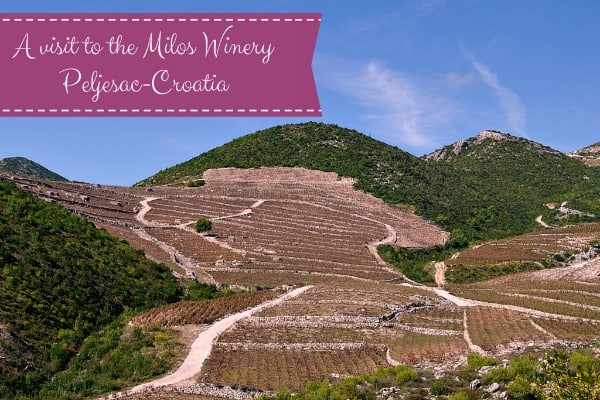 But Frano Milos definitely has something many others lack -it's his outgoing personality. Frano Milos is a character, and we mean it in a good way. He's passionate about his wines. He follows his own philosophy and principles when it comes to wine making. And when he's not happy with entire wine scene here in Croatia, he says it loud.
Few years ago he was in an open war with Croatian Wine Institute that costed him a serious degradation of his wine from premium quality wine to table wine. By the same body he so openly argued with. That's Frano Milos! A man who doesn't make compromises. His wines are the same way.
Croatia Wines  | Enjoying a wine tour at the Milos Winery
So last week we finaly made it to the Milos Winery. Milos Winery is located in a village of Ponikve on the Peljesac peninsula. It's actually one of the first villages you pass by driving on the main road from Ston to Orebic. As we left the sandy beach of Prapratno behind us, the beautiful wine growing hills opened in front of us. As we would find out few minutes later, these vineyards belong to the Milos family.
We've arrived one hour late at the winery. On the way to Peljesac from Dubrovnik, we decided to take an old Napoleon road and enjoy the breathtaking views. But this detour made us one hour late to our scheduled appointment with Peljesac's most charismatic wine maker. This probably wouldn't be such a big deal, if it wasn't a harvest day at Milos vineyards. We could sense a bit of nervousness from Frano, and maybe a bit of regret that he couldn't totally focus on us. However we still felt welcomed and were ready to experience wine tour at Milos winery.
We climbed two SUVs with Frano and his younger son and off we went for a visit to Milos vineyards.
These wine growing hills are simply stunning. And while they do lack a dramatic sea views that you can find on neighbouring wine growing hills of Dingac and Postup, they are impressive in its own way. First they are very steep, even with our SUVs, we had a hard time climbing them. Second, the soil here is mostly made of limestone with very little top soil, and it's very tough to work it. Everything here is made by hand (it's not only by choice, but little machinery can help on these steep slopes).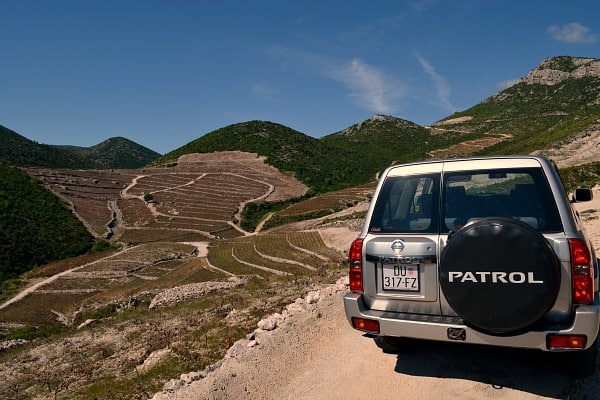 Milos vineyards are all planted on elevation of 150 to 250 m. The vineyards are planted on hill slopes facing south, and they are protected by high rising hills from the north. The hills form an amphiteater-like shape, which allows perfect conditions for growing quality Plavac mali grapes, keeping the heat concentrated but at the same time allowing a great air circulation. The soil is loose and rich in limestone that preserves just a right amount of water to keep grapes healthy. All excess of water drains quickly from these steep slopes.
Milos family grows their grapes 100% organically. They don't use any pesticides or other chemicals. Soil fertilisation is natural too.
Milis has around 15 hectars planted with Plavac mali grapes. Their premium wine Stagnum is made exclusively from their 35 years old vineyards planted on higher elevations. Among all this grapevine, Milos family tends a small garden where they planted herbs native to this area: sage, mountain germander, and heather. Today they also produce super healthy and natural herbal tea.
After touring Milos vineyards, we returned to the winery. Frano showed us their wine cellar. It's an old style cellar, not very large, with old wooden barrels laid around. Frano Milos has his own way too when it comes to wine aging. He ages his wine exclusively in old barrels 'cause the new, fresh oak impacts the wine way too much for his taste. Just like in his vineyards, in a wine making process Milos keeps the same philosophy: keep it as natural as possible.
Frano Milos produces 5 different wines: quality red Plavac Mali, premium red Stagnum, rosé, semi-sweet and sweet wine, all made of Plavac mali grapes. His wines are aged longer than wines of other producers, and according to what I've heard they take aging very well. For example his basic wine Plavac mali, is aged for 4 years before hitting the market, two years in old oak barrels and another two years in bottles. His Stagnum 2003 started selling last year, after 10 years of aging.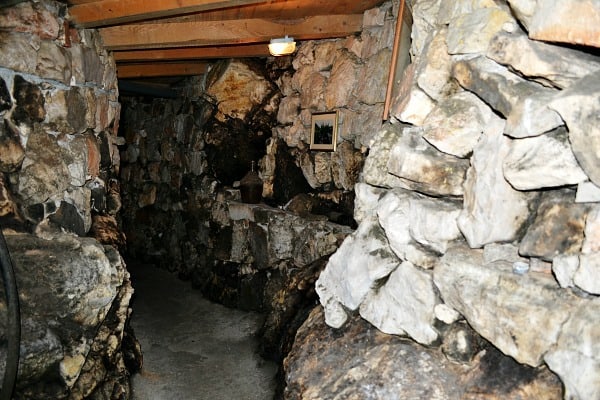 We proceeded with wine tasting tour at a small tasting room just next to the cellar. Frano's older son was busy with a group of Americans doing the same business as us here at the Milos Winery. We've tasted four different wines: rosé, plavac mali, Stagnum 2006, and at the end that awesome Stagnum 2003.
We loved every sip. But had to leave as we still had other two wineries to visit that day.
If you are interested in wine tour on the Peljesac peninsula, we highly recommend visiting Frano Milos winery in Ponikve. Frano and his family are friendly, knoweledgable, proud, and above all passionate about their wines. They tell a great story, and make excellent wines. And yes, I've almost forgotten to tell you, Milos family produces an excellent olive oil too. Unlike their vine, they don't grow their own olives. They rather select the best olives on the peninsula from local olive growers, and make their own olive oil. They even won some kick-ass award at the New York International Olive Oil Competition.
Frano Milos Winery: Contacts
Contacts | Address: Ponikve 15, Ston | t: +385 20 753 098 | m: +385 98 196 52 54 | Website
Are you familiar with Croatia wines, and wine regions? Have you ever visited Peljesac peninsula or tasted wines from this region? Let us know in the comments below.