Want to know what Croatian island to visit this year? In this post, we will help you decide on the best islands in Croatia to visit.
With over 1000 islands, islets, rocks, and reefs, a visit to Croatia must include some island hopping. You won't find many countries in the world where ferries are such an integral part of locals' everyday life.
Islands are like small countries. Each island in Croatia is unique in its own way, each has a different vibe, and while they all boast wonderful landscapes, numerous beaches, mistrustful locals, small villages, olive orchards, and terraced vineyards, they also differ one from another in so many ways.
Whether you are looking for a laid-back vibe, relaxing beach time, partying, or active holidays with your family or friends, there is an island in Croatia to appeal to your travel style and needs.
So, here we go!
Islands in Croatia not to be missed
Cres
Great for beaches!
Oh, how we love Cres! Cres is one of the least developed and least populated islands in Croatia, and yet is the biggest of all Croatian islands.

Visited mainly by sailing and camping aficionados from Croatia, Slovenia, Italy, Austria, and Germany, Cres will charm you with its numerous wild beaches, often only accessible by boat or on foot, vast spaces, hiking and cycling trails, small hilltop villages, and olive groves.

Why visit: for beaches and if you need to unwind

Where to stay: Art Farm Filozici or camping Kovacine mobile homes

Where to eat: Art Farm Filozici
Hvar
Great for everything!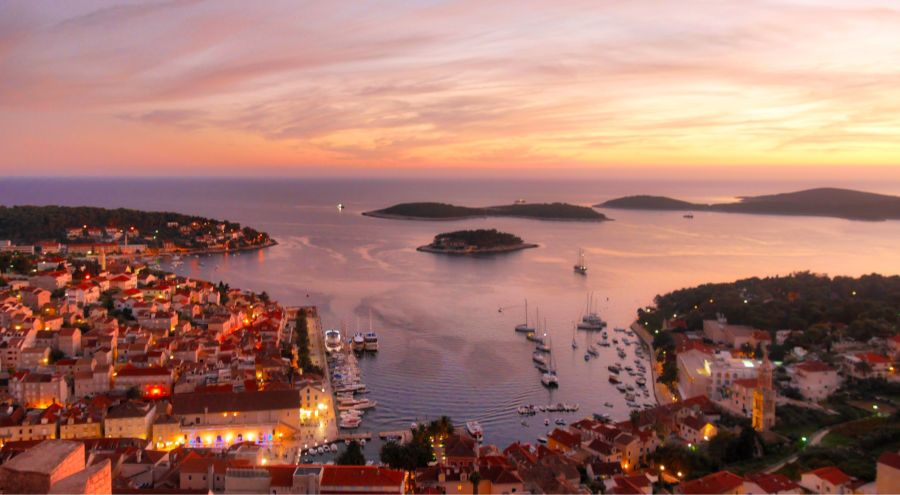 Hvar is one of the most popular and the most visited Croatian islands. It is a great place to spend your holidays and a regular stop on all itineraries for first-time visitors to Croatia.
Hvar has it all: beautiful beaches, easy access from the mainland, natural beauty, great tourist infrastructure, good restaurants, quality wines, charming coastal towns, historical sites, clubbing scenes in Hvar Town, and loads of activities for people of all ages.
Why visit: For all the reasons listed above. It appeals to everybody.
Where to stay: Places by Valamar, Heritage suites Zanini, or Villa Riva
Where to eat: Konoba Kokot, Black Pepper
Brac
Great for family!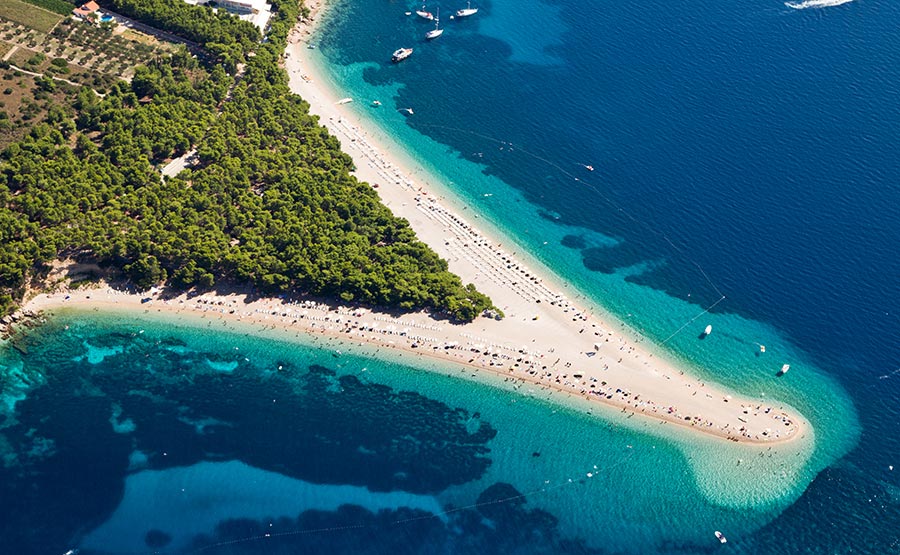 With its lovely beaches, family-friendly hotels, low-key outdoor activities, and very safe environment, Brac is an ideal island for families with children to spend their holidays.
However, Brac also attracts couples with its wineries, hiking and cycling trails, and adults-only boutique hotels.
We also like Brac for its proximity to the mainland, its cultural heritage, and yummy food.
Why visit: Zlatni rat is the most renowned of all beaches in Croatia, and it is featured on so many best beaches in the world lists.
Where to stay: Elaphusa Hotel Bol for families, Lemongarden hotel for couples
Where to eat: Senjkovic Winery (Closed in 2021 with a promise to re-open. Since it was for us the best place to eat on the island, we keep it here with the hope it keeps the promise of reopening. Please verify before going!), Konoba Kopacina, konoba Toni
Vis
Great for couples!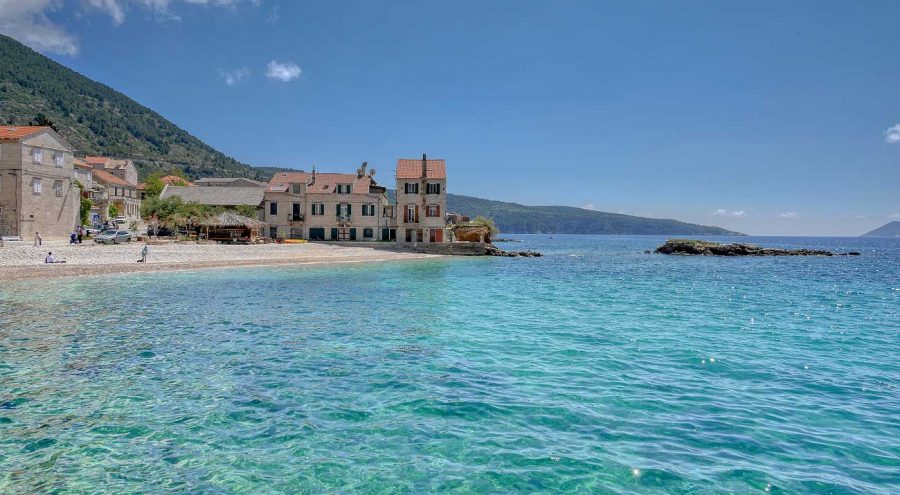 We would move to Vis permanently. That's how much we love it.
Vis is really special with its cool vibe, beautiful beaches, yummy food, and quirky history.
Vis used to be a military base for the Yugoslav army and thus entirely closed off for foreigners for over 4 decades.
Due to this fact alone, it's still a bit underdeveloped. Its lack of big hotels keeps the summer crowds low compared with other central Dalmatian islands.
Why visit: If you are looking for an off-the-beaten-path destination where you can relax and recharge (although this is changing lately as foreign tourists start discovering Vis)
Where to stay: Hotel San Giorgio, Apartments Villa Anka
Where to eat: Mala Travna, Pojoda, Roki's
Dugi otok
Great for adventure!
With its striking cliffs, sandy beaches, remote villages, protected nature park Telasica, and numerous bays, Dugi Otok attracts a fair share of nature and outdoor enthusiasts in search of active holidays.

Whether you enjoy cycling, sea kayaking, snorkeling, diving, swimming, rock, or big game fishing, Dugi Otok is the place to be! The island is also a great gateway to visit Kornati National Park.

Why visit: for outdoor activities, especially water activities, to relax far from the crowds

Where to stay: Gorgonia Apartments and Suites, Villa Nai 3.3

Where to eat: Gorgonia Grill, Konoba Trapula
Murter
Great for summer festivals!
With a surface of less than 20 km2 and a population of only 5000 people, Murter is, believe it or not, the largest island in the Sibenik archipelago.
The island of Murter is conveniently connected with the mainland by a bridge.
It is known for summer festivals, for its beautiful sandy and pebbly beaches, and as a gateway to Kornati national park – making it one of the favorite destinations for sailing aficionados.
Why visit: Summer festivals, taking place in the town of Tisno, are some of the best in Croatia!
Where to stay: Golden Haven Luxe Glamp Resort, Villa Ena
Where to eat: Konoba Boba
Pag
Great for partying!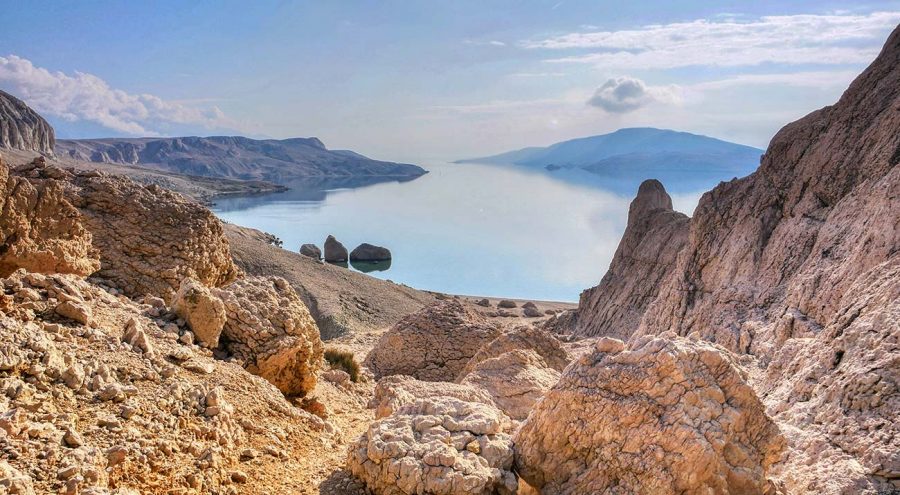 Pag is the strangest place you might visit in your lifetime. And the closest place to what the planet Mars might look like. In fact, the most popular hiking trail on the island boasts The life on Mars name. The north part of the island is made of pure stone, no trees nor bushes, only low-lying lavender, immortelle, and other aromatic herbs.
Today the island is a popular tourist destination for the young and restless. Zrce, the most popular party beach with the best clubbing scene in all Croatia, is located just outside the town of Novalja, on the island of Pag. Here you can party 24/7 in Kalypso, Ice Bar, Papaya, Aquarius, or Noa beach clubs.
But Pag also features a crystal-clear sea, beautiful beaches, Lun's olive gardens, and one of Croatia's best cheeses.
Why visit: Clubbing and summer festivals at the Zrce beach, but also for relaxed family holidays, or active outdoor vacation.
Where to stay: Hotel Boskinac
Where to eat: Restaurant Boskinac
Losinj
Great for wellness!
Losinj is another one of the north Adriatic islands, along with Cres, Krk, and Rab.
Since the 19th century, Losinj has been known as a vitality island. The slogan that the island proudly carries to this day!
Covered in a thick pine forest, abounding in Mediterranean plants and herbs, and surrounded by the sea, Losinj is a perfect destination for all those who want to improve their health, or simply recharge.
The island has lots of hiking trails, numerous coves, bays, and beaches, some of the best hotels in Croatia, a bottlenose dolphin observatory, and a sea turtle rescue center.
Why visit: for wellbeing and to recharge, to see the dolphins in the wild, and simply enjoy the sea
Where to stay: Hotel Bellevue, Boutique Hotel Alhambra, campsite Cikat
Where to eat: Japanese restaurant Matsunoki, Restaurant Corrado
Korcula
Great for foodies!
Korcula is one of the most beautiful Croatian islands. It is also one of the southernmost islands in Croatia, and one of the closest to the mainland. The crossing takes only 20 minutes.
With stunning landscapes, historic towns, great local wine, lovely secluded beaches, crystal clear sea in all shades of blue, and yummy food, Korcula is a great place to visit for couples, or generally for all food and wine lovers.
Some also argue it's one of the best and coolest places in Croatia, and we don't object!
Why visit: yummy food and great wines, natural beauty
Where to stay: Aminess Lume Hotel, The Fabris Luxury Inn, Korcula Hill Apartments
Where to eat: Konoba Mate, Konoba Pagar, Ignis Tapas Bar, Konoba Skafetin, Konoba Maslina
Susak
Great to unwind!
Susak must be one of the smallest inhabited islands in Croatia. And it is also the only Croatian island entirely made of sand deposits and covered with reeds and vines.
This car-free island has only one village and not a single hotel or a campsite, and it is a perfect place to unwind.
You can also visit Susak on a day trip from Pula or Mali Losinj.
Beaches are sandy!
Why visit: sandy beaches, to unwind
Where to stay: You won't have much choice – Sansego Suites
Where to eat: Again not much choice, konoba Barbara is your best bet
Krk
Great for the first-time island experience!
Due to the Krk bridge that connects the island with the mainland, and its own airport, Krk is easily accessible whether you decide to travel by plane or by car.
Add to that great tourist infrastructure, its proximity to Slovenia, Austria, Northern Italy, and south Germany (all within 5 hours drive), island's top beaches and you will understand why Krk is the most visited of all Croatian islands.
Why visit: With a variety of things to see and do from historical towns, cultural heritage, cycling, and hiking opportunities, to some of the best beaches in the Adriatic, great wines, and good restaurants, Krk truly has it all for a perfect vacation for visitors of all ages and travel styles.
Where to stay: Jezevac Premium Camping Resort , Rooms N Stara Baska, Hotel Villa Margaret
Where to eat: Konoba Pod prevolt, Restaurant Rivica
Rab
Great for small children!
Dubbed "the Happy Island" Rab is a perfect choice for families with small children due to its sandy beaches and shallow waters.
No other place in Croatia has so many sandy beaches as Rab has! Although less popular than its northern neighbors, Losinj, and Krk, Rab still attracts a fair amount of crowds.
The other attractions include a lovely, historic town of Rab with its four churches, Dundo reserve, a dense holm-oak forest, one of the best-preserved in the whole Mediterranean, and a must-try Rab cake made of almonds, lemon and orange zest, and maraschino liqueur.
Why visit: Sandy beaches, history and culture, and lovely landscapes are some of Rab's forte. However, it's also a great place to unwind, take interesting day trips, hike, and explore hidden bays and coves.
Where to stay: Padova Premium Camping Resort, Imperial Valamar Collection Hotel, Vintage Holiday Home
Where to eat: Konoba Rab, Restaurant More, Restaurant Sampjer
Kornati
Great for sailing!
Watching the Kornati only on photos, I couldn't understand what all fuss was about. Croatia has so many beautiful islands and the Kornati, from that perspective, looked to me just like naked rocks.
Anyways fast forward to 2017 when I visited them for the first time. And oh boy, was I wrong!
Kornati is one of the most stunning places I have seen in my life (and I've seen quite a fair share in my 25 years of professional sailing all over the world).
The only way to visit and get to know Kornati Islands is by boat. This most indented archipelago in the Mediterranean is a maze of 89 islands, islets, and reefs. Due to the strong winds that blow here, the islands have very scarce vegetation, and they truly look like from another planet.
The Kornati archipelago is a real natural wonder full of hidden coves, lovely beaches, great restaurants. The archipelago is a dream destination for all sea lovers and sailing aficionados.
Why visit: Lovely landscapes, great swimming and snorkeling, the best sailing spot in Croatia, and good food
Where to stay: Holiday Home Queen of Kornati, Glamping Resort Festa
Where to eat: Konoba Levrnaka, Restaurant Festa
Lastovo
Great for away from it all!
Lastovo is the southernmost permanently inhabited island in Croatia. It is also one of the most remote, and quite isolated Croatian islands and one of the least visited. It is popular among boating enthusiasts, but not so much among other visitors to Croatia.
Lastovo is beautiful, though. Its archipelago has been declared a protected nature park back in 2006. One fun fact about Lastovo is that it is marked by the number 46. Its archipelago consists of 46 islands, islets rocks, and reefs. Island's surface is 46 km2. There are 46 small churches in the archipelago.

The island has only five settlements. And it is one of the best star-gazing places in Europe due to the low light pollution on the island.

With its rocky and steep shores, hilly interior, scattered villages, and few visitors, Lastovo is still wild and untamed. The sound of crickets, the smell of the sea, pines, and immortelles, truly reminds me of the Mediterranean as it once was.

Why visit: natural beauty, authentic holidays away from it all, peace and quiet

Where to stay: Villa Maria Apartments, Apartments Vesna

Where to eat: Podanje, Konoba Bacvara
Mljet
Great for hiking!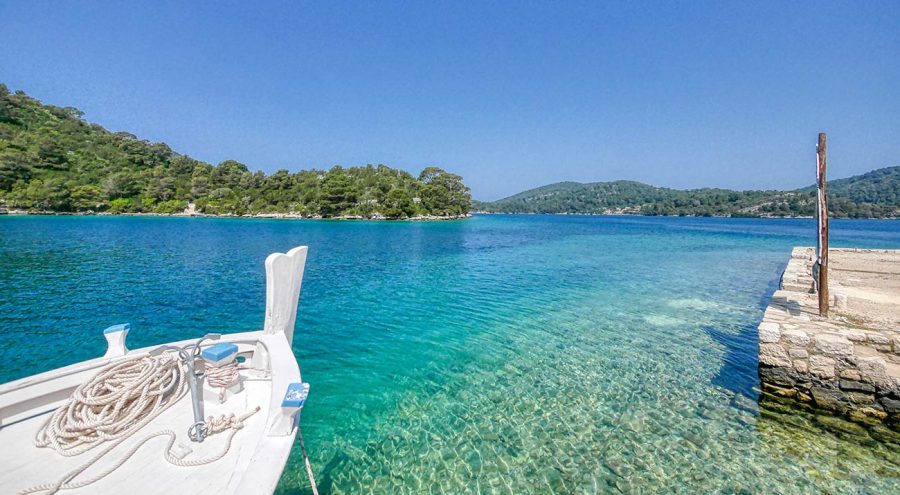 Dubbed Croatia's greenest island, Mljet attracts visitors with its wonderful nature, dense forests, ample hiking opportunities, turquoise sea, and overall tranquility.

A two-thirds of Mljet's surface is a protected national park since 1960, and it's pretty much the only area that attracts lots of visitors. The rest of the island doesn't feel crowded, not even at the peak of the summer. Thus, it's a perfect place to visit if you are on the lookout for some peace and quiet, delightful swims, lovely hikes, and fresh seafood.

Why visit: nature, hiking, swimming, and snorkeling

Where to stay: Apartments Lampalo, Villa Radulj

Where to eat: Marijina Konoba, Stermasi
Solta
Great for a day trip from Split!
Solta is a small island just off the coast of Split. In the past, a popular curse in Split was I hope you end up on Solta Island. As you can imagine, traveling or living on Solta wasn't that popular. However, those days are long gone and today not only that Solta attracts tons of visitors, especially yachtsmen, and locals alike.

Solta's coast is very indented, and it hides wonderful bays, coves, and unspoiled beaches.

Why visit: Solta is still pretty much intact, especially when you wander to its outer shores; the island's proximity to Split

Where to stay: Heritage Hotel Martinis Marchi, Apartments Villa Lemony, Hotel Paradise Punta

Where to eat: Pasarela, Volat
---
We hope you have a better idea of the islands in Croatia, and which one can fit your travel style. As always, if you have any questions, let us know in the comments section below.