Trogir Croatia is a beautiful medieval town in central Dalmatia. it is located 30 km from Split and 10 km away from Split airport. Trogir old town is Unesco protected World heritage site. Trogir is situated on the islet between the mainland and Ciovo island. It is connected with both with a bridge. Bridge to Ciovo island is small and during the summer can get really crowded. Old town Trogir is charming with its narrow cobbled streets, limestone buildings and wide seafront promenade. The entire town is a historical monument with a considerable number of churches, fortification towers and palaces.
Trogir Croatia at a glance
Best time to visit is in the summer, preferably early September when the weather is still nice, the sea is still warm, but there is less crowd.
Accommodation in Trogir: In the old town there are some 2star and 3star hotels and one 4star hotel. All of them are small, family-run hotels. Beside hotels, the old town offers many apartment to rent. You can also stay on the island of Ciovo, just across Trogir old town. On the island there arelots of apartment rentals, but some houses are up on the hill. Beware, if you don't like to walk up the hill on the hot summer days.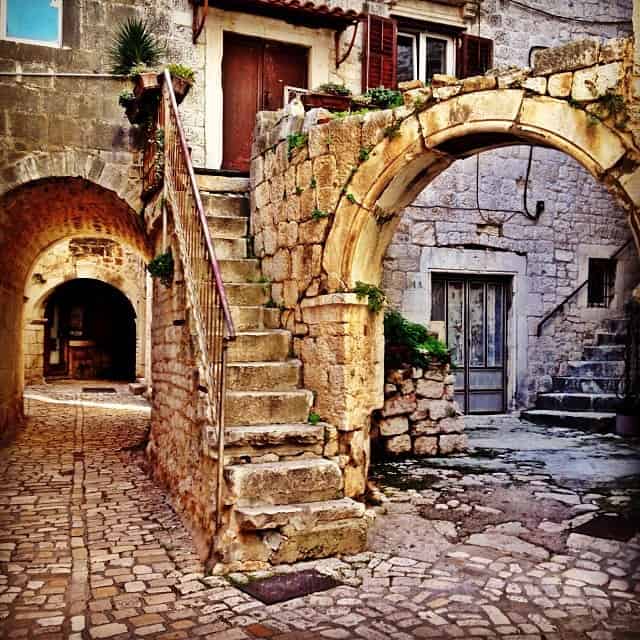 Food in Trogir: There are lots of restaurants in Trogir, some better than the others. However, if you are looking for a fine dining establishmnet, you won't find it here. If you have a car, and want to try something authentic, go to Boraja, a village halfway between Trogir and Sibenik. This village is famous among locals for lamb dishes. Many Croatians heading south don't mind making a detour from the highway to stop at restaurant Torcida in Boraja for some good lamb.
Beaches in Trogir: In the old town you won't find any beach. However, within a walking distance from the old town, you'll have plenty of choice. In Seget Donji, a village 4 km away from the old town, you'll find the beach Medena. It is a nice pebble beach, but it can be crowded with guests from the nearby hotel. On the island of Ciovo, just across the bridge from the old town, there are many beaches. The first town coming from Trogir, and the biggest one is Okrug Gornji. Here are the most popular beaches on the island and Trogir. These pebble beaches are nice, but they are packed with sun-seekers. If you want more privacy and space, you should head to Slatina, on the other side of the island. Look for a nice pebble and sandy beach, called Kava.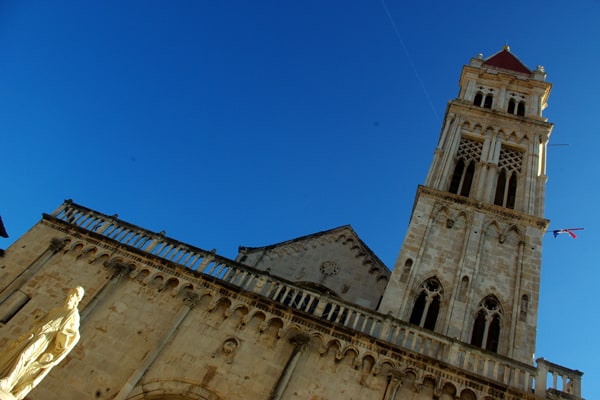 Parking can be a problem in Trogir. The nearby island Ciovo is full of apartments to rent, but not enough parking spaces. On the other hand, old town Trogir attracts lots of daily visitors. However, there are some parking lots relatively close to the old town. On the mainland there are two parking lots. They are approximately 10 minutes walk from the old town. Parking in the old town is scarce, and it costs 15 kn an hour (2 €). On the island of Ciovo, there are other two parking lots, but during the summer, the bridge connecting old town Trogir with the island is so jammed with traffic, that it can take you hours to go across. You'll be better parking at the mainland's parking lots. Parking costs between 6 to 8 kn (0.7 to 1.1 €) an hour depending on the time of the year.