One street you must visit when you come to Zagreb is definitely Teslina street. A year ago this short street closed for traffic and from that moment all the wonderful tastes became instantly more appealing. Among a number of restaurants and coffee bars on offer in Teslina street, for our break, we chose Bistroteka.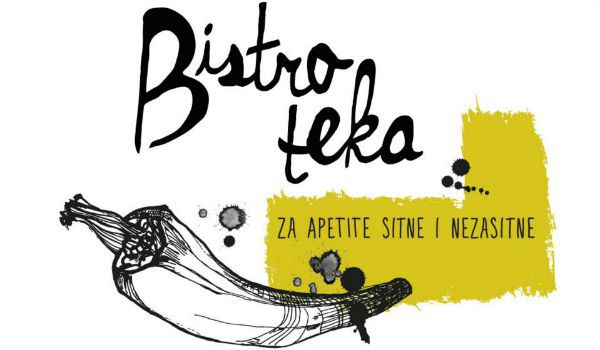 Nicely decorated in a black and white with a various details, this bistro is quite a pleasant place to have a meal.
The menu includes breakfast (oat meals with different extras – apples, vanilla, chia seeds, yogurt, honey, caramelized bananas; quinoa with fruit; toast, eggs; smoothies) and for brunch or a proper lunch or dinner you can choose between sandwiches, soups, salads, bread with toppings and all sort of concrete meals.
We started our lunch with the tomato soup with basil which you can order as a small or large portion. It was creamy and really delicious!
Between octopus stew with chickpeas and broad bean; baby-beef goulash and pasta; sea bream fillet with potato salad, pumpkin mousse and boletus and truffles cream; spinach salad with quinoa, cucumber and radish; pasta with cuttlefish and boletus, we choose turmeric marinated chicken skewers served with the yogurt, cucumber and dill sauce and potatoes.
Since it wouldn't be polite, we won't show a photo of an empty plate but I think it is enough when I say that I am no cucumber lover and I licked the plate. The chicken was tender, the sauce was refreshing and I need to devote a whole sentence to potatoes.
Maybe someone will say that potatoes are just humble vegetables, not classy as artichokes for example. For me the potatoes are the number one food, a crown jewel and if they are not done well (which is the case more than you would think) it ruins my whole day. But let me go back on potatoes in the meal. They were fried with the skin (extra plus), crispy outside, and soft inside, hot enough that it was a pleasure to eat them with the sauce.
For desert we had a carrot cake and flour-less orange and almond cake. A perfect ending of a good lunch!
As a final verdict we would say that you definitely need to include Bistroteka in one of you meal-stops in Zagreb. If not for lunch or dinner then at least for breakfast. The prices of a main course range between 50 and 90 kuna; sandwiches cost around 30 kuna; salads from 33 to 45 kuna (a regular salad of cherry tomatoes, rucola and feta cheese is 19 kuna). The price range of bread with toppings is from 22 to 60 kuna and cakes cost from 18 to 22 kuna. Bistroteka offers a wide range of wines and the price of a glass costs around 23 kuna.
Bistroteka Zagreb: location and contacts
Contacts | a: Nikole Tesle 14, Zagreb | t: + 385 1 4837 711 | Facebook
Working Hours | Mon-Thu: 8.30 am-12 am | Fri-Sat: 8.30 am-1 am | Sunday closed
Have a question? Let us know in the comments below.