Did you plan to spend the summer 2020 in Croatia? And then coronavirus made everything uncertain and on hold? If this is you, then you this post is for you! Here we explain everything you need to know if you plan to visit Croatia in 2020.
COVID-19 in Croatia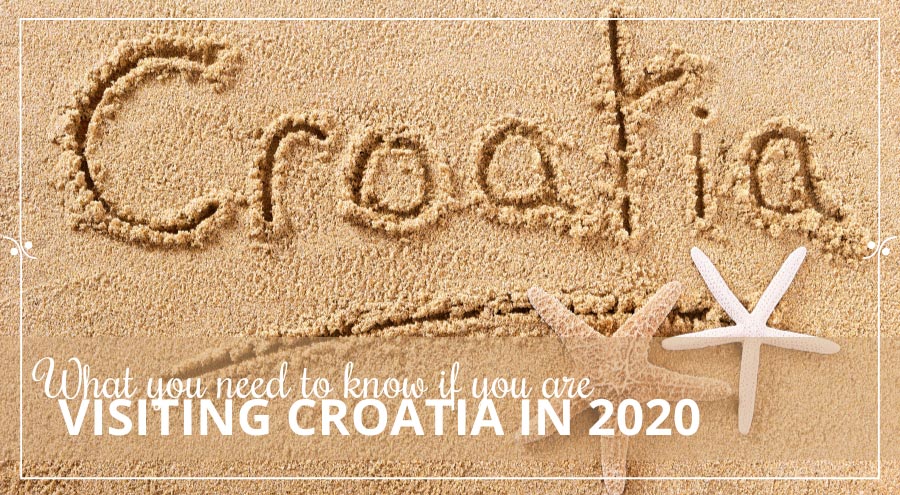 As of May 29, 2020, Croatia has a total of 2245 confirmed cases of COVID-19, out of which 2059 has already recovered and sadly 103 persons died. There are only 186 active cases in Croatia at the moment.
After a lockdown and strict measures that the Government took early on, and the great cooperation of all residents, Croatia was able to keep the spread of the virus under control.
Here is a detailed post on Coronavirus in Croatia. You can also join the conversation in this Viber community.
Can you enter Croatia?
On May 11, 2020, Croatia removed the mandatory 14-day quarantine and opened its borders for anybody who's got a good reason to visit Croatia.
Having a property, a boat, a business meeting, valid economic interest, or reasonable personal reasons is considered a good reason to enter Croatia.
In short, if you are an EU/ EEA national who's visiting Croatia as a tourist and you have a booking confirmation to prove it, you are entitled to enter Croatia.
Another common reason to enter Croatia is if you have legal family ties with a Croatian citizen. Family reunification is a valid reason to enter Croatia.
On this link, you can find the answers to the frequently asked questions regarding the entrance to Croatia. At the bottom of the same page you have the inquiry form should you have additional questions, or need further clarifications.
The border officials launched an online form that people planning to travel to Croatia can fill up prior to their arrival in order to reduce waiting time at the border.
The situation is even easier for the citizens of Slovenia, Hungary, Austria, Czechia, Slovakia, Estonia, Latvia, Lithuania, Germany, and Poland. As of May 29, 2020, the Croatian borders are fully open for citizens of those countries, and they can enter Croatia without any restriction or having to prove their reasons to come to Croatia. This means that citizens of these countries aren't subject to the above-mentioned requirements.
However, everybody entering Croatia should follow the recommendations of the Croatian Institute of Public Health. Or, just simply use common sense: keep the distance, wash your hands often, avoid touching your face, etc.
How to reach Croatia in 2020
If you travel by car, you won't have any problems getting to Croatia. The European countries started opening little by little. And while some of them (like Austria) haven't decided yet to fully open their borders with Croatia, you are entitled to transit through Austria without stopping. Just recently we got our first guests from Germany and all they had to do is to sign a paper at the Austrian border, stating that they were only transiting through Austria.
For Austrians, this means that they will still be required to remain in a mandatory 14-day quarantine when they return home from Croatia. Unless they travel back to Austria via Hungary where the borders between the two should be fully open by mid-June.
If you are planning to travel to Croatia by plane, it's a whole other story.
At the moment, Croatia Airlines is the only company with scheduled international flights from Frankfurt (2 daily flights) Amsterdam (one daily flight), and Copenhagen (4 weekly flights). The company will also start flying from Zurich (4 weekly flights) on June 8, 2020.
The majority of other airlines rescheduled their flights to Croatia with the plan to start flying into Croatia on a number of reduced flights from mid-June or early July.
These companies include Lufthansa, Ryanair, Vueling and Iberia, Easyjet, Wizzair, Norweigian, Jet2, British airlines, etc. For the updated list of flights from the UK and Ireland check this website.
This doesn't mean that these companies will fly 100%, as it still depends on many factors, and we can't know what the future will bring. However, there is a plan, there is hope, and there are fully flexible cancelation policies in place. So, you can go ahead, and book your flight to Croatia!
What you can expect once you are in Croatia?
Although all bars and restaurants are allowed to open since May 11, the truth is that many owners decided not to open yet. This is especially true for the coastal towns. However, the majority of restaurants plan to open in June. We expect all bars and restaurants to be fully operating from June 15.
The majority of attractions are already open, like national parks, museums, Pula Arena, etc. They also see very few visitors and run promotional deals. So, it's actually a good time to visit attractions in Croatia.
All beaches in Croatia are open and accessible. in fact, the truth be told, they have never been closed to the public.
The supermarkets and all the other commerces are open. Many hotels are already open, and so are the campsites. The remaining hotels are scheduled to open in June. All music festivals scheduled for 2020 have been canceled and reschedule for 2021.
In Croatia, you aren't required to wear a mask in public. And a gathering of up to 40 people from different households is allowed.
Should you visit Croatia in 2020?
Well, yes, of course! Croatia is, along with Greece and Montenegro, the Meditteranean country who saw the least number of coronavirus cases.
Prices are way lower than in previous years, and we'll see fewer tourists this summer. We don't expect crowds, or lines, or traffic jams, or anything alike. There will be plenty of places on Croatian beaches too. In that sense, it is a perfect time to visit Croatia.
But, in the end, it all depends on you. I think that Croatia as a country is ready to receive visitors and if there is a second wave, we should be able to handle it. But, you know the best if you feel safe traveling in these times.
Also don't forget that many countries still have a mandatory 14-day quarantine, meaning that you will need either to self-isolate when you come back home from the vacation, or you will need to take and pay for COVID-19 test to prove you are not contaminated. We hope that this condition will be removed by July as it will additionally ease international travel.
Do you have any other questions regarding visiting Croatia in 2020? Let us know in the comments below!