We're celebrating the start of spring with this week's Sunday Traveler. This is my favorite season. Spring usually arrives suddenly. I don't know if you feel this way. One sunny day, after many grey winter days in Croatia, we wake up just to realize that the days are longer, that the trees are blooming, and the birds are back.
We enjoy many different things in Croatia during the spring. Swimming aside (too cold for that activity), the spring is probably the best time to visit Croatia. And here is our list of the best things to do in Croatia in spring.
What to do in Croatia in spring: seven fabulous things to do in Croatia in spring
#1: Foraging for wild asparagus is our favorite spring activity here in Croatia. They grow almost everywhere along the coast. At first it seems hard to spot them, but like with everything else, once you learn a few tricks of the trade, you'll start collecting them like crazy. They usually grow next to one spiny plant. This plant grows into a small bush and it's easier to spot it than wild asparagus themselves. Nevertheless, once you see the spiny plant, all you need to do is to look carefully for the asparagus. If you don't see any, it means somebody has already picked it up.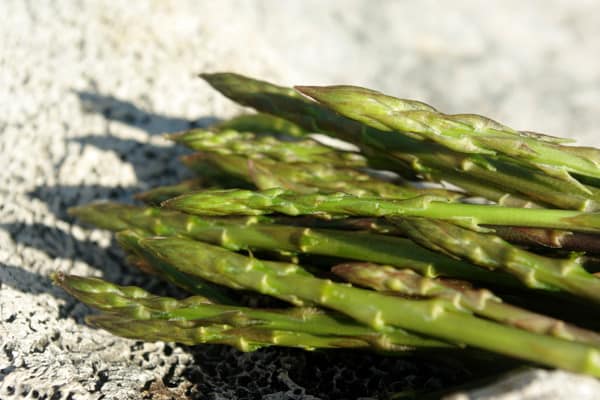 For us, the wild asparagus are the sign of the spring. It's an excellent activity for the entire family. You get to spend a time outside, in the nature, breathing fresh air, and walking. And you'll bring a very healthy lunch back home.
If you are not much of a wild asparagus hunter, you can also buy them. They sell them at the local green market, along the roads (in Istria), or at local's home – just call "your asparagus guy". We hunt for wild asparagus all the time, but we also buy 2 kg a year from one local woman. We steam them quickly and then freeze in small quantities for the winter.
#2: Attend the Oyster festival in Ston! The best oysters and mussels in Croatia (and arguably in the world) come from a bay of Ston. Oysters are at their best in March. Every year, at the end of March (around St. Joseph's Day), you can visit Oyster Festival in Ston (there is one in Dubrovnik too). Organized by a tourist board of Ston, winemakers from Peljesac peninsula and Ston's seashell farmers, this festival celebrates oysters and seashells from Ston. Traditionally served row and sprinkled with a lemon juice, you'll also have a chance to taste them prepared in different ways: grilled, fried, in stew, and boiled. Local wine is served along. The event takes place at Mali ston seafront promenade, and in all the local restaurants.
#3: Spring is the best time to visit Zagreb. It just blows my mind how much I love Zagreb in spring. Seriously, this town puts up its best face during the spring: bustling streets, buzzing cafes, street performers, blooming parks, the town is simply bursting with fun. Three parks in the center of Zagreb, between the Main Square and the central train station, are our favorite spots to hang around during the springtime. The parks are always full of people, young and old, some reading, other picnicking, and some just napping. What a great atmosphere! Also, if you enjoy nightlife, there is plenty going on in the town, but also in the clubs at the lake Jarun.
#4: Vinistra is the largest and oldest wine fair in Istria. It takes place in Porec in May. Regional wine producers showcase their best wines during this three-day event. Beside the fair, there are lots of interesting workshops, seminars, gourmet dinners, and cigar nights. This is by far our favorite fair in Istria, and the best wine event in the region. Vinistra is followed by another interesting wine event – Open Cellars Day.
#5: Party! Word spring, for a good or bad, brings immediately to my mind a thought of a Spring Break! Yes, spring break has crossed the Atlantic and, for some time already, it is gaining momentum in Europe too. So if you like to party from dusk till dawn, head to Croatia in late May or early June  and enjoy European Spring Break. The biggest party is the Splashline taking place in Istria. This year, Umag hosts the Splashline, and it's scheduled for the weekend from 6th to 9th of June. Another spring break party destination is Zrce Beach, on the island of Pag. The opening party is on 6th of June with DJ Gregori Klosman.
#6: Visit Plitvice Lakes. OK, there is never a bad time to visit Plitvice Lakes. The Lakes are simply nice at any time of the year. The snow covered park looks like a place from the fairytale. The fall foliage season, when the whole park turns in various shades of red, yellow, purple, and brown, gives another dimension to the park and the lakes. Summer is when the weather is the most stable and all the services are running. The downside is the crowd. But in the spring, when everything starts blooming, and the snow starts melting, the water and the falls are just at its best. Besides, there is very few visitors to the lakes (occasionally you can get school groups, but for the most of the time it should be just a healthy number of fellow wanderers). So yes, if you are visiting Croatia in spring, do visit Plitvice Lakes.
#7: Visit Dubrovnik! Dubrovnik, just like Plitvice lakes, is nice at any time of the year. But it gets overcrowded during the summer. With lots of visitors to the city, and loads of cruise ships pulling in, sometimes it's impossible even to walk among the crowd. For us the best time to visit Dubrovnik is in an early spring. You'll be able to enjoy the sights without people pushing you around. And you'll also be able to take nice photos. Weather should normally be already warm (but not hot) and sunny at this time of the year. The only thing you might miss if visiting in spring is swimming at Dubrovnik beaches. For the rest, early spring is the best time to visit Dubrovnik.
What's your favorite thing to do in spring? Let us know in comments below.