Past weekend Frank spent camping over in Camping Cikat, on the island of Losinj, with his girlfriend. Frank realized that the summer is nearing end and they had not been camping yet. Frank and his girlfriend packed their car full of camping gear and headed up.
On early Saturday morning, they took ferry Brestova – Porozine and drove to camping Cikat, near town of Mali Losinj.
A day before, Frank made nice Spanish omelet for a picnic along the way. After somewhat difficult search for a good bread in the local stores in the town of Cres, finally they found a nice spot by the beach to enjoy their Spanish omelet.
Camping Cikat: Pitching The Tent
On arrival to the camping Cikat, Frank was instructed by the receptionist to tour the campsite in search for a pitch he likes. Once you find the pitch, you need to go back to the reception and check in. That said, Frank was sure it will be easy to find a place to his likes. It was late in the season and he didn't expect lots of people. Wrong! Campsite was packed with RVs. All seafront pitches were taken. Even worse, as Frank only had a small tent, any place surrounded by RVs was making him feel like in a city surrounded by skyscrapers.
To feel that way, you stay home. Camping is about nature, fresh air, and feeling of freedom. His weekend camping started looking dull when he finally spotted a nice pitch. A pitch A93 was fairly large. Next to it was a vacant pitch, and in front as well. Here he had a nice sea view and RVs were far enough.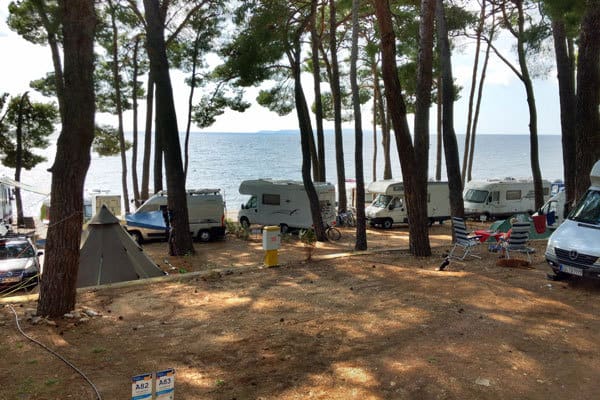 Frank was finally ready to pitch. Another problem: he had a brand new tent he never mounted before. That meant one thing: it's going to be fun and he is certainly going to offer some entertainment to his fellow campers. When pitching already looked like a disaster, he managed to find written instructions. His tent was pitched correctly, but once mounted, Frank was shocked how small it was. Sleeping in was fun.
Camping Cikat: Overview
Frank and his girlfriend went for a walk in and around the campsite. Camping Cikat is located by the sea in the heart of a scented pine forest. Most of the pitches have abundance of shadow.
The sea is really crystal clear, clean and has beautiful turquoise color. There is a small pebble beach while other areas are cemented and rocky.
Along the campsite there is a seaside promenade that goes along and out of the campsite. Island of Losinj is known for its seafront promenades. Almost the entire island is encircled by the seaside paths. This makes it perfect for walking or cycling holidays.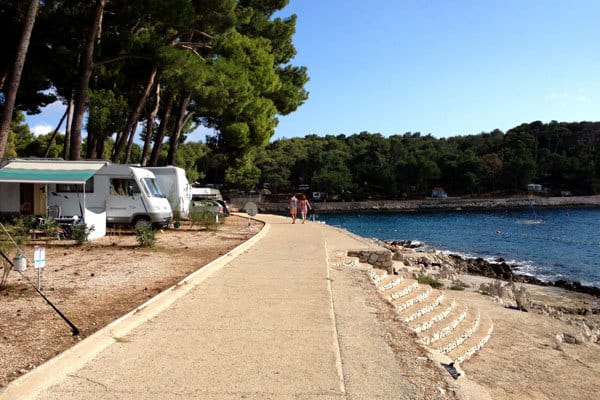 Premium pitches are located close to the sea or right at the seafront. They have electricity connection as well as water supply that is shared with neighboring pitches. Comfort pitches offer water and electricity supply. Standard pitches offer only electricity connection. There are also non designated camping areas with or without electricity. The price varies accordingly.
In Frank opinion there are too many permanent campers, and as it was late in the season, the camping Cikat looked a bit messy and badly maintained. Many permanent campers were cleaning their shacks for the winter and everything looked messy. Beside camping units where you camp with your own gear, at camping Cikat you can rent  caravans and mobile homes. They are rented through a partner company – Gebetsroither. Reservation is advised.
There are 10 sanitary blocks at guests' disposal. The level of services offered in each of them varies. There are few large full service sanitary blocks with toilets, showers, sinks, even hair driers, washing machines, chemical toilets, dish washing sinks, etc.
The others are smaller offering only toilets and sinks.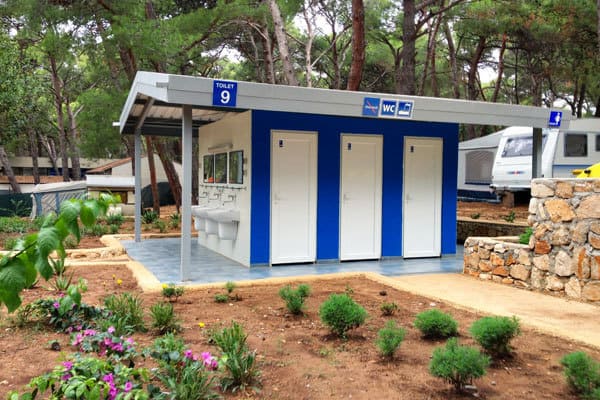 There is a big grocery store, bakery, and a restaurant. There is a bar & restaurant at the seafront. Great location, but a bit pricey compared with other cafes in Croatia. Frank paid one espresso and an espresso with milk over 3€, when usually the same order he pays around 2€.
Other facilities include children club with entertainment for children (during summer months), children playground, fridges to rent, volleyball court, multifunctional sport field, mini kart, buoy for rent, exchange office, newspaper stand, ice cream parlor, and souvenir shops.
Inside camping Cikat, there is a smaller family run hotel & camping Kredo.
All in all Frank was very satisfied with his weekend in camping Cikat. Island of Losinj is very nice with scenic sleepy villages and beautiful nature.
Frank's only bad experience on the island of Losinj was at Restaurant Bora Bar Trattoria & Tartuferia  in Rovenska Bay.
The only down side of visiting the islands is the price of ferry. Round ferry ticket from Brestova to Island of Cres costs 40 € for a car and two adults. Overnight in the camping Cikat on a premium pitch for two adults was 20 €.