This week we're sharing with you a guest post from a fellow travel blogger Sammi of Wanderlustin'. Sammi traveled to Croatia this summer, and shared with us her Croatia Sailing Week experience. We've never done this sailing cruise ourselves and thus we are happy to learn more about it from Sammi.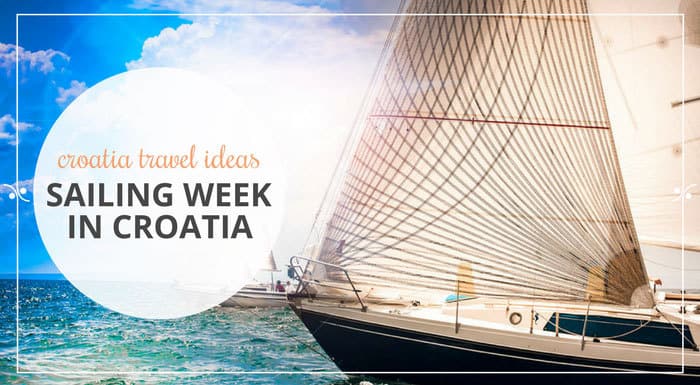 Croatia is a country known for its stunning pebble beaches, hundreds of islands, both uninhabited and inhabited, and its fascinating cities like Dubrovnik and Split. With all of that to choose from how are you supposed to choose just one place to visit? You don't have to- take a sailing trip, choose from the different routes on offer & see all those beautiful places you've heard about!
Croatia Sailing Week: What is it all about?
Day One of our trip was Split to Hvar! Hvar is an incredibly trendy island. It has a beautiful medieval harbour with incredible yachts owned by the rich and the famous. We set out around lunch time with a three course lunch, included in the price of the trip (every day) and were given a refresher of the week's itinerary by our guide. Once lunch was over, everyone donned their swimmers and headed up onto the top deck, where we would spend the next week sunbathing whilst sailing. I could not stop smiling; all around me were the beautiful islands of Croatia, and a slight swaying sea and beautiful sunshine.
After sailing for an hour or so, we pulled up to an area where several other boats had dropped anchors for our first swim stop. Swim stops were a daily occurrence; I still don't understand how we go about life without daily swim stops- we are all living wrong! Over the week we stopped in amazing places, my favourites being between several islets where three of us swam to the shore of one, and just off the coast of Brac where one of our group swam to the island and sunbathed as we were going to be there for several hours!
After a beautiful first day, the second day had us questioning why we had chosen to do Croatia Sail! The boat rocked aggressively, around a third of the passengers were sat on the lower deck, all a lovely shade of green with their heads over the side of the boat (including me!). Today we were due to head to Mljet, but with the waves getting higher as we headed towards open water & us as sick as we were the captain decided instead to take us to Korcula.
Korcula– in spite of what the Italian's believe- is the birth place of Marco Polo, one of the first explorer's of the world. His journey took him across what we now call the Silk Road. You can even visit his home. After a crap day at sea, we were glad to get off the boat and immediately headed out for a swim. This is one place I would recommend taking shoes to swim in; the place was crawling with sea urchins!
The following day with the weather having cleared up we headed to Dubrovnik. The city walls are as stunning as you've heard. The walk gives incredible views across the city, and to the island Lokrum, it was definitely worth paying to walk around- but try to leave it until later in the afternoon to climb them. Not only is it slightly cooler, most of the cruise ships leave around 4 or 5pm so you'll have more time to meander around. I found it heartbreaking looking at the map showing where the Yugoslavian's had bombed the city from the hills surrounding it when Croatia was attempting to gain independence.
We finally made it to Mljet the day after, and it was worth the wait, my favourite stop on the trip. The national park offers all sorts of activities, from swimming in its salt water lakes, kayaking, or cycling around the lake to the spot where the lake meets the sea. Again, there are tons of sea urchins here, but the sea is so insanely clear that you won't miss them! We swam for half an hour or so in the beautiful and clear turquoise waters.
Makarska was probably the most "European" resort, it had beaches and bars and markets. It was a traditional seaside resort, and I spent the day there laughing so hard I'll never forget. Those blow up water parks? They're not just for kids? Oh no, I went on one with some friends and HIGHLY recommend going on one. It's slippery, you'll spend all your time falling in the water & you'll laugh so hard you can't get back out. We spent the night partying in a cave that used to be a WWII weapons depot, the best part was that the water laps up to the edge so make sure to wear thongs instead of fancy heels!
From Makarska we headed to Brac island. We had several hours at our swim stop just off the island, before docking up in Pucisca. After a day's sailing we had a short afternoon to wander around the town taking in the incredible marble buildings its known for. We took a short walk to the lighthouse where we could see other islands and that night was pirate party- and we all looked incredible!
Our last morning was spent hiking up the mountain to Omis fort, or at least that was the plan. The majority of my group made it, but several of us backed out, my knee's gave up (I beg of you, if you have bad knee's do not attempt this hike) & I sat on a rock looking over the town. From even just a quarter of the way up (pathetic attempt, yeah, yeah) I had a beautiful view of the town below.
Our final night was spent in Split, with the beautiful Diocletian's Palace to spend the afternoon getting lost in, or Marjan Hill to climb to overlook the city. Split is, perhaps controversially, my favourite city in Croatia. Landing back there at the end of a trip felt like coming home.
Sailing around the islands, and main land of Croatia is a perfect taster and way to get to know different areas of this spectacularly beautiful country. Why choose one place when you can see all of these over a week?
Croatia Sailing Week: Practical info
I booked with Busabout, who I use all the time and thoroughly recommend, and chose the Island Hopper route, prices start from £499. All cabins are twin share and you can choose whether you are below deck, above deck and whether or not you have an en-suite. Capacity depends on your boat and booking arrangements, you can have as few as 14 or as many as 50 persons on your boat. Our boat was the Katarina Lines Vicktorija and held a maximum of 30 passengers.
Thanks to Sammi for sharing with us a story about her Croatia Sailing Week experience. We hope you enjoyed reading about it.  Don't forget to check the Wanderlustin' website, and to connect with Sammi through social media. You can find her at: Twitter, Facebook, Google+ and Instagram. Sammi is just a girl who's working hard, living cheaply & trying her best to travel the world. She writes about her adventures at Wanderlustin'. 
Have you ever sailed in Croatia? Are you tempted to try Croatia Sailing Week for yourself? Let us know in comments below!