Zucchini fritters are one of my favorite summer dishes. I've never used much of the zucchini in my kitchen, except for ratatouille once in a while. But since I moved to Croatia and discovered my mother-in-law cuisine, zucchini have become the part of my summer cookbook.
The zucchini vegetable is low in calories and thus popular as the dietary ingredients. Zucchini are summer squash also called courgette.
Zucchini fritters recipe
Ingredients:
2 medium size zucchini
2 eggs
flower
salt
sunflower oil
Wash your zucchini and trim off the both ends of zucchinis. Grate zucchini on the large holes of a box grater. Break two eggs and beat them a little bit. Add a pinch of salt and some flower. Mix eggs, salt and flower together until you get unified, thick mixture. You want your mixture to be rather thick because zucchini will release lots of water. If your mixture is liquid, you will not be able to make fritters.
You will also noticed that the amount of zucchini can seem much larger than the amount of the connecting mixture. This is for the reason. You want eggs and flower just to serve you as the connecting mixture for your zucchini, while you actually want to your fritters to taste zucchini not flower. So don't worry, and keep following Frank's zucchini fritters recipe.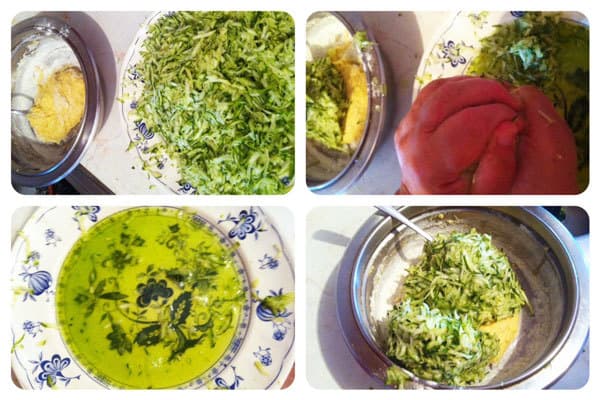 Put a sunflower oil in the frying pan and start heating it. Wring out zucchini. You can wring them out in several ways (e.g. pressing them through the cloth), but the simplest way is just squeezing them between your hands. Deflated mass of zucchini add to your eggs and flower mixture. You will be surprised by the amount of the water zucchini will release. Don't ignore the importance of this step in zucchini fritters recipe. Wringing zucchini out well is a very important step in succeeding your zucchini fritters.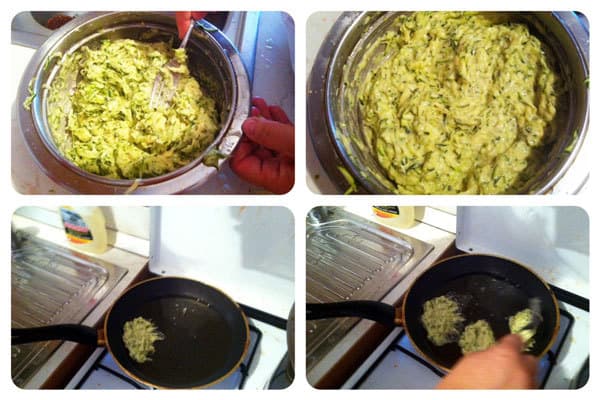 Mix well zucchini with eggs and flower mixture. Meanwhile your oil should be heated. Take soup spoon of the mixture and put it in the pan to fry. Fry on both sides. Put a towel paper on the plate. Put your zucchini fritters in the plate. The paper towel will absorb the oil from your fritters making them less greasy. Repeat until all your fritters are made.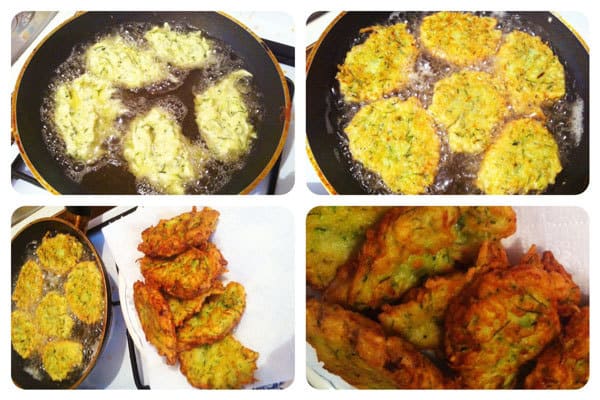 Check other delicious recipes from my cookbook.