During our recent visit to the Brac island, we stayed at the Bluesun hotel Elaphusa. We couldn't choose a better hotel for our stay on the island. The location is great, and the hotel has lots of facilities and activities, and the staff is very friendly and welcoming. But more about that later.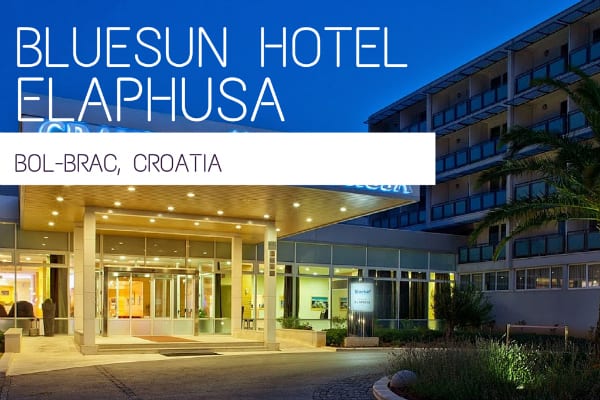 This is a large hotel, with 306 rooms, and really plenty to do for all kinds of travelers. We've never been able to enjoy all activities and facilities that hotel Elaphusa offers due to our short stay here (only two nights).
Bluesun Hotel Elaphusa Bol: Location
This 4-star hotel is conveniently located, just 15-minute walk from the town and 5-minute walk from the popular Zlatni Rat beach. And one of the reasons to visit Brac is to enjoy Zlatni Rat beach, the most photographed beach in Croatia (or so they say!).
Bluesun Hotel Elaphusa Bol: Our room
We've booked a Premium Double Room with Sea View. Our room was spacious, located at the fourth floor of a D-wing, it had a large balcony with a pretty view over the sea, the island of Hvar, and even a tip of the Zlatni Rat beach. It was, though, located just above pool. And while we could hear pool animation, it really didn't bother us at all. It was noisy only during the day, but never at night time.
Our room had a double bed, a small seating area with sofa, armchair and a coffee table. In-room amenities included a flat-screen TV (a bit small), a minibar (well filled with soft drinks, wine, beer, water, peanuts, energy bars, etc.), and a complimentary WiFi.
However, in-room WiFi connection didn't work for most of the time. But it's a good thing, should you wish to disconnect for awhile. I am not sure if this was a permanent problem, or the hotel had problems during our time there (I had the same issues in Dalmatia, at my in-laws, just few days earlier).
Bathroom was also spacious, and equipped with a bathtub and a hairdryer. Basic amenities like shower and body gel, a soap, and a shower hat, are provided, and refilled daily. Plenty of towels too, and they are changed daily.
But please be conscious of the planet, and save the water (especially because the water has always been scarce on the island) – just leave a note to the maid not to change your towels (I don't think you change them daily when at home!). Bathrobes and slippers are also provided, which brings us to the next chapter.
Bluesun Hotel Elaphusa Bol: on-site restaurants and bars
Hotel Elaphusa offers a bed and breakfast rate, and half-board rate as a part of your room arrangement. Both meals give you all-you-can-eat buffet option served at the hotel's main restaurant.  We've only enjoyed breakfast as we've been too keen to try the island's a la carte restaurants.
Breakfast was great with lots of choice: from fruit, nuts, various types of bread, jams, honey, cheese, ham, to warm buffet with a choice of sausages, grilled vegetables, eggs and alike. Eggs were prepared on order. I ate eggs with bacon on both mornings.
Honestly, if eggs and bacon weren't so heavy on the body, I would eat them everyday. Instead, I allow myself to enjoy them when we stay at the hotels. Vera was impressed with a sponge cake she found at the breakfast. This is simple cake is one of her favorite sweets. So this is what she's been eating for two days at the Elaphusa hotel.
There are also two nice a la carte  restaurants on site: the tavern Vallum serves traditional Croatian dishes, but with a twist. This traditionally decorated tavern, is a real surprise and it offers an unexpected contrast to the rather modern looking hotel.
The restaurant Borak is located at the beach just below the hotel. It's a great place to eat, and it's convenient since you don't need to go far. The food is really good, and the location is just perfect (literally at the beach).
Hotel's lobby bar has a nice outdoor terrace where we've enjoyed our espresso every morning after the breakfast. The Bolero cafe and cocktail bar is located few steps from the hotel, at the seafront promenade. It's a lounge style bar with comfy chairs, chill out music, good coffee and cocktails. We found Bolero to be a great place to have a pre-dinner drink before heading to the town.
Elaphusa also has a nightclub, but we haven't visited it during our stay at the hotel.
Bluesun Hotel Elaphusa Bol: Thalasso Wellness & Spa
This hotel has a great wellness and spa area. It stretches over 4.000 m2, and includes seawater indoor pool and whirlpools, various saunas and treatment rooms. All treatments are based on sea therapy including sea water, algae, sea mud and sand.
We haven't used indoor pool, or saunas, but we did go for a nice massage: I chose a 60-minute full body massage, while Vera had a facial aromatic massage. Felt really good and fresh afterwards.
Bluesun Hotel Elaphusa Bol: Other facilities
Outdoor swimming pool is a nice perk, although we do prefer chilling by the beach. However, the pool area has deck chairs, and a pool bar, and its a nice place to spend a lazy afternoon. There is a daily entertainment and sport program by the pool.
Hotel's beach is located just below the hotel. It's not a private beach, 'cause in Croatia there isn't such a thing as a private beach. You can rent deck chairs, and sun umbrellas at the beach. There is also a good choice of sport facilities at the beach (para-sailing, banana and tube rides, boat rental, diving center, fly fishing, and alike).
This is a shingle beach, not as nice as Zlatni Rat, but it's less crowded and closer to the hotel. Restaurant Borak, located right at the beach, is a nice place to have a drink, a light lunch, or a romantic dinner (we've mentioned it already above). Famed Zlatni Rat beach is only five minutes walk from the hotel. We went for an early morning swim to this beach (and it was well worth it; the beach was deserted and we had it all for ourselves).
Other facilities that hotel offers but we haven't tried out include: a golf simulator, gym, a bowling alley, clay tennis courts, and a bicycle rental. A golf simulator seems like a fun activity for the rainy days. Gym is not too big, but it is well equipped and it was mostly vacant during our stay there (it was in August, so this is expected).
Bluesun Hotel Elaphusa Bol: Service and Staff
We were seriously impressed with a friendliness of the hotel's staff. Everybody was very friendly, and went out of their way to make our stay memorable. One of my passions in life is to observe people, and believe me I observed these receptionists while waiting for our guides at the reception. Not a single person walked in without being acknowledged and greeted. And they all also seemed very eager to talk, always looking at the eyes.
A check-in went fast, we were offered a valet service for our car, but I choose to park it myself.  BTW, there is a large parking lot for hotel guests only with a magnetic card you get at the reception upon a check-in. You don't have a designated parking spot, but we never had a problem finding one.
Our luggage was delivered to the room. On arrival we've order a room service, and everything went smooth; food arrived in time, and the waiter was smiley and friendly.
On our second night there, we had a serious storm, and the staff was concerned about possible power cuts, so they made sure to warn everybody not to use elevators. I can't praise the hotel staff and hotel's service level enough.
Final verdict: Hotel Elaphusa is an excellent accommodation choice if you plan on staying in Bol. The hotel is clean, rooms are specious, and while hotel is large, we never waited in queue for anything. The whole experience for us was nothing but smooth, friendly and easy (OK, except for the WiFi connection). That said, we haven't used outdoor pool, and some other facilities, so we can't comment on that.
Have you stayed at the Bluesun Hotel Elaphusa in Bol? What's your favorite accommodation choice when traveling? Let us know in the comments below.