We often get asked what is optimal time to spend in Croatia, how many places a person can visit in a given time, etc. When traveling, we all try to see as many places as possible in a short time. To give you a better idea on how to plan your itinerary, we've written a post on how to choose your destination(s) in Croatia.
We just came from the Brac Island, where we spent a weekend, and wanted to share with you what you can see and do in a short stay on the island of Brac. If you actually plan your stay carefully, you can truly experience Brac in a weekend (although it's a lovely island, and we could easily spend a whole week there).
Day one of our weekend on the island of Brac: Arrival to Brac, and a walking tour of Bol
We were coming from the south and thus boarded a ferry in Makarska. It crosses over to Sumartin, a small seaside town on the southeast side of the island. We did a quick tour of the village (Sumartin is small, and you can basically explore it in half an hour). From Sumartin we took a main road (all directions at first) and headed to Bol, on the south side of the island.
After we checked in our hotel, we were craving some food, but we felt just too lazy to start looking for the restaurant where we could eat. Besides, it was only 4 pm, a bit late for lunch, and too early for dinner. Instead, we just ordered a room service, and enjoyed a chicken sandwich at our balcony overlooking the sea, the island of Hvar, and the famed Zlatni Rat beach.
With our bellies full, it wast time to hit the town. The town of Bol was a pleasant 15 minute walk from the hotel. Our guide, Zeljana, waited for us in a lobby and took us to the town. Zeljana is a native of Bol, and with each word we could sense the love she's got for her town, and her island. This made our time in Bol so much better. But if you don't have a personal guide, don't worry. Just follow the same itinerary as described here, and you should be fine.
The first stop was the Dominican Monastery, located on the east end of Bol. Yes, I know what you're thinking – not the most exciting spot to start exploring a new destination. And if we'll be totally honest, that was exactly what we were thinking. However, we were again totally in the field with our assumptions (I'll need to stop assuming anything!). The visit to the monastery was awesome!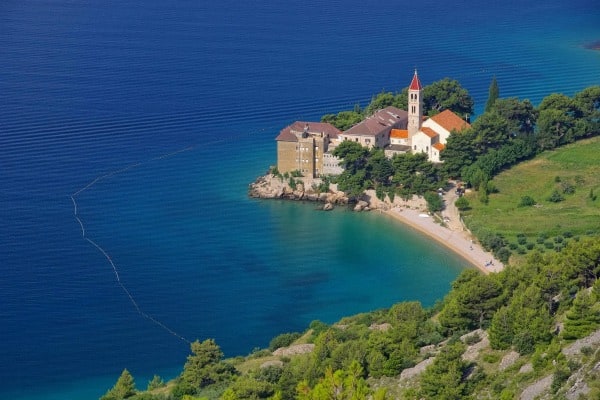 I really believe that we don't necessary remember places we visit, as much as we remember people we meet at those paces. People make a place special, and close to your heart. Father Ivan guided us through the church, the monastery, and their gardens. He invited us for a glass of homemade prosek (a sweet dessert wine) in the shadow of palm and pine trees, overlooking the sea. He spoke softly, and laughed a lot. We've spent a short time with this man, but we'll always remember him.
Before heading back to Bol, we've shortly checked two beaches on each side of the monastery. Our tour of Bol continued with a visit to the Stina winery.
Stina winery is located at the quayside (not too many wineries that I know have such a great location!). Stina wines are relatively new name on Croatian wine scene. So far you can taste their white wine Pošip, rosé wine made from Plavac mali grapes, red wine Plavac mali, and prosek. However, Jako Vina, an owner of Stina wines, planted new vineyards, including international sorts like Chardonnay, and Merlot. Anyways, after a visit to wine cellar, and a tasting room, we enjoyed a wine tasting at their seafront terrace. We tasted three wines (white, rosé, and red) and nibbled on prosciutto, cheese, and salted sardines.
After people watching while sipping some of the island goodness, it was time for dinner. We chose the restaurant Mali Raj, as some locals we met on our way back to the hotel suggested to us to go there (good sign was that they were heading there too!).
After a dinner, we walked back to our hotel, and called it a night.
Day 2: Island Tour, Beach Hopping, and more great food
We woke up early because we wanted to enjoy Zlatni Rat beach before the tourists start flocking around. The beach was quiet with just couple of people swimming around,and two workers lining up deck chairs in a perfect order.
After a nice swim, we had a hearty breakfast at the hotel. The only time I allow myself to eat eggs and sausages for breakfast is when I stay at the hotel. This is how I control myself, because seriously if I could, I would eat eggs, bacon and sausages every morning.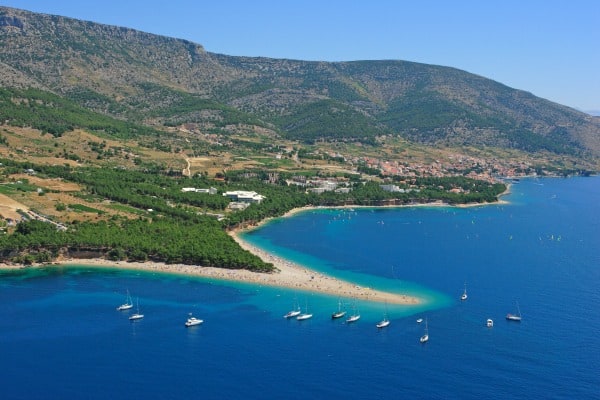 At 9.00 am we set out for a tour around the island. Our guide, Nikica, was really great, and besides we found out that we are almost family. OK, not really family, but, hey, Nikica was apparently the best man of Vera's cousin at her wedding just two weeks earlier. Awesome! Croatia is really small, Vera always finds some distant family members or friend of a friend wherever we go.
We headed to Pucisca first where we visited local stone masonry school. Stone masonry is extremely important on the island of Brač and for its people. It's integral part of their identity. That's why we highly recommend to visit Pucisca and the school.
After a coffee we continued to the village of Skrip, the oldest settlement on the island. The village, although tiny, is a must-visit, and holds so many remains of the island's history. We stopped at the Native Museum of Brač. The museum isn't that big, and can be seen in half an hour. But the curator Andrea made our visit so much more interesting. Seriously, make sure Andrea is there when you visit, and ask her to guide you through the museum. This was the first time in my life, I looked at a piece of stone (literally) with so much interest.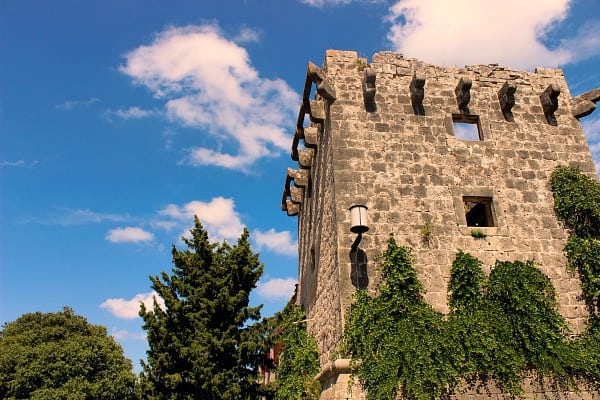 Our next stop in Skrip was at the Museum of Olive Oil. The owner, Krunoslav Curkov, restored the old family olive mill. Today, you can visit it and learn everything about old manual process of making an olive oil. After a short visit to the museum, we enjoyed a nice, homemade snack at the top floor of the museum. Snack was great: salty anchovies, homemade black olives, walnut spread, black olives spread, freshly made bread, local table red wine, and plenty of homemade olive oil. Yummy!
Last stop we made, before returning to Bol, was at Vidova Gora. I've already been to Vidova Gora many times, but that view from the top never gets old. Just amazing!
Back to Bol, we still head plenty time to explore. We wanted to hit a beach, and just relax for a while. We headed west, past a small village of Murvica (beaches here are also extremely pretty), 5 km on a dusty, non-asphalted road we stopped at the Terrace Cicco. It's a local restaurant, but actually as its name says, it's only a terrace (no indoor seating). The beach below Cicco's place is great, small rounded pebbles, clear sea, and less than 10 people. Just what we needed.
After swimming we nibbled on marinated anchovies, and local cheese while sipping a glass of wine and enjoying the views.
Around 6 pm we went back to our hotel and then hit Bol again around 7 pm. Our hotel was perfectly located, and we enjoyed an evening stroll to the town. We decided to eat at Ribarska kucica (Fisherman's house), I would dare to say, the restaurant with the best location in Bol. And that was the main reason why we chose it.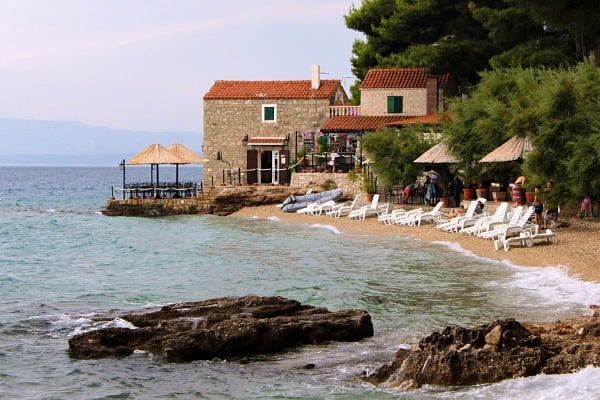 We read not so good comments on Tripadvisor about this place, but couldn't care less. Located right at the beach, with a view over Dominican Monastery, and a sound of lapping waves instead of music, they could feed us frozen chicken and we would still be happy. But as it turned out, the food was delicious too. We went with a simple order: grilled scampi, pan stirred shrimps, french fries, and crêpes. We enjoyed a wonderful, although stormy, sunset.
Day 3: Heading back home but not without a lunch
After breakfast, we had a coffee at Bolero, chill out place at the Bol's seafront promenade, just below our hotel. Then we packed our bags, settled our bill, and hit the road again. This time direction Supetar. It made more sense to cross over to Split as we were on our way to Istria.
I forget to tell you that the road connecting Bol with the rest of the island offers stunning views. Unfortunately, places that offer the best photo points, don't have a side stop so you cannot really stop for a photo without putting yourself and others in danger. I tried to capture few photos while driving to give you an idea of the view.
We made three stops on our way. The first stop was in a village of Praznice where we bought some sheep cheese. I know, people say that sheep cheese isn't the best in summer. However my family always buys cheese from the same man in Praznice, and his cheese is excellent. It's expensive (around 400 kn for a kilo), but totally worth it.
Second stop was in Nerezisca, another inland village with one curiosity – there is an old church in the village that has a 200 years old pine tree growing through the roof of its chapel.
Third stop was in the village of Donji Humac to the tavern Kopacina, according to many the best place to eat on the island. Here you can taste Vitalac, a traditional Brac specialty made of lamb innards wrapped in a caul and roasted on the spit.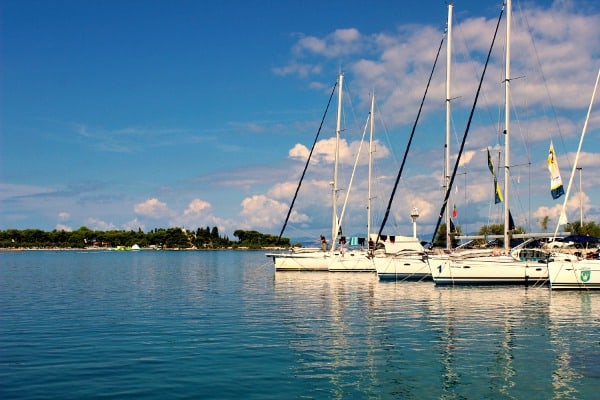 Finally, we hit the road again toward Supetar where we boarded a ferry to Split. It's a pleasant 50 minute ride. The trajectory is interesting as you are actually not going straight across the channel. Split is located north of Brac, and the ferry actually goes parallel with the coast. You can enjoy views over the mainland on one side, and over the island of Brac and Solta on the other side, while keeping an eye at all times on the island of Ciovo ahead.
Here you've got it, three awesome days on the island of Brac that made us experience many places, activities, food, wine, history, and people.
However we did miss some of the island's highlights this time. They include: a visit to Milna and Povlja (must-sea in our opinion), and a trip to Pustinja Blaca (Blaca Hermitage).
It's always good to leave something as a reminder that you need to revisit a place.
Have you ever visited the island of Brac? Would you like to visit it? Let us know in the comments below.