We've waited long time for the first water park in Istria, and now not only that Istralandia water park open its door, but there is another water park Aquacolors opening next year. I wonder if there is really demand for two water parks in Istria, but Aquacolors will be very close to home, and hopefully it will help our apartment rent easily.
As for Istralandia, it's newly open (June 2014) and we checked it our the other day. The water park seems like a good alternative to spending a day at the beach. Istralandia water park has a total of 20 slides including a 27 m high free-fall slide, three large swimming pools, sand volleyball and badminton courses, food court, and a souvenir shop.
When our friends with three teenage boys visited us the other, we decided to spend a day at the Istralandia water park. It seemed like the best way to keep the boys happy. And it definitely was!
While we spent majority of our day chilling around the pools, the kids where all over the place. They tested each slide, and had lots of fun (always impressed how brave young people are; adults always calculate the risk of anything). We joined the fun at the Family rafting slide and the Crazy Hills slide.
On a family rafting slide you basically go down in an inflatable round raft for four persons. On landing, I did end up with a friend's leg in my neck (ouch!), and I found that a raft hit water rather hard (maybe we were just too heavy). The Crazy Hills, on the other hand, has six parallel slides allowing you to compete in speed with your friends. I've almost won.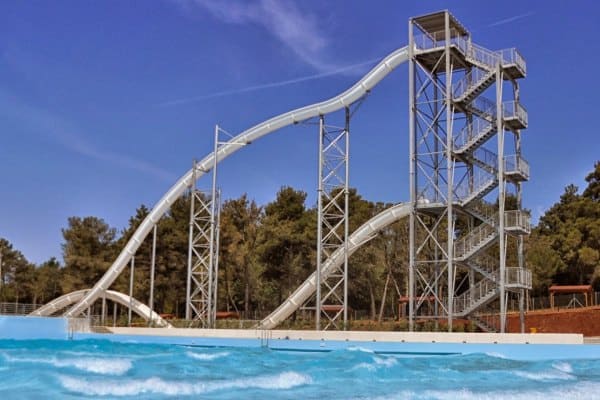 While we did enjoy our day at Istralandia, followed by late lunch at the konoba Morgan in a nearby Brtonigla, we found the entrancee fees to be rather high. And at such price level, they are definutely a big draw back in visiting Istralandia more often. A half-day (4 hrs) at this water park will set you back 110 Kn (15 €). Sunbeds, sun umbrellas, gazebos and lockers aren't included in a price.
Istralandia Water Park prices
[custom_table]
| Fees in Kn | Full-day (10 am-6.30 pm) | Half-day (2 pm-6.30 pm) |
| --- | --- | --- |
| Adults (above 1,40 m) | 140 Kn | 110 Kn |
| Children (below 1,40 m) | 110 Kn | 90 Kn |
| 2 sunbeds + 1 sun umbrella | 50 Kn | 50 Kn |
| Locker | 20 Kn | 20 Kn |
| Gazebo | 200 Kn | 200 Kn |
| Family (2 adults+1 child up to 1,4 m) | 270 Kn | 350 Kn |
| Children below 1 m | Free | Free |
[/custom_table]
Istralandia Water park: Facilities Overview
Slides
Pirate castle includes many small slides, and a pirate ship. It's intended for smaller children.
Mini surf is a 11-meter long children slide with four parallel paths.
Flying Boats is a 106-meter long slide where you slide down using one- and two-person inflatable rafts.
Free-fall slide is a 27-meter high slide. With length of only 96 m, it's very steep and fast slide. This is definitely Istralandia's biggest attraction.
Family rafting is a 138-meter long wide slide where you slide down in a four-person inflatable raft.
Crazy Hills is a 70 m long slide with six parallel paths.
Top Gun is a steep 13 m long slide with two tubed paths.
Sky River is a partly-open partly-enclosed 157 m long body slide. It twists and turns until finally reaching the pool.
Fantasy Hole is entirely enclosed 157 m long slide where you slide using one-person inflatable raft.
Pools
Children pool has a surface of 1.000 m2 with the pool depth between 0 m – 0,4 m. Pirate castle with many small slides is placed at the center of this large pool.
Wave pool has a surface of 2.500 m2 and as its name indicates, simulates waves of different height and shape. The largest waves are 1 m high and intended for surfing simulation.
Hydro-massage pool is a relax pool for adults. With its surface of 900 m2, it's the smallest of the three. But this pool stretches on two levels with a relax zone on the higher level, and an active pool for swimming on the lower level.
Other facilities:
5 bars offering drinks and quick bites
ATM machine
Sand volleyball court
Badminton court
On-site entertainment
Souvenir shops
First aid team
Safety lockers
What we liked the most at Istralandia Water Park
Setting: the park is located at the hill slopes and it fits perfectly its surrounding (many slides follow the natural inclination of the terrain)
Free wifi
Flexibility: you are allowed to bring your own food & drinks
Affordable prices at on-site bars
Friendly staff
What we didn't like at Istralandia Water Park
high entrance fee
waiting lines
no shadow
carrying inflatables yourself
Istralandia Water Park: Contacts
Contacts: t: +385 52 866 900 | e: info@istralandia.com | Website