Volosko, a small fishing village near Opatija, would be just like any other seaside village in Croatia – unknown and sleepy, with tourists only visiting it in July and August, if it wasn't for its awesome restaurant scene. I personally don't know of another town in Croatia, small or big, that has so many great restaurants at one place.
Don't get me wrong, Volosko is charming and definitely worth a visit even if you don't consider yourself a foodie. But foodies will fully get it.
We've already wrote about Tramerka, our favorite tavern in Croatia, and Le Mandrac, fine dining restaurant with modern cuisine. On our last visit to Volosko, we've fonally got to try out another restaurant – Valle Losca.
Valle Losca is the first restaurant you'll come across on arrival to Volosko. It's also voted the number 1 restaurant in Volosko and Opatija on Tripadvisor. And although, it's been there for years, we've just got to eat there recently. Lack of information, I guess. For some reason we've always thought of it as a fancy place with tiny portions and high prices (btw, totally wrong!).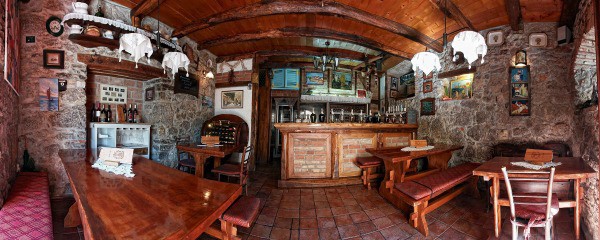 What we've actually found is a tiny tavern-style restaurant with exposed stone walls, and only four tables. We've found in its look and feel another Tramerka, but this one specialized in meat dishes.
The place is run by two young owners. Josip, one of them who served our table that day, is easy going, friendly and talkative (if you are into a mood to talk!).
Everything served at Valle Losca is locally sourced, fresh and yummy.
Our experience at Valle Losca Opatija
Like always, if given a chance, we've started our meal with a selection of cold starters. The plate included octopus salad, homemade prosciutto, sausages made of an Istrian ox, and olives. The plate came with warm homemade bread, and olive oil.
And when they say homemade, they mean homemade. Prosciutto comes from Josips's father-in-law. He not only makes prosciutto, but he raises his own pigs for prosciutto. Here you know exactly where your meat comes from, and how it was raised.
We are not big meat eaters, so we did skip on their steaks, beef cheeks, and duck breasts. But for someone who likes meat, I bet all those dishes taste delicious. However, instead, we've chosen two types of pasta, each with a different sauce.
All pastas at Valle Losca are hand made and rolled. Tagliatelle came with spicy shrimp, zucchini and cherry tomato sauce, while pljukanci (local pasta) came with delicious beef tagliata (don't forget that we aren't big meat eaters, and we eat red meat like never … but we still enjoyed tagliata at Valle Losca!).
We've ended our meal with a dessert that we both shared – cottage cheese with roasted sugar and almonds, chocolate and raspberry coulis. This dessert was light, yet sweet and delicious.
We've drank a table wine Malvazija Istarska (you guess, homemade by Josip's father-in-law), and a tap water (free of charge). We both had an espresso with our dessert.
The total cost was 300 kn (less than 20€ per person).
Valle Losca Opatija: Location and contacts

Contacts | a: A.Štangera 2, Opatija | t: +385 95 580 3757 | Facebook
Working hours | Wed. – Sat.: 1:00pm – 10:00pm