We've both sailed the high seas for more than few years, but we are still to experience sailing the Adriatic. I know, we are not proud of this, since Croatia is a paradise for sailing holidays. However, understanding the appeal of Croatia for sailing aficionados, we've teamed up with Ante of Charter Croatia to bring you some tips on sailing in Croatia.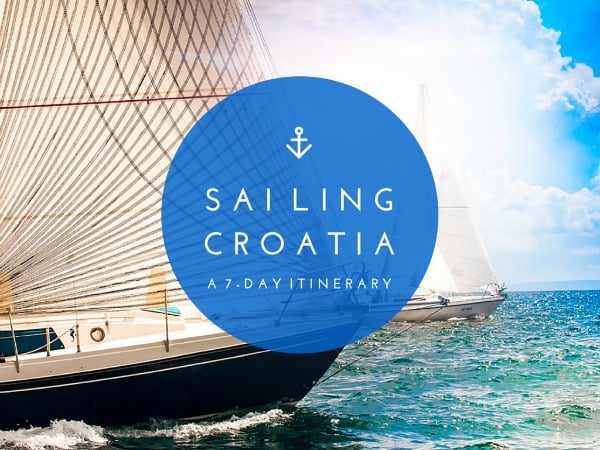 Ante has already wrote for us an Introduction to yacht charter in Croatia, and this time he's put up a 7-day Croatia sailing itinerary for central Dalmatia. Hope you'll find it useful and you'll enjoy reading it.
Here we go! Thanks Ante!
Holidays inspiration: A 7-day Croatia sailing itinerary from Split
This Croatia sailing itinerary will allow you to discover hidden natural beauties of Croatia while sailing the stunning Adriatic coast. Our 7-day Croatia sailing itinerary isn't too demanding and allows you to perfectly balance days of lazing on the deck and swimming in crystal clear sea with active days exploring medieval towns, indulging in local specialties in luxury restaurants along the coast, and hiking Dalmatian rugged mountains.
Day 1 | Split – Maslinica (the Solta Island)
Distance: 14 NM
Start your sailing holidays in ACI Marina in Split. A starting point of Split's famed seafront promenade, ACI Marina is located southwest from the old town, and it's actually a great place to enjoy views over the Split's seafront promenade, and the town. ACI Marina is open all year around, and contains 350 wet and 30 dry berths. Split is an excellent base port.
From Split, on a first day, set your sails to Maslenica, a small village located on the beautiful island of Solta.
Solta is an island of fishermen, olives and vineyards, an island where time has stopped long ago and where memories of some other times are still alive. Maslinica is small fishing village on the northwest shores of the island of Solta. Surrounded by an archipelago of seven islets (Polebrnjak, Saskinja, Stipanska Kamik Balkun, Sarac and Grmej), Maslenica is one of the most popular sailing ports in central Dalmatia. The village seems to have its pace and time. It is a peaceful oasis and a true paradise for anybody looking to relax and unwind. Small islands make a perfect backdrop for beautiful sunsets, some of the nicest sunsets to experience in all Croatia.
Day 2 | Maslinica (Solta Island) – Vis Town (Vis Island)
Distance: 20 NM
Vis, famed for its crystal clear sea and protected underwater world (including underwater in situ museum), is the furthermost island in the central Dalmatia. Being so far-flung from the shores, tourism in Vis developed slower than on islands closer to the mainland. Vis was also a military base until 1990s, with very limited access to the island. This makes Vis today even more appealing to visitors, because it's better preserved and a way less crowded than neighboring islands of Hvar and Brac. Vis, with its hidden bays, accessible only by boat, is a dream destination for any sailor.
The tiny town of Vis is one of the oldest settlements in Croatia. Greeks established here their colony of Issa (ancient Vis) back in 397 BC. Here you can experience not only the history of Vis and Croatia but the history of the world. Vis is located on the eastern side of the island.
While on the island, make sure you visit the highest point of the island where you can enjoy spectacular panoramic views, book a kayaking tour of the island, or take a wine tasting tour and indulge in Vugava, a local white wine.
Day 3 | Vis Town (Vis Island) – Komiza (Vis Island)
Distance: 12 NM
Komiza is small charming fisherman's village on the wesernt side of the island of Vis. This small fishing village is located at the foothill of Hum, a hill on the west side of the island of Vis. Cut off from the rest of the island by the hill, it faces the sea and therefore, it is no wonder that traditional Komiža cuisine is founded precisely on seafood delicacies and quality local wines.
A visit to the "Blue Cave" on the nearby island of Bisevo is highly recommended.
Day 4 | Komiza (Vis Island) – Hvar (Hvar Island)
Distance: 21 NM
The town of Hvar, on the island of Hvar, has always been a very popular port for sailing boats. Known as a playground for rich and famous, Hvar town is also very rich in history and natural beauty. With only 15 buoys, mooring in the town's harbor is almost impossible, especially during the high season. But there is the ACI marina in Palmižana, on the nearby Pakleni Islands, just 2.5 nm from the town.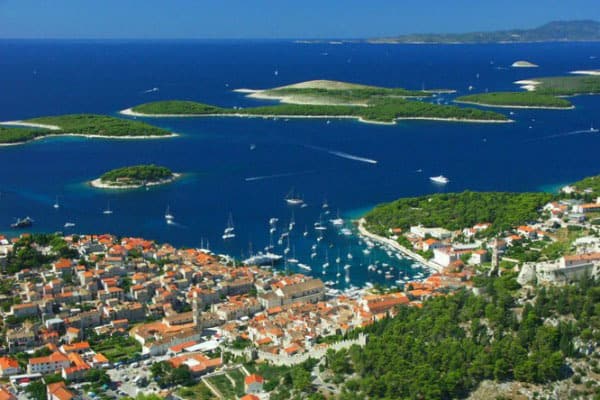 The town of Hvar is about cultural landmarks, exquisite food, partying, and sport activities, particularly scuba diving, rock climbing, cycling and of course sailing. Make sure to experience some of these activities. On the island of Hvar you'll also find great wine and interesting winemakers, as well as very good olive oil and lavender-based products.
Day 5 | Hvar (Hvar Island) – Bol (Brac Island)
Distance: 17 nm
A picturesque town of Bol located on the island of Brač is one of the most popular destinations on the island. Located on the south shores of the island, just below Vidova gora Mount, Bol's main attraction is the most popular beach in Croatia, Zlatni rat (Golden Horn Beach).
With its numerous cultural and historical sights, it is one of the most popular tourist destinations in Croatia. We've put together a comprehensive Brac Travel Guide if you are interested in further reading.
Day 6 | Bol (Brac Island) – Milna (Brac Island)
Distance: 14 nm
Milna, a romantic village on the western part of the island of Brac, is the most popular nautical destination on the island. A village, set in a wonderful bay, just few nautical miles from the neighbouring island of Solta, is perfectly protected from winds and houses are mostly built using white stone from Brac. Milna is definitely the best, natural port on the island, surrounded by beautiful sandy and shingle beaches (Pasika, Osibova, Lućice, Maslinova).
While here, make sure to visit the Hermitage Blaca.
Day 7 | Milna (Brac Island) – Split
Distance: 11 NM
On your last day, set sails from Milna back to Split.
And please don't skip Split, don't take it just as a port town. Because Split is so much more than that. It's actually one of our favorite places in Croatia. Split's main attraction is the Diocletian's Palace. This is not a common monument; unlike many other, this palace is actually a living and breathing city.
Split has excellent restaurants, its residents have a fun spirit and unique approach to life, the women here are of impressive beauty. Split is getting very popular, and can be a bit crowded depending on a time of the year you visit. But there are still less visited corners, where you can avoid hustle and bustle. Our favorite quarter is Varos.
If you need any additional information regarding sailing in Croatia, drop us a line. If you need more info on yacht charter, head here. If you prefer a sailing as a part of tour, Sammi, our blogging buddy, put for us a post on Sailing Week in Croatia as a part of group tour.
Croatia Sailing  Itinerary: a route on the map

Have you already sailed in Croatia? Do you find this sailing Croatia itinerary interesting? Let us know in the comment below. 
All images (except the first one) are provided by Ante from the Charter Croatia.