When thinking of hotels in Croatia, luxury hotels don't really come to my mind immediately. However, there are some luxury hotels in Croatia worth knowing about where you'll feel like royalty.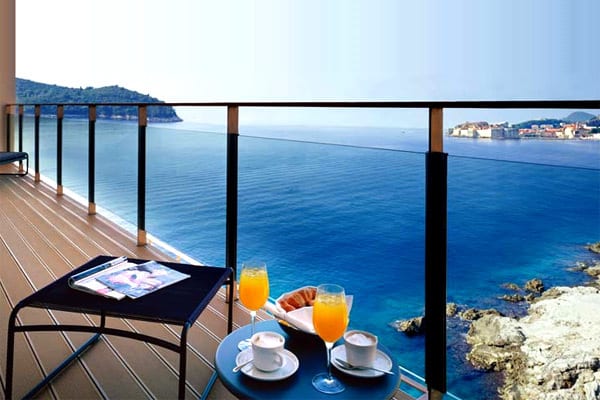 Where to find luxury hotels in Croatia
Luxury hotels in Rovinj
Our personal favorite luxury hotel, Monte Mulini, is located in Rovinj. Monte Mulini is a member of the Leading Hotels of the World, one of the largest luxury hotel collections in the world. All 113 rooms and suites are spacious and comfortable, with en-suite bathrooms featuring double sinks, a walk-in shower, and a bathtub. Each room comes with a balcony or a terrace. The hotel has a spa & wellness center with an indoor pool, a heated outdoor pool, and two on-site restaurants – Mediterraneo and the Wine Vault. Hotel beach is just a few steps away. It's an exclusive beach club for hotel guests with locker rooms, sunbeds, and a beach bar.
Next to Monte Mulini, you'll find a sister hotel Lone, owned and managed by the same Croatian hotel chain – Maistra. Lone is a 5star property but it prides itself more as being a lifestyle than a luxury hotel. Aimed at the younger crowd, this 248 room property, is the first Croatian design hotel. It features a sleek and modern design, a wonderful outdoor swimming pool, and a large spa & wellness area with an indoor pool. On-site restaurant L serves a fusion of Asian and Croatian food.
In the old town Rovinj, we love a newly renovated Art hotel Adriatic. This small boutique hotel was refurbished in 2015 to the highest standards. The hotel features 18 individually designed rooms, a wonderful French brasserie, and a bar. The entire hotel features unique art pieces by world-renowned contemporary artists.
Another luxury property in Istria worth a mention is the Kempinski Hotel Adriatic. However, while this property has all bells and whistles that come with the Kempinski brand, its location in Savudrija makes it a bit unattractive for a stay in Istria.
Luxury hotels in Split
Located 15 minutes drive from Split, hotel Le Meridien Lav has 380 rooms and suites. And while it features really good facilities, like spa & wellness center, indoor infinity pool, a choice of restaurants and bars, almost a 1km long beach, and its own marina, this resort is way too large for our taste.
Newly open, hotel Park, is the only 5star property in Split. Located in a historical building dating to 1921, the hotel Park features 73 rooms and suites, an outdoor pool, a small spa & wellness area, a gym, a bar, and a restaurant. The hotel is close to Split's popular Bacvice beach.
There are also two small family-run hotels in Split's old town. While the hotels are officially 4star properties, their impeccable service and amazing location make up for a lack of real luxury. Hotel Vestibul Palace has only six rooms, and it's set in a building dating back to the 4th century. Rooms are contemporary-designed, but a bit small. Heritage hotel Judita Palace is set in the Pavlovic Palace dating back to the 16th century. Rooms are spacious, well-appointed, and elegant. The staff is super-friendly.
Luxury hotels in Dubrovnik
In Dubrovnik, don't miss the Villa Dubrovnik. This small luxury hotel features 56 sea-facing rooms, a dramatic cliffside elevator, a small spa, a swimming pool, and a cozy rocky beach. Service is outstanding.
Hotel Excelsior is famed for its location, right out of the city walls, with magnificent views over Dubrovnik city walls. The hotel features 158 rooms, a spa & wellness center, an indoor pool, and a private beach.
Luxury hotels in Zagreb
Last but not the least, Hotel Esplanade in Zagreb was originally built in 1925 to provide rooms for Orient Express travelers. Esplanade Hotel is located next to the central train station. It features 205 rooms and a popular Le Bistro restaurant.
Did you stay at any luxury hotel in Croatia? Do you plan to stay? Let us know in the comments below.
Have a question? Leave it in the comments below.