If you would like to know where to eat in Split, in this post we share all of our favorite Split restaurants.
We love eating out in Split! Anytime we travel south, we stop in Split just to try out another Split restaurant. The only problem with restaurants in Split is the constant change: the old favorites changing hands, or just losing their charm and quality (hello Fife!), and new ones emerging, just to see them changing a chef or a concept and then losing it again or closing permanently (like O'Zlata).
But don't worry, we keep track and keep this list of the best restaurants in Split updated.
Anyways, first things first, similar to other places in Croatia, 90% of the Split restaurants serve the same menu. It is a grill, pizza, pasta, or risotto. Full stop.
However, there are always restaurants that are trying harder than others to stay true to themselves and their heritage, using local produce, serving traditional and regional dishes either in a fine dining manner or in a casual setting.
Below is our list of Split restaurants not to miss on your next visit to Split.
Top Split restaurants
NO TIME TO READ THE ENTIRE POST? HERE ARE OUR FAVORITE RESTAURANTS IN SPLIT, CROATIA!
Upscale and fine dining
If you are looking for that one place for a special occasion, you might consider the restaurants listed below. They all use fresh local produce to prepare mouth-watering and eye-appealing dishes, and they are at the higher end when it comes to price.
Expect to pay anywhere between 350 to 500 Kn (50 to 70 €) per person for a three-course meal with wine.
Zrno soli
Zrno soli is a fine dining restaurant located in the town's marina. The restaurant has a beautiful terrace overlooking the sea, boats in the marina, and the town. The view over the lighted town is especially nice at nighttime. The food is fresh, well-cooked, innovative, but it is not spectacular. However, it is a very good restaurant with beautiful views and friendly and efficient service. This is an upscale restaurant and the prices are high (as expected for such a place). This is one of the fine dining Split restaurants.
Contacts | a: Uvala baluni 8, Split | t: +385 21 399 333 | e: zrnosoli.split@gmail.com
Restaurant Dvor
Stunning location, literally two steps from the beach, the most beautiful terrace, dangerously good food, and Hrvoje Zirojevic, one of Croatia's best chefs in charge of the kitchen, are reasons why locals love eating in the restaurant Dvor. Under the attentive eye of chef Hrvoje Zirojevic, the team of chefs prepares top-quality and creative dishes such as raw tuna stuffed with goose liver, pork crackling candy with bacon chips, smoked sea risotto, or ravioli in wild rabbit sauce. Their meat and fish dishes are also good (although we prefer their selection of cold and hot starters), many are prepared on a charcoal grill, and they have very good desserts.
Restaurant Dvor is located a 20-minute walk from the old town. Make a reservation in advance to get one of their best tables. The place is not cheap, but it is a good value for money.
Contacts | a: Put Firula 14 | t: +385 21 571 513 | e: dvor.split@gmail.com | Facebook Page
Restaurant Kadena
Braco Sanjin, a chef in charge of Kadena's kitchen, is a well-known and established name in the Croatian restaurant world. Along with Hrvoje Zirojevic and Ivan Pazanin, he is a leader of the Split gastronomic scene.
In Kadena, you can expect imaginative dishes based on the best local ingredients and inspired by traditional Croatian cuisine, but prepared and presented in a modern way.
The restaurant is located in the Zenta neighborhood. This is an upscale restaurant, serving Croatian classic dishes in an elegant way. From the outdoor terrace, Kadena offers wonderful views over the sea and the nearby islands of Brac and Solta. While we can only say the best things about Kadena's food and service, we find that the restaurant is rather too large for our taste.
Contacts | a:Ivana pl. Zajca 4, Split | t: +385 21 389 400 | Website
Konoba Nikola Stobrec
This family-run tavern is one of the most popular places to have seafood in and around Split. The seafood here is fresh, local, and simply as good as it gets. The food here is prepared in a simple way, so fish remains flavorful and tender. A bit hard to find, and outside of Split, in neighboring Stobrec, but well worth the trip. If we had to choose only one restaurant in Split to eat at, that would be konoba Nikola.
Contacts | a: Ivankova 42, Stobrec, | t: +385 91 1110 113 | Tripadvisor
Mid-scale local restaurants
You will notice that lots of restaurants in Croatia use the word konoba. It is a typical restaurant found in coastal Croatia. It usually has a simple rustic interior (think wooden beams, exposed stone walls, wooden benches, and alike) and it serves regional specialties prepared in a traditional way.
Originally, konoba served simple, tasty, nutritious, and affordable dishes. However, today even Konoba can be upscale and serve dishes of 100 Kn and more (like konoba Nikola described above, under the upscale section).
But many places call themselves Konoba these days. So we shortlisted here ones that we find worth visiting.
Expect to pay 200 to 250 Kn (27 to 35 €) per person for a three-course meal with drinks. An average price of a dish is around 80 Kn, but within the menu, you will find many dishes in the range of 60 Kn (8 €). So, here you can eat cheap or expensive, depends on your mood and the type of dishes you choose.
Konoba Fetivi (ex. Matejuska)
Konoba Fetivi (ex. Matejuska) is located close to the harbor. It's a small, family-run restaurant with a great atmosphere and excellent food. The restaurant can accommodate approximately 30 people, half inside, and a half at their outdoor terrace. Reservations are needed, especially during the summer.
Tavern offers traditional regional dishes mostly based on seafood, but they have meat dishes as well. Offer changes with the season. Food is prepared in a simple way. Everything served here is very fresh and tasty. The service is friendly. This konoba is more expensive than the others listed here. It is one of the highly recommended Split restaurants.
Contacts | a: Tomića Stine 3 | t: +385 21 355 152 | Facebook Page
Villa Spiza
Villa Spiza is a tiny, charming restaurant located in a small alley in the old town. This little hole in the wall place could be a bit difficult to find, but don't just give up. If you get lost, just ask locals. There are only two tables for two outside and a counter seating for 7-8 inside. Counter seating inside has direct views over the kitchen.
The food is fresh and locally sourced. There is a daily menu based on what's available and fresh. If you are looking for a fine dining and intimate atmosphere, this is not a place for you. But if you like authentic, fresh, and unpretentious food, prepared in a simple way, this is a place to choose.
Prices are reasonable. Portions are a bit moderate, but it is still great value for the money. Now that Fife lost its touch, Villa Spliza is our favorite place to eat in Split. This is one of the must-visit Split restaurants.
Contacts | Kružićeva 3 | m: +385 91 152 1249 | Facebook Page
Tavern Kod Hvaranina
Tavern Kod Hvaranina is a shabby looking restaurant, just out of the Palace walls. The restaurant has a really weary look, but the food is very good. Besides, I like places with such an interior as they make me feel nostalgic, reminding me of some other times.
It is a small, family-run restaurant, and you feel it. The food is homely, fresh, and tasty. They serve a very good traditional baby beef stew with gnocchi (Cro. pasticada). Seafood served here comes from local fishermen. Service can vary from great to poor. Prices are reasonable.
Contacts | a: Ban Mladenova 9, Split | m: +385 91 767 5891
Uje Oil Bar
Uje Oil Bar is a tapas-style restaurant, located at the heart of Split old town. The place has a very good vibe, friendly staff, tasty food, excellent choice of olive oils and wines. The food is served on wooden boards and in tinware. The warm dishes' menu is updated daily, while cold cuts, marinated fish, and a choice of olive oils are available daily. Prices are reasonable.
Contacts | a: Dominisova 3, Split | m: +385 95 200 8008 | Facebook Page
Articok
The Articok is not a typical konoba. It is a tiny, modern restaurant just outside the Diocletian's Palace. They try to distinguish themselves by some original and quirky dishes, like gin gazpacho or gnudi pasta. However, the place is not pretentious. In fact, the service is one of the friendliest you'll find in all Split restaurants.
Prices are a bit high while the portions are a bit small. However, the food is fresh, tasty, innovative, and definitely worth a visit.
Contacts | a: Ulica bana Josipa Jelacica 19, Split | t: +385 21 819 324 | Website
Konoba Matoni
This lovely tavern with vaulted ceilings is located near Bacvice beach. It offers a typical Dalmatian (Mediterranean) dishes, made of fresh, locally sourced ingredients.
It's a real gem, and one of the rare places in Split where vegetarians (and even vegans) can indulge in more succulent and elaborate food (instead of eating side dishes in fish / meat-focused restaurants). The menu changes seasonally.
Contacts | a: Prilaz brace Kaliterna, Split, | t: +385 21 278 457 | Website
Corto Maltese
Opened in April 2015, Corto Maltese quickly gained regular patrons for its cozy interior, laid-back atmosphere, friendly staff, great food, big portions, and affordable prices.
Food is fresh and made on the spot. Corto Maltese is more of a hangout place than your typical restaurant. It serves breakfast, lunch, and dinner, but you can also just pop up here for a coffee, or a local beer. Good value for money.
Contacts | a: Obrov ul. 7, Split, | t: +385 21 587 201 | Tripadvisor
Movi
We like this unpretentious restaurant located in Firule neighborhood, just across the tennis courts. The food is excellent and super fresh. Besides the items on the menu, there are always a couple of daily dishes written on a chalkboard. We always go with the daily dish and have never had a bad meal here.
Prices are affordable, and the staff is friendly.
Contacts | a: Put Firula 47, Split, | t: +385 21 571 540 | Tripadvisor
Pizzeria in Split
Many places in Split feature pizza on their menu. I used to love eating pizza in Croatia. Many places had a wood-burning oven and made a thin crust pizza. And, many still do. However, in the last years, I found that pizzas got worse, and mostly due to using bad quality cheese (if that sticky mass is cheese at all).
So now, we don't eat pizza any longer in just any pizzeria in town. We look for specialty pizzerias. The ones that use only top-notch ingredients even if that means paying 30% more than you would pay for the same pizza in ordinary pizzerias.
Pizza starts at around 60 Kn per simple Margherita and can go up to 100 Kn depending on the garnishing.
Our favorite pizzerias in town are BASTA and BOKAMORRA.
Food & Wine Bars
Sometimes we just feel like having few tapas, or a board of cheese and prosciutto, and not a full meal. In this case, you can stop by a few food and wine bars in Split.
The same goes if you are a wine aficionado. It's not always easy to pick the wine you like among so many labels that you aren't familiar with. Thus, the best way to make yourself familiar with Croatian wines is through a wine tasting.
This way you can sample various wines, and do so under the guidance of a skillful local sommelier. Here are some of our favorite wine bars in Split.
MoNIKa's Wine Bar
MoNika is a great little bar with a cozy interior, central location, friendly owner and staff, and perhaps the best wine tasting in town. Paired with the wine, the bar also serves tasteful tapas.
The owner, Monika, is a sommelier and winemaker herself, and many of the wines included in wine tasting come from her family's estate.
A must-visit bar if you like wine!
Contacts | a: Ban Mladenova 1, Split, | t: +385 98 177 6162 | Facebook
Wine & Cheese Bar Paradox
Wine & Cheese Bar Paradox is the most popular Split restaurant on Tripadvisor. This is not a full-service restaurant. It is a wine & cheese bar, offering over 100 wine labels (many of them served by the glass) and choice of small bites (cheese, prosciutto, olives, etc.). It is well located, just a couple of minutes' walk from the Palace.
The staff is very knowledgeable and eager to help you to choose food and pairing wines. This is very helpful, especially if you are not familiar with Croatian wines. It can be crowded on summer evenings, especially over the weekend.
Contacts | a: Poljana Tina Ujevica 2, Split | t: 021 395 854 | e: fiatlux.split@gmail.com | Facebook Page
Food & Wine Bar Zinfandel
Food & Wine Bar Zinfandel is located in the old part of Split. The place is modern and chic. The design is contemporary with brick walls and big floor to ceiling windows that can open completely.
Zinfandel has over 100 international and Croatian wines on offer, as well as a wide choice of seasonal tapas and cold platters. Look for their lunchtime specials when you get a free glass of house wine with food, or sometimes they just put all the items on the menu at half price.
Contacts | a: Ulica Marka Marulica 2, Split | t: 385 21 355 135 | Facebook Page
Bokeria Kitchen & Wine
Bokeria is a new star on Split's restaurants' sky. Open in 2015, the owners of this place were inspired by Barcelona's famed market – La Boqueria. This is the exact vibe they created in their restaurant in Split.
The two-story interior is beautifully decorated, modern, and airy. The menu includes a selection of Croatian tapas-style dishes, but also full meals. The menu changes seasonally. Excellent choice of Croatian wines!
Contacts | a: Domaldova 8, Split | t: +385 21 355 577 | Facebook
Best restaurants in Split to have breakfast
Croatians aren't big breakfast eaters unless you consider a coffee as a food. Therefore, restaurants serving breakfast or brunch didn't exist just a couple of years ago.
But in the last few years, restaurants serving breakfast starting popping up. Whether your morning routine includes eggs, bacon, avocado toast, or a smoothie, you'll be able to enjoy it in Split.
Here are two of our favorite breakfast spots in Split. Both places also serve lunch and dinner.
Kat's Kitchen Deli
Located a little bit out of the center, close to Mestrovic Museum and Jezinac beach, Kat's Kitchen Deli is kind of a hidden gem, frequented more by locals than tourists.
The restaurant serves breakfast, brunch, and lunch, but no dinner. They use organic and locally sourced ingredients, free-range eggs, and the dishes are artfully presented on plates. This is also a good place for vegans and vegetarians.
Classics include dishes like protein omelet, their own homemade almond milk, raw cakes, and innovative salads. This is a great little place with tasty food and friendly staff. Besides items on the menu, Kat's Kitchen Deli offers one main dish and one salad that changes daily. Definitely worth a visit!
Contacts | a: Ulica Antuna Mihanovica 33, Split | t: +385 21 582 880 | Website
Ciri Biri Bela
A lovely courtyard terrace, fresh local ingredients, innovative dishes, extensive wine, and cocktail list and friendly staff make Ciri Biri Bela a popular eatery for locals and tourists alike. They serve breakfast, lunch, and dinner. But, unfortunately, are closed off the season, from November to April.
They offer a great variety of dishes for breakfast from poached eggs and omelets to fresh salads and fruit platters, and everything in-between, even the New York-style bagels.
Contacts | a: Plinarska ulica 6, Split | t: +385 95 798 4963 | Website
The best vegan and vegetarian restaurants in Split, Croatia
Eating vegetarian in Split isn't all that difficult. Although you will find yourself more often picking things you can eat from the ordinary menu than reading through a thoughtfully crafted menu with vegetarians in mind.
Vegan, on the other hand, is still a kind of vague term in Croatia, especially in smaller towns and villages where you might have trouble finding things to eat in the restaurants. Luckily, Split isn't one of those places. In Split, there is a decent number of restaurants with various vegan and vegetarian options.
Some of them we have already mentioned above, like Kat's Kitchen Deli and Ciri Biri Bela. Both use organic local produce and offer a variety of dishes that suit a vegetarian and vegan diet. And if they don't fit completely, the kitchen staff is ready to adjust the dish to your dietary style. Just talk to them.
Some of the other vegetarian- and vegan-friendly restaurants in Split we list below.
Restaurant Makrovega
Restaurant Makrovega is the only fully vegetarian and vegan restaurant in Split.  They offer various snacks and sandwiches, as well as a daily buffet.
Contacts | a: Leština 2, Split | t: +385 21 394 440 | Website
Marta's Veggie Fusion
A tiny cafe serving vegan dishes, raw cakes, freshly squeezed juices, and a surprisingly good choice of Croatian and international craft beers. The menu is quite diverse offering bowels and burritos, as well as various plates and salads. With an open concept kitchen, the staff prepares yummy healthy dishes right in front of you. Marta's Veggie Fusion is a must-stop restaurant in Split for all vegetarians and vegans.
Contacts | a: Kresimirova 8, Split | t: +385 21 553 748 | Facebook
Pandora GreenBox
This beautifully decorated restaurant serves yummy vegan and vegetarian dishes like beetroot risotto, eggplant parmigiana, pea soup with smoked tofu, etc. They also have a good choice of freshly squeezed juices, smoothies, a good choice of wines, beers, and cocktails. Prices are moderate, averaging about 70 Kn (10 €) per dish.
Contacts | a: Obrov 4, Split | t: +385 21 236 120 | Facebook
Bakeries in Split
Bakeries in Croatia are extremely popular, and Split is no different. You'll find them on every corner in the town.
The majority of bakeries in Split offer white bread in various forms like baguettes, loaves, rolls, etc.. Other popular items to find in the bakeries include various kinds of sweet and savory pastries including phyllo dough pies with different fillings (burek), a sweet roll buhtla made of yeast dough, and filled with jam or chocolate, croissant, donuts, etc.
Bakeries can be a great place to have a cheap and quick bite on the go. You can grab something for as cheap as 1 or 2 €.
Locals claim that Pita-Jelo in Put Plokita 81 Street makes the best burek in town. The Kruscic in Obrov 6 Street is the best artisan bakery. A chain of bakeries Bobis is a real Split institution since they've been serving bread and pastries since 1949. Bobis also makes traditional cookies and nougat that you can take home as a souvenir or a gift for someone.
Where to eat the best desserts in Split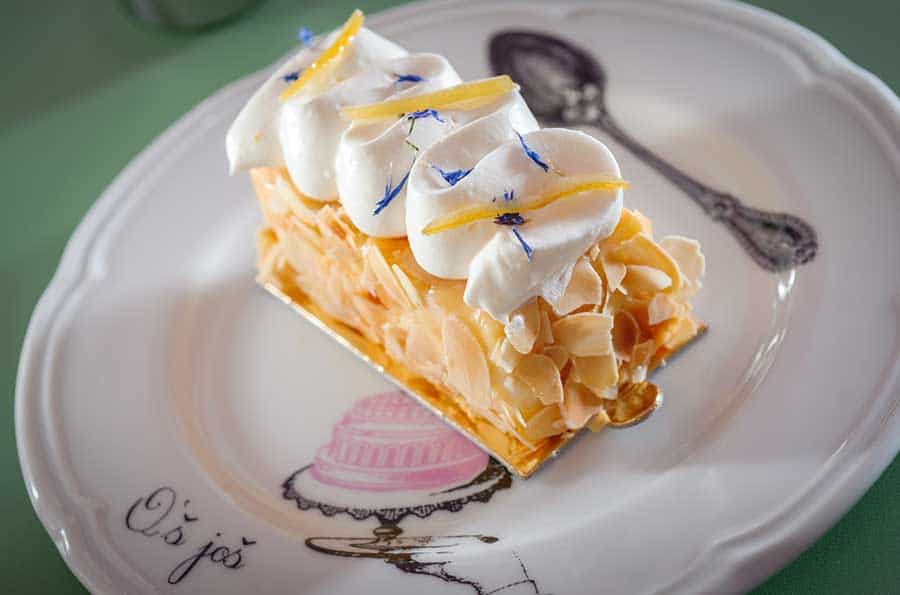 All the restaurants listed above serve also desserts, but desserts aren't their specialty. Lately, as Vera and I try to eat healthier, and more consciously if we are already to have something sweet, we better make sure we have something super special and tasty, something worth taking all that sugar that sweets normally contain.
For us, this usually means not having the dessert as a part of the meal, but on a separate occasion throughout the day. And this also means eating it at the best pastry shop in town!
If you are looking for that kind of place, below are our suggestions for the best places to have a dessert in Split.
Os kolac
Os kolac, in our opinion, isn't only the best cake shop in Split, but in all Croatia. If you like sweets, you absolutely must visit this place.
The owner and the head pastry chef, Tea Mamut, not only studied pastry at the prestigious Culinary Institute of America, but she also worked in two famed New Your City restaurants – Jean Georges and Daniel, and learned the skill alongside the best international pastry chefs, like Dominique Ansel, Johnny Iuzzini, and Rene Frank,
All this experience as well as her passion for pastry shows in the cakes she makes. They are simply another level and some of the best we ever had.
Contacts | a: Ciril Metodova 4, Split | t: +385 21 480 444 | Website
Luka's Ice Cream and Cakes
If you feel like having ice cream, head to Luka's Ice Cream and Cakes shop.  We find Luka's Ice Cream the best in town. There is a great variety of flavors with new flavors being introduced on a daily basis. Don't miss his lavender or yogurt and rosemary ice cream.
Contacts | a: Svaciceva 2, Split | t: +385 91 908 0678 | Facebook
Fast food & cheap eateries in Split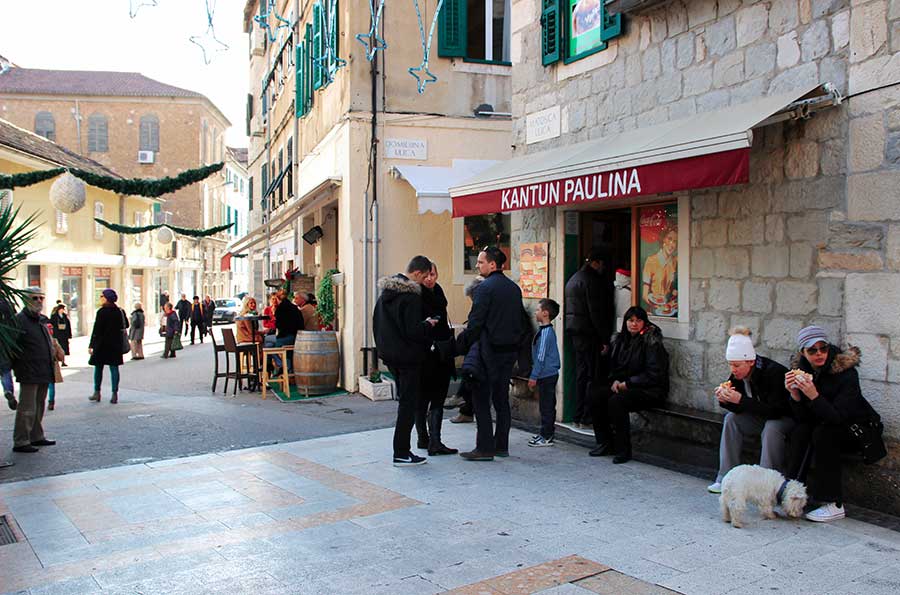 Fast-food eateries are popular in Split, In fact, you"ll find them scattered throughout the town, from places serving pizza cuts, sandwiches, burek with various fillings, to international fast-food chains like McDonald's, and KFC.
Below we list a few of locals' favorite fast-food and cheap eateries in Split.
Rizzo Sandwiches
Rizzo has been serving sandwiches in Split since 1992, and today it has four locations in Split. They have a great homemade bread (the secret of a good sandwich is in good bread), and a variety of subway style sandwiches, as well as bruschettas. Sandwiches come in two sizes: big, and small. Prices vary from 12 to 20 Kn depending on stuffing. You can also choose extra ingredients for an additional 2 Kn per ingredient.
Contacts | a: Tonciceva 4, Split, | Tripadvisor
Kod None
A no-frill grab-and-go kind of place serving good old greasy full-of-carb food, like fried calamari, pizza, cevapi (sausage-shaped grilled minced meat), pljeskavica (Balkan-style patties), soparnik (Swiss chard pie), and alike. Great place if you feel like having a bite on the go, getting full quickly for very little money.
Contacts | a: Bosanska 4, Split
Tavern Tri Volta
Tavern Tri Volta (Zalogajnica Dioklecijan) is a truly special place for the people of Split. This restaurant has been here for 40 years. There are no fancy signs, and very few tourists come in.
The place is not decorated in a fashionable way. The crowd is mixed, young and old, many people know each other, and the atmosphere is convivial.
The food is honest, homemade, it is an excellent place to taste working-class Dalmatian plates. I love this place and the story about it. For those of you who understand Croatian, there is an excellent interview with the owner of the restaurant in Slobodna Dalmacija.
Contacts | a: Dosud 9, Split | t: +385 21 346 683
Kantun Paulina
Kantun Paulina, located in the Varos neighborhood, is a takeaway joint, serving the best cevapi in Split for over 37 years. They also serve other fast food like beef patties and grilled chicken breasts. It's cheap. There is always a queue (should be a good sign!).
Contacts | a: Matosica 1, Split
Where to eat in Split, Croatia: Location on the map
Have you eaten in any of Split restaurants? What kind of restaurants do you choose when visiting a new place? Let us know in the comments below.
Further reading