We've heard people talking about the restaurant Azur Dubrovnik, and we were really curious to try it out. Located in an alleyway close to a popular "hole in the wall" Buza bar, Azur serves an Asian-Mediterranean fusion food.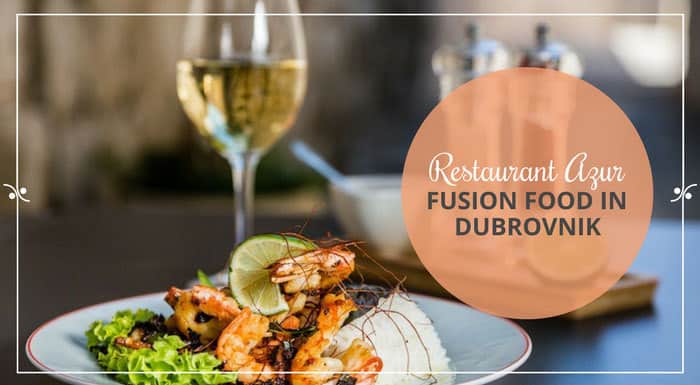 The place is tiny with maybe 20 places inside, and an outdoor terrace that can accommodate around 40 people. The outside terrace is laid in three small side streets with bistro-style tables and a couple of high tables with stools. An open-style kitchen allows you to actually see the cooks at work.
Our experience at the restaurant Azur Dubrovnik
When our work brought us back to Dubrovnik this week, we finally made it to Azur. We were a group of six, and we ordered a variety of dishes that we all shared. A one-page menu comprises maybe 20 dishes including a couple of dips, rice noodles, curries, starters, main courses, salads, and desserts.
The food at the Azur Dubrovnik
We've ordered both dips: a roasted almonds baba ghanoush and fennel tzatziki. Dips came with a baguette-style bread and a flatbread. Dips were OK, although a bit too liquid for our taste.
We've continued our meal with a choice of starters including wasabi salmon pouches, cashew nut prawns, and a Thai-style beef salad. The wasabi salmon pouches were tasty, but the other two dishes were really extraordinary. Thai-style beef salad was yummy, with tender, thin-cut beef, shredded green salad, and red radicchio. Cashew nut prawns were awesome and remained our second favorite dish of all dishes that we tasted that evening at the Azur.
We've ordered all four main dishes that Azur had on its menu at that time. A crispy skin salmon was OK, but nothing to write home about (I don't know why Croatian restaurants keep insisting on salmon when there are other local fish they could serve). A swordfish in black curry sauce was interesting. Not our favorite of the evening, but certainly tasty and well prepared. Meatballs in coconut curry sauce were excellent. Perfectly seasoned, and dipped in a sweet and spicy coconut curry sauce, meatballs were our contender number three.
A seared tuna served with radish sprouts, sesame oil, and crushed cashew nuts was absolutely succulent, and our favorite dish of the evening. Tuna was first marinated, then seared and served as tagliata (sliced tuna steak). We ordered an additional two portions of seared tuna and two portions of cashew nut prawns.
For a dessert, we had a choice of baklava and coconut tapioca pudding. We all ordered coconut tapioca pudding that was fine although nothing special.
The Azur has a nice wine list with about 7-8 white and red wines, 2 rosé wines, and 2 sparkling wines. All of the wines are Croatian. No dessert wine is available. Chardonnay Galic perfectly accompanied our meal.
Prices at the Azur Dubrovnik
Starters were about 7 €, noodles and curries go for about 18 € per portion, while the main course set us back around 20 €. The wine was expensive, but not more than in other Croatian restaurants. Bottled wine tends to be expensive when ordered in restaurants in Croatia. The cheapest bottle was selling for 20 €, and the most expensive red wine was over 60 €.
Final verdict
An interesting restaurant to visit when you are in Dubrovnik and it makes for a nice change to classical Croatian dishes that most Dubrovnik restaurants offer. The location is quiet, yet just a few steps from Stradun, the main street in the old town. Portions are small, while the prices are on the high end. The food is tasty and well prepared.
The restaurant Azur Dubrovnik describes its cuisine as Mediterranean cuisine with an Asian twist. And this is exactly what they offer. If you like a fusion of Asian and Croatian cuisine, the Azur will certainly meet your expectations. We also highly recommend dining at the Oyster & Sushi Bar Bota.
Restaurant Azur Dubrovnik: Contacts
Contacts: Address: Pobijana 10, Dubrovnik | Telephone: +385 20 324 806 | Website | Tripadvisor
Further reading
If you are planning a visit to Dubrovnik, you can check our other Dubrovnik posts including
What's your favorite restaurant in Dubrovnik? What kind of restaurants do you look for when visiting a new place? Let us know in the comments below.