Croatia is a wonderful country famous for its pebble beaches, crystal clear Adriatic sea, more than a thousand islands, mountainous coastline (creating lots of opportunity for stunning views), sublime food, and great wines. We also love it for its friendly people, small sleepy villages, safety, and cleanliness (this country is extremely clean; you can literally eat from the floor wherever you go).
Croatia has so much to offer to its visitors and choosing only ten things to do in Croatia is a hard task to do. Croatia has been developing its tourist offer rapidly, and today, regardless whether you are an outdoor enthusiast looking for adrenalin pumping activities,  a couple in search of romantic places filled with culture and history, or a family traveler looking to relax and enjoy kids friendly activities, Croatia won't disappoint you.
You'll find here interesting architecture, excellent food and wine, tons of historical, cultural and natural sites to take your breath away (7 Unesco World Heritage sites, and 8 national parks), great beaches, and loads of activities to do: from rafting, kayaking, sailing, kite-surfing, to zip-lining, truffle hunting, paragliding, and rock climbing.
What to do in Croatia: things to do in Croatia
Hit the beach
Obvious?! Certainly, but this is not a list of the less popular things to do in Croatia. This is the list of the top ten things to do in Croatia. Sunbathing and swimming are still the number one reasons people visit Croatia. Thus, keep reading!
The best beaches in Croatia, you'll find in Dalmatia (Croatian coastal region from Zadar to the north to Dubrovnik to the south), and more precisely you'll find them along  Makarska Riviera. Turquoise crystal clear sea, hidden coves, and miles of white pebble beaches lined with fig trees and olive groves are ultimate reasons for so many tourists to visit Croatia every year. The most popular beaches in Croatia are Zlatni Rat Beach (Golden Horn) in Bol, on the island of Brač, and the Punta Rata beach in Brela.
While we love Croatian pebble beaches (yes, we love them more than sandy beaches!), we understand that many visitors to Croatia still prefer sandy beaches. No worries 'cause Croatia also has sandy beaches if that's what you are looking for. However you won't find them everywhere, and they aren't white sandy beaches as you might imagine them. But the rest is assured: sandcastles, shallow and warm water, beach bars, a game of volleyball or picigin (a local game played in shallow water with a small ball), and windsurfing. Since these beaches aren't so easy to find, we put up a list of sandy beaches in Croatia to help you start your quest for a perfect Croatian sandy beach.
Go snorkeling and scuba diving
Croatia isn't the most famous place in the world for snorkeling. The Adriatic Sea is not the Red or the Caribbean Sea. I'm not going to kid you; the Adriatic Sea is not full of colorful fish or coral reefs. As a matter of fact, this photo below is not even taken in Croatian waters. Yet, tourists and locals enjoy snorkeling and diving in the Adriatic Sea. And we'll tell you why. We'll tell you what makes snorkeling and diving in Croatia so interesting.
First of all, don't forget that the Croatian coast is mostly rocky, and the beaches are pebbly. This kind of seabed gives really good underwater visibility and makes it perfect for snorkeling or diving. The second reason that puts us at ease when snorkeling and diving in Croatia is the fact that in the Adriatic sea you won't find dangerous sea creatures (like sharks, or barracudas). The third reason you'll really enjoy the underwater world in Croatia, and even more so if you go scuba diving, is the fact that there is a long seafaring history in the Adriatic dating back to ancient times.
All along the Croatian coast, you can witness historical seafaring through many shipwrecks, underwater in situ museums, cargo loads like ancient amphorae used for transport of olive oil and wine. There are 8 in situ underwater museums in Croatia with remains of ships and cargo dating back to 1st century BC. Besides shipwrecks from the ancient times, you'll also find lots of war shipwrecks like  Baron Gautsch shipwreck off the coast of Rovinj, or Taranto shipwreck near Dubrovnik.
As for the reefs, caves, and walls there are some really popular diving sites in Croatia. Te Vega Sea Lake is on the island of Susac southwest of Korcula. You can reach this sea lake by an underwater tunnel. Bisevo Cave near the island of Vis is also known as Blue Cave. It offers an amazing dive. Off the island of Hvar, there is a reef coated with green, brown, and red algae and yellow coral.
Impressed? Read our detailed guide on snorkeling in Croatia.
Go sailing
Here, Croatia rocks! It's a paradise for sailing holidays. Sailing is actually the best way to see the coast and to enjoy fully its beauty. You can rent a sailing boat with or without crew if you don't already own one. Many charter companies offer sailing boats, motor yachts or catamarans to rent. Rent is usually weekly, and the prices vary according to the season, a type of boat, and additional services you might need (a skipper, a cook, or entire crew). For a 12 m long sailing boat for 6 people expect to pay a weekly rental anywhere between 1.700 € (off-season) to 3.200 € (high season).
However, you don't need to be filthy rich to experience Croatia from the sea. There are also many companies offering gulet cruises along popular sailing routes in Croatia. Rent a cabin on a gulet and enjoy a sailing week in Croatia.
Discover hidden coves, beautiful bays full of lavender scent, and deserted islets with ancient olive groves. Enjoy fresh seafood and exquisite wines in local restaurants in the remote bays. Or just anchor anywhere and soak in the Adriatic.
If you are new to sailing around Croatia, maybe our introduction guide on yacht charter in Croatia can give you a better idea of what to expect.
Go on a wine tour
Wine is an important part of the Croatian lifestyle, and it has always played an important role in the country's economy. Viticulture in Croatia dates back to times of ancient Greek colonists. They were the first ones to bring vine to the islands of Vis, Hvar, and Korcula.
Many indigenous grape varieties are still found in Croatia (like red variety Plavac mali or white variety Istarska Malvazija). The winemaking history in Croatia was somehow turbulent (as many things in Croatia are). During the communist rule, the wine was mostly produced in large cooperatives, all belonging to the State. One wouldn't say that the quality really mattered back then. However, since the mid-1990s, a new generation of winemakers in Croatia decided to make quality Croatian wines. And this quest has never stopped since.
Today we can say that Croatia has a long history of winemaking, a wide range of indigenous grape varieties, and lots of geographically defined wine regions. All over the country you can visit gorgeous wine cellars and tasting rooms, neatly planted vineyards (some with amazing views over the sea; particularly areas of Dingač, Postup, and Komarna in Dalmatia), and find your way around driving on Croatian wine routes (each one will inevitability bring you to yet another winemaker).
Either book a wine tour or just hop in the car and explore wine cellars on your own. You'll have lots of fun. And you won't stay thirsty. Here is my list of Istrian winemakers to help you plan your ride on Istrian wine routes. You can also read about  top five wineries in Istria worth a visit. You're welcome!
We've also had a post on Wine tasting on the Peljesac peninsula, as well as in-depth posts on our visits to Saints Hills Winery, Milos Winery, and Rizman Winery.
P.S. This is my kind of activity. And I practice it often. But I shouldn't be telling you about that. Croatia is definitely the land of wine.
Island hopping
I've already told you that Croatia has over 1.000 islands. That's a lot. Islands are special. And everything about the islands makes me dream. Each of them is like a country for itself.
The way of life on Croatian islands is stunning, at least for me. Sometimes, it feels like the time has stopped. And I mean in it in a good way. Roads are narrow. You'll see goats and sheep grazing, old women with scarfs around their heads, men playing bocce. It looks like a novel and not real life. Of course, not all of the islands are the same; neither all the towns on the same island are the same. Some offer peace and quiet, others offer 24-hour parties.
Some of the most popular Croatian islands are the island of Brač, famed for its gorgeous beaches, food (particularly olive oil, sheep cheese, and mandarins), and white stone; the island of Hvar, a popular playground for rich and famous; the island of Korčula, a home to Marco Polo; and islands of Krk, Cres, and Lošinj to the north. However, you don't always need to follow the steps of every other visitor to Croatia. Check the small island of Silba, off the coast of Zadar; the Elafiti islands, off the coast of Dubrovnik; or undiscovered gems like the islands of Vis and Lastovo.
We recently spent a weekend on the island of Brač. And we've enjoyed it so much.
The best way to discover Croatian islands is to go Island hopping. You can hop between the islands on the ferries, catamarans, and passenger boats, on your own sailing boat, or book an island-hopping cruise.
However, hopping from one island to another using ferry, with or without your own car, needs to be carefully planned. You need to check ferry schedules and plan with crowds (don't just assume you'll appear in a port and board the next ferry). While traveling from island to island on a boat can be easier without a car than with a car ('cause there are many passenger boats and catamarans connecting one island with another), to move around an island without a car can be very difficult.
A little bit of planning is needed, but you'll enjoy the Croatian islands a lot. That, I am quite sure!
Eat your way through Croatia
Let me tell you this: food in Croatia is awesome! We are always looking for a new place to eat, new olive oil to taste or a new recipe to try out at home. Croatians mainly use seasonal ingredients, their food is influenced by many neighboring countries, but yet it's original in its own way. At the coast Croatian cuisine is a typical Mediterranean cuisine with lots of veggies, fish, and other seafood, and one of the best olive oils I have eaten in my entire life. If you are in Croatia, particularly in Istria, you need to taste olive oil. We wrote about olive oil tasting in Rabac, at Belic family, but we also highly recommend to you Chiavalon, Cuj, and Kabola Estate (in that order!).
Traditional dishes include crni rižot (black squid risotto), pršut (dried and sometimes smoked ham), seafood served with blitva (chard), brudet (spicy fish stew), mišanca (stewed wild veggies like wild cabbage, fennel, sow thistle, etc.), homemade pasta (especially in Istria).
In continental Croatia food is a bit heavier, based on meat, and heavy (but yummy) sauces. Specialties include štrukli (cheese-filled boiled or baked pastry), kulen (spicy pork sausages), game meat (particularly in the area of Gorski Kotar), fiš paprikaš (spicy stew made with river fish), and alike.
Here are our posts about traditional Croatian dishes, and Istrian dishes you don't want to miss.
The best restaurant experiences we had in Zagreb, Istria, Dubrovnik and Split. But basically every village, every town has its best places to eat that won't disappoint you. You just need to do your homework, eat where locals eat and you can't go wrong. We covered lots of Istrian restaurants on this blog, as well as restaurants in Split, restaurants in Zagreb, and restaurants in Dubrovnik. If you are a foodie, just stick around for a bit longer, you'll find quite good information on restaurants in Croatia, here on our blog. Happy reading!
Explore Continental Croatia
Croatia isn't just a pretty coast, it has so much more to offer. Start with Zagreb, the capital city of Croatia. We highly recommend you find time to visit Zagreb. Zagreb is a vibrant city, full of lovely cafes, restaurants, events, parks, street art, and performances. Regardless of the season, there is always something going on in Zagreb. Christmas time is especially nice when the entire town turns into a stage. Downtown is relatively small and easy to explore on foot. The upper town is gorgeous, and home to many museums and galleries. The restaurant scene in Zagreb is particularly exciting, and definitely the best in the country. Zagreb green markets are very popular and the best way to experience a local vibe. We've also put together a post on top things to do in Zagreb if you'd like to read further. And one of our favorite posts about Zagreb includes two great Zagreb itineraries for travelers, not tourists.
Another interesting place to visit in this part of Croatia is a baroque town of Varaždin.  Even New York Times named Varaždin as one of 52 places to visit in 2014. Varaždin's town center is filled with architectural gems: baroque churches, palaces, and villas, and the oldest City Hall in all Europe. The best time to visit Varaždin is during the Špancirfest, a festival of good vibes. This is the most popular street festival in all Croatia. It takes place at the end of August for ten days, and it attracts more than 200.000 visitor.
Other places of interest in the continental Croatia are: Kopački rit nature park, Ilok wine-growing region, Zagorje with its rolling hills, and thermal waters, National park Risnjak, and castles of northern Croatia.
Get active 
Croatia, with its rugged mountains, fast rivers, karst topography, and Adriatic sea, has a lot to offer to outdoor enthusiasts. From rock-climbing, free-flying, paragliding, speleology tours, zip-lining, kite-surfing, kayaking, rafting, windsurfing, and other adrenaline-pumping activities, you'll have plenty to choose from in Croatia.
I love hiking (as long as the surface is flat). And Croatia is an awesome place if you love it too. With its mountain ranges, canyons, hills, and forests it will not disappoint any hiking enthusiast. Hiking paths are normally marked with red and white dot. As long as you keep following them, you should be OK finding your way.
The most popular coastal hiking destinations are Mljet national park on the island of Mljet, Lopud Island, Velebit Mountain and Paklenica National Park, Biokovo and Ucka natural parks. In Continental Croatia, the most popular hiking destinations are Medvednica Mountain near Zagreb and Risnjak national park.
Croatian mountains are very popular among rock climbers. They are part of the Dinaric mountain range. Thus, they are deep karst mountains with very little vegetation and lots of sharp shapes. These mountains can be tricky. They don't seem high enough to fear them. But many climbers get surprised by the power of these mountains. They are as demanding as much higher mountains. The most popular climbing destination in Croatia is Velebit mountain, especially Paklenica National Park.
Kayaking is getting big. You can actually discover the Croatian coastline on a kayak. And why wouldn't you?! I mean the entire kayaking holidays. Awesome! We haven't done it yet, but fellow bloggers over at The PlanetD have done it. And we loved so much their experience that we want to do it the following summer. We should really start making money with this blog, so we can just go around and enjoy all those great activities.
White water rafting in Croatia is a very popular activity among locals and tourists. Croatia offers great white water rafting sites, from Karlovac to the north, Gorski Kotar to the west, and Dalmatia to the south.
Kite-surfing is popular at the estuary of the river Neretva. The best windsurfing is in Viganj, on the peninsula of Pelješac. Zip-lining you can enjoy in Omiš, and in Istria.
And if you aren't into this kind of activity, but you still like to get your adrenaline high, visit Istralandia, a brand new water park located near Novigrad in Istria.
Visit Waterfalls
Croatian waterfalls are awesome. Plitvice lakes are the most popular ones. Seriously, they are some amazing lakes and waterfalls. They consist of 16 interconnected lakes separated by many waterfalls. And the color of the water is just spectacular; you can see all the imaginable shades of blue and green.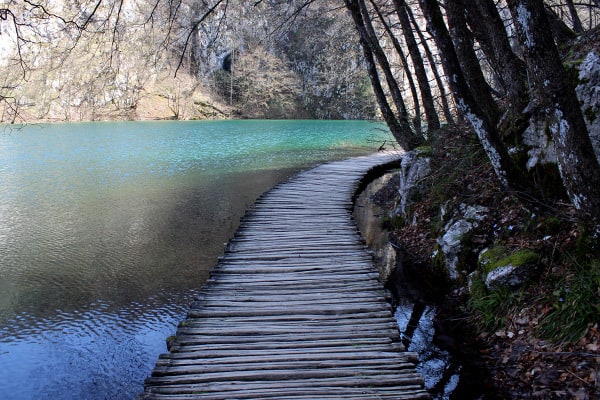 Krka Waterfalls are other popular waterfalls in Croatia. You can visit them by car or by boat. Boats leave from the small town of Skradin. There are three main sites for the visitors, beautiful walking trails and footpaths. Within the lakes, there is a small island with a monastery.
We visited Krka Waterfalls last September. There weren't many tourists around, and we had a chance to take lots of nice photos. Post on that is coming soon.
Discover history
Bring it on, history aficionados. Here, Croatia really delivers. I mean, just think about all the cultures that left their traces here: Greeks, Illyrians, Romans, Venetians, Turks, Austrian-Hungarians, to mention just some of them.
Six historical sites are UNESCO World Heritage sites: old city of Dubrovnik, historic city of Trogir, historical complex of Split, the Cathedral of St James in Sibenik, Episcopal Complex of the Euphrasian Basilica in Porec, and Stari grad plains. Each of them is worth visiting.
What are your favorite things to do in Croatia? Let us know in the comments below.
Further reading: